The Gospel Harbinger
November 2021 Volume 51 Number 11
Rick's 'Ritin's
It's that time of year when we play with our clocks, and bodies, once again. This time we get to turn them back (the clocks, that is) so we can theoretically gain back the hour we lost last Spring. I don't know about you, but that hour is long gone for me. I will never get it back. After all, it is not as if the hour has been put into a time bank and now I can go withdraw it and put it back into my body. And furthermore, I don't look forward to the next week or so while my body adjusts to the change. Maybe I'm just getting old. I don't look forward to the "extra" hour of sleep like I did so many decades ago.
Looking Ahead

Help Build a Bed, or maybe 40 of them, in Bailey Park on
November 13, from 9:00 – 2:00 (or any time in there you can
help). Lunch, and all tools and materials, will be provided.
November 14. Caffeine, Calories, and Conversation. 6:00 pm
Last year we moved our annual congregational meeting to the second Sunday evening of November. We will have a casual time together to vote on Elders or Deacons, to present the budget for next year, and talk about some plans and activities for the next year as well.
December 3. Christmas in the Village
Christmas in the Village wants to provide a live nativity this year. Several volunteers are needed. If you would like to be one of the characters in the nativity scene, please let me know. It will be on the lawn beside the Assistance Center, 5:00 – 7:00 pm. You don't have to be there the whole time.
We are about to hit the whirlwind that comes as soon as Halloween passes. Well, it has passed. In the midst of all the busyness that is about to hit us as the year winds to a close, please do not forget the weekly appointment Jesus has made with His followers around his table. Hope to see you there each week
Once again, on behalf of Brandon, Logan, myself, and our families, thank you so much for your kind words, encouragement, and gracious gifts you have provided to us for Pastor Appreciation Month. We feel so blessed and appreciated, not only in October, but all year long. Thank you.
Thanks for reading,
Rick
International Conference On Missions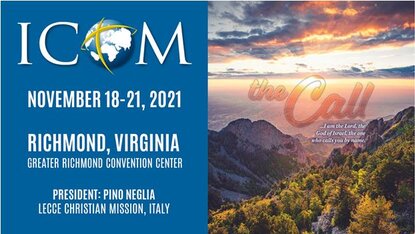 ICOM – the International Conference On Missions is coming up soon from November 18-21. The cost of registration has been paid. All you need to do is go online fill out the registration form and use our church's code. To register go to: https://theicom.org/register/ , click the blue "Register button, select "Virtual" and "Weekend Pass: 4-day Livestream Access", fill in your contact information, at checkout put in the code virtual21 (If you are unable to get registered, see Gay)
Elder's Meeting
8:00 AM on Sunday, November 14th
Board Meeting
Sunday, November 14th
After Morning Worship Service
CFCAC Volunteer Day
Tuesday, November 23rd
9:00 AM - 2:00 pm
November Calendar and Serving Schedule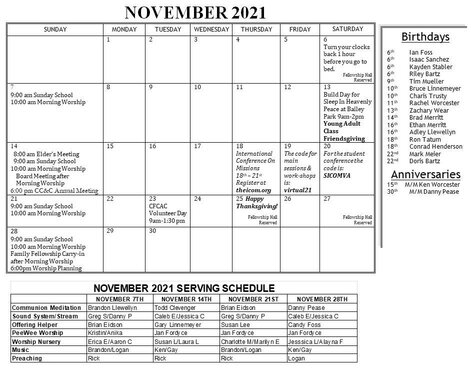 Our address is: 210 S Ohio St, Camp Point, IL 62320, USA