The Gospel Harbinger
December 2021 Volume 51 Number 12
Rick's 'Ritin's
First was Hallowe'en. We had Trick-or-Treaters come to the door and actually say "Trick-or-Treat." We also used to know most of the children who came to the door. There were also some older youth who might soap windows, egg cars and houses, and maybe pull a few rather harmless pranks around town.
Then came Thanksgiving. It was usually a fun day getting together with family and friends and enjoying lots and lots of food. There were parades and football games on TV, games to be played outdoors, games to be played indoors, and a few naps throughout the day.
Finally, after what seemed an eternity of waiting, Christmas finally arrived. For days, or perhaps weeks, gifts accumulated under the tree, tantalizing us as we tried to guess what was in each package. We maybe even sneaked a few shakes of packages if we thought no one was watching us. Once again, it might be a time to visit with family and friends, comparing gifts with each other, trying out some new toys, or trying on some new clothes.
Now, the end of the year seems to end with one gigantic holiday – Hallowgivingmas. Hallowe'en has become the second-most decorated holiday of the year. Children now seem to be bussed into neighborhoods they do not live in to get even more candy from people they do not know. And who says "Trick-or-Treat" anymore? Thanksgiving is morphing into Turkey Day, with almost more emphasis on Black Friday (starting on Thursday in the stores and even earlier online) than on giving thanks. The Christmas season seems to start almost as soon as Labor Day is over as merchandise and advertisements appear earlier and earlier. The emphasis is less on Christ and more on "mas," which in Spanish means "more." Christmas is viewed more and more as the economic savior of the country rather than the birth of the savior of the world.
Whether you are caught up in the hustle and bustle of the modern Christmas season, or if you are still holding out and trying to enjoy a more Currier and Ives type of Christmas (for those of you who know who Currier and Ives are), I hope you are able to find some time to relax, reflect, and rejoice in the birth of our savior. Although the saying has become trite, it is still true, "Jesus is the reason for the season."
Help is Available
It is no secret that our population is aging. It is also no secret that the aging process often brings stress and pressure to those who are trying to assist their aging relatives. I received an email this week asking me to inform our people of help available for those who often face difficult decisions. There is an organization called Memory Care that provides information for those struggling to care for aging friends and relatives. You can go to www.memorycare.com for information available to assist you. I said I would pass the information along, so here it is. You may find it helpful as you try to determine the needs of your family.
Thanks for reading,
Rick
Christmas Gifts for our Nursing Homes
We will be collecting items to bless our area nursing home residents for Christmas. Your donations need to be at the church by December 19th and may be put in the basket in the front entryway. (no need to wrap donated items)
Gift items: socks with grippers, coloring books, large-print word search books, markers, crayons, colored pencils, hand lotion, chapstick
Elder's Meeting
Sunday, December 12th at 8:00 am
Board Meeting
Sunday, December 12th after Morning Worship
CFCAC Volunteer Day
Thursday, December 23rd from Noon - 6:00 pm
December Calendar & Serving Schedule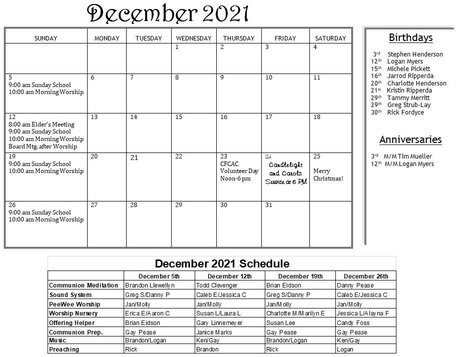 Our address is: 210 S Ohio St, Camp Point, IL 62320, USA