The Gospel Harbinger
January 2022 Volume 52 Number 01
Rick's 'Ritin's
As the year 2020 ended, we all hoped Covid-19 was behind us and we could get on with life as normal (whatever that was). However, reality has been that Covid-19 has gotten behind us and pushed us in directions we never wanted to go. And it is still pushing us as the variants keep popping up around the world and invading our spaces. In the midst of all the uncertainty we face, there is one constant that we can depend on (actually, there are more than one, but only one that I want to talk about in this article) – and that is the Word of God.
That is why I want to call 2022 The Year of the Bible. I am inviting and encouraging each of you to get into the Bible more this year than ever before. Unlike the words of many politicians and "scientists," the Word of God is sure and can be trusted. It does not shift with the winds of popular opinion. Sometimes it is more honest and brutal than we might want, but it always tells us what we need to know and do.
I recently came across an article entitled "8 Ways to Spice Up Your Bible Reading Time." (I believe it is from The Babylon Bee, which is filled with satire, so take the advice in the article with that understanding – it is satire.) Here is what the article stated.
"Reading the Bible can be difficult sometimes. This is because you are a weak, sinful wretch whose heart is unspeakably depraved. We certainly wouldn't know anything about that. Sometimes we need a little extra help to keep us attentive as we open up God's Word. We interviewed the most spiritual Christians we know for some Bible reading tips!
1. Stop being such a sleepy, lazy sinner: Seriously, get it together and read that Bible!
2. Read it in the tub so if you fall asleep you'll drown: Nothing like a little life or death situation to keep you on your toes!
3. Reward yourself with an M&M every time you read a verse: Come on! You can do it!
4. Give every character a different accent: Create your own personal radio theater by reading in the most dramatic way possible!
5. Move to Saudi Arabia, smuggle in a Bible, read while hiding under a box in your basement: Reading the Bible is so much more exciting when you're hiding from the law.
6. Listen to the audio version as read by James Hetfield of Metallica: then crank it up to 11.
7. Hire a French nobleman to slap you in the face with a glove every time you nod off: If you can't afford a French nobleman, your three-year-old will do it for free.
8. Remember that you're reading the Word of God revealed by the Creator of the Universe who has something important to say to you today: So listen up!"
This Sunday (January 2, 2022) I will kick off the New Year with a sermon on why we should read the Bible. (It will not include these 8 suggestions.) We have available for you a Bible Reading Plan for 2022 which gives you several options for reading through the Bible in 2022. You can pick up a copy at the church building or contact the office and we will send one to you. If you need a Bible, we can provide a copy of that for you as well.
I am convinced that the more our church gets into the Bible, and the more the Bible gets into our church, we will begin to accomplish more and greater things for God in 2022. I encourage, challenge, invite, even dare you to get into the Bible more in 2022 and see what God will do through you and through this church in 2022, and beyond. It can not only change your life, but it could influence your eternity, as well as the eternity of others.
Thanks for reading,
Rick
Elder's Meeting
Sunday, January 9th at 9:00 am
Board Meeting
Sunday, January 9th after Morning Worship Service
CFCAC Volunteer Day
Saturday, January 22nd from 9:00 am - 2:00 pm
Family Fellowship Carry-in
Sunday, January 30th after Morning Worship when the food is ready.
January 2022 Calendar & Serving Schedule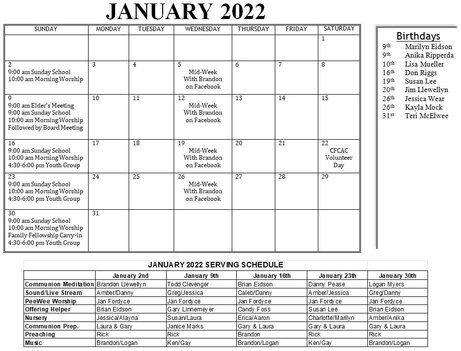 Our address is: 210 S Ohio St, Camp Point, IL 62320, USA