The Gospel Harbinger
February 2022 VOLUME 52 NUMBER 02
Rick's 'Ritin's
Save The Dates
February 13, 2022. Super Bowl Party in the church fellowship hall (fancy word for basement). Time to be announced later, but it will be in the late afternoon/evening. We are planning to have carry-in super bowl-type foods/snacks, table games, perhaps some various challenges, and of course we will watch the game (for those who may be interested in it). More details will be released in the next week or so, but plan to be part of this historic event. And invite your friends to celebrate and enjoy it with you.
March 5, 2022. Men's Day at Saint Louis Christian College. There is No Cost for the event, but an offering will be received. Doors open at 9:30 for coffee and donuts, and the worship starts at 10:00. Lunch will be served at 12:00. Jeff Walling is the speaker. He is a very popular speaker at conferences and conventions and has preached on five continents. We will need to preregister. If you are interested, please let Rick know by Sunday, Feb. 27, so we can get you registered. We will need to leave the church parking lot by 7:00. By the way, Jeff is an outstanding speaker.
March 14, 2022. Camp Fellowship Dinner at Camp Point Christian Church. (Okay, we used to call this the Men's Fellowship. But since we have opened it up to women as well, we needed to change the name.) The meal starts at 6:30, followed by an evening of singing, preaching, receiving an offering for the camp, and getting an update on the camp. (I have heard it on good authority that a new camp manager has been hired by the camp. His name should be released within the next few weeks, but you will probably meet him at the Fellowship Dinner.) Terry Stine, President of Saint Louis Christian College, will be the speaker for the evening. In case you had not heard, Saint Louis Christian College and Central Christian College of the Bible are merging after the Spring semester ends. If you have any questions about the merger, I am confident Terry will be glad to provide you any information you need.
I think we all would agree that January has been an unusual month for winter weather. Temperatures seem to jump from the negative numbers to over 50 degrees, and back again within just a few days. We managed to miss one forecast of up to 9 inches of snow but got hit with another storm the following weekend. Now they are predicting another storm with up to 9 inches of snow, with some added sleet and ice this week (at least it is not scheduled to hit us on Saturday). Looking back over the past several years, sometimes January has been most affected by the winter storms, and other times February has been most affected. I don't know which it will be this year. But I do know that whatever the weather, we will do our best to be at church and prepared to worship with anyone who is able to get out and join us. If you think it is unsafe for you to get out, then please stay home. We understand, and I am confident God does as well. You can always join us online.
I am scheduled to preach in chapel at Saint Louis Christian College this Wednesday (2/2/22). I can get there before the storm hits, but it may be possible I can't get back home until Thursday or Friday. It all depends on if, or how, the storm hits us. I look forward to seeing you this next Sunday. Until then, stay warm and stay safe.
Thanks for reading,
Rick
Elder's Meeting
Sunday, February 13th
at 9:00 am
Board Meeting
Sunday, February 13th
after Morning Worship
CFCAC VOLUNTEER DAY
Tuesday, February 22nd
9:00 am – 2:00 pm
FAMILY FELLOWSHIP CARRY-IN
Sunday, February 27th
after Morning Worship
Youth Group
Sundays from 4:00 - 5:30 pm
In the Fellowship Hall
February Calendar & Serving Schedule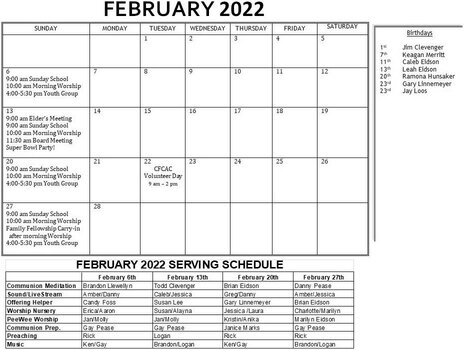 Our address is: 210 S Ohio St, Camp Point, IL 62320, USA