The Gospel Harbinger
March 2022 Volume 52 Number 03
Rick's 'Ritin's
Forging Our Future
July 2021 – June 2026
Most of you who were around last July may remember that we kicked off a five-year campaign entitled Forging Our Future. We established a God-sized vision "to reach 1% of the 11,000+ people who live within a ten-mile radius of our church building within five years." To help accomplish this vision, we set up four teams: Connect, Grow, Serve, Share. These seemed like reasonable teams to establish goals and strategic steps to reach out to our community and to be prepared to incorporate new folk into our church. I thought you might like an update on what has been happening over the past eight months. From the beginning, we determined it would take at least one year to get some plans and programs in place and to establish a firm foundation that will sustain the growth we anticipate.
Vision. When we set the vision to reach 1% of our population, we were averaging in the mid-50s for Sunday morning worship. This was in 2020, as we (and the rest of the nation) were trying to figure out the "new norm" after Covid-19 had literally shut the country, and churches, down for six weeks. Some snow, ice, and cold in January and February of 2021 dropped our average attendance down closer to 50. Then, when Spring hit in March 2021, we were able to increase our attendance to 60, and for the rest of 2021, the Sunday morning average worship attendance never dropped below 60, reaching an average of 68 three months and 71 in December. Then came January 2022 with some snowstorms, ice, and bitter cold, and our average was 55. Oddly enough, despite some snow and cold in February 2022, our attendance averaged 67.
Our numbers are certainly not earth-shattering, but it might be nice for some comparisons.
According to many articles, most churches in the country have not reached their pre-covid level of attendance or activities. We have reached, and exceeded, ours.
Connect. What do we need to do to help guests connect with us and become incorporated into our fellowship? This is the major question guiding the Connect Team. Over the past eight months, they have been communicating with other churches and looking at the literature to see how other churches are able to connect guests to the church. This is often more difficult than it seems. There are so many barriers to new people feeling comfortable and welcomed into a new group of people. Most experts suggest that guests have decided within seven minutes if they are going to return to a church. How can we make these the most inviting and welcoming seven minutes, so people want to come back?
The first major activity the Connect Team wants to put in place is to have greeters for our Easter Sunday service. At first, that sounds too easy. It took eight months to decide that? Well, the greeters we want in place will do more than simply stand at the front door and say "Hello" to people. Greeting begins in the parking lot, and if it is raining, providing umbrella escorts to the front door. Then we have people at the front door saying "Hello," (and probably some other conversation as well, as they help guide people to the right place). In addition, we want to have greeters in the auditorium who welcome guests, help them find a place to sit, inform them of childcare and peewee worship we have available, and even offer to sit with them.
If you think about it, this is a much more welcoming and friendly reception than merely handing someone a bulletin at the front door and hoping they find their way. Within the first seven minutes they have been greeted by at least three friendly folks, had an unfamiliar service explained to them, and offered to have someone to sit with during the service.
Interested? Contact Jessica Clevenger.
Grow. The Grow Team has been preparing to initiate small groups. They will start the week of March 22. We have already had quite a few sign up, and there is time for you to sign up if you have not yet done so. The first round of small groups will go for six weeks and then end, so you are not signing up for a lifetime contract. The Team is working to find the most convenient time of day and type of study for each group. If you want to know how effective small groups can be, talk with anyone in the Young Adult Sunday Morning Small Group. Not only do you have the opportunity to learn more about the Bible and Christian living, but you develop closer friendships with the others in the group.
Interested? Contact Brandon Llewellyn.
Serve. God has designed us, and saved us, to serve (see Ephesians 2:10). The Serve Team will inform us of opportunities to serve Christ and each other. For example, with the Covid-19 restrictions easing up, we have an opportunity to resume taking communion to people who are unable to join us on Sunday morning. Primarily, this has consisted of going to Timber Point and Golden Good Shepherd Nursing Homes. We could use at least five people (married couples?) who are willing to be on a rotation to take communion to these homes. If you have never done it but are interested, we can schedule you to go with someone else until you might feel more comfortable doing it yourself. All you need to do is be able to get a ride to these places and be willing to read a Scripture and have a prayer and serve them communion. No doubt, you will also need to be ready for some conversation with them. In the past, most people who have served home communion have done it during either Sunday school or worship.
Interested? Contact Todd Clevenger.
Share. One of the goals we set for this campaign was to become more involved in our community, to become more outward-focused. One of the activities we participated in was the Build Day for Sleep in Heavenly Peace. We partnered with the Camp Point Lions Club to sponsor this activity in Bailey Park. The turn-out was great as we built 40 beds (most of which have already been given to families who needed them. We are looking into co-sponsoring another Build Day this year.
Three of our Sunday school classes are sending Thinking of You and Praying for You cards to the employees of Central School District. As you may know, there was a lot of tension as school began. Our community was divided over many of the Covid-19 restrictions placed on our schools and students. School board meetings became hostile at times as people expressed their frustrations at government regulations. We wanted our teachers and other school personnel to know that there was a group of people who appreciated their commitment to teach and lead our students, and who were praying for them to succeed in spite of the difficulties they faced.
We have talked about future activities we may consider as we try to get involved in the community and share with them our appreciation for their service and also provide ways for the community to come together and work together on worthwhile projects.
Interested? Contact Rick Fordyce.
I know this article has been longer than normal, but imagine if I had tried to tack it on to a sermon. At least this way you could read it at your leisure and in comfort. I wanted you to know that plans are being made, work is being done, and progress has been the result of it all as we try to accomplish our vision. There is much more to do, and we would love to have you be involved as you are able. Join us in our Mission of Sharing Christ: Building Community.
Thanks for reading,
Rick
ELDER'S MEETING
Sunday, March 13th at 9:00 am
Board Meeting
Sunday, March 13th after Morning Worship Service
LAMOINE CHRISTIAN CAMP FELLOWSHIP
MONDAY, MARCH 14TH AT 6:30 PM at FCCCP
For Men, Woman and Families
Terry Stine, President of St. Louis Christian College will be the speaker. Matt Churchill the new Camp Director of LaMoine will be with us to give us an update on the Camp. We will be serving our area famous Hot Roast Beef Sandwiches with Mashed Potatoes and Gravy, Green Beans and Dessert.
We need people to help with the meal and clean up. We also need to know how many people will be eating. There are sign-up sheets on the octagon at the back of the Sanctuary for both.
CFCAC VOLUNTEER DAY
Saturday, March 26th
9:00 am – 2:00 pm
YOUTH GROUP
Sundays from 4-5:30 pm
In the Fellowship Hall
FAMILY FELLOWSHIP CARRY-IN
Sunday, March 27th after Morning Worship
Bring a dessert or a covered dish and stay after church for a time of food and fellowship.
March Calendar and Serving Schedule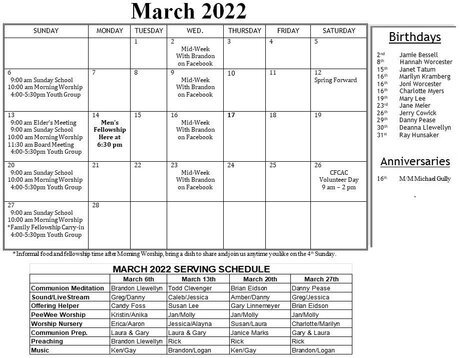 Our address is: 210 S Ohio St, Camp Point, IL 62320, USA