The Gospel Harbinger
April 2022 Volume 52 Number 04
Rick's 'Ritin's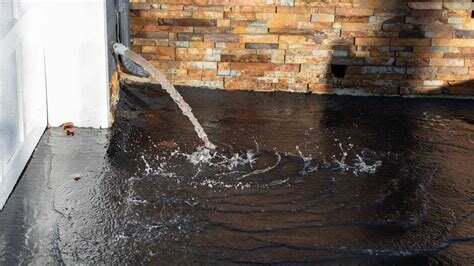 Happy April. According to the old saying, we should be past the roaring lion winds of March and into the spring showers of April. Last week the showers came, and our sump pump decided to quit working. This picture is not from the lower level of our house, but the results are the same. We had enough water that everything on the floor had to be removed. (Trust me, we had a lot of stuff on the floor.) Our house has been filled with the sounds of blowing fans and large dehumidifiers trying to suck water out of carpets, walls, and anywhere else it may have accumulated. Walking into our house has been like walking into a sauna.
Today we got the good news – the carpet and pad can be salvaged, and what little mold they found can be eradicated. About a 24" strip of sheet rock needs to be replaced along the floor on two walls in one of the rooms, and a few other pieces will need to be removed and replaced. This is not a commercial nor a paid endorsement, but we are using ServPro out of Quincy to do the restoration. I like their motto – "Like it never happened." Isn't that what Jesus promises us when He saves us? He restores us and presents us to God like our sin never happened. The water in our basement would bring damage if not treated. The water of baptism will bring restoration if not ignored.
Looking Ahead
April 17 is Easter Sunday. This year we will have a carry-in breakfast at 9:00 and our worship service at 10:00. We have always had a good variety of good food, and I anticipate this year will be no different. If, for any reason, you are not able to bring food, still come for breakfast. We always have more than enough food, and the fellowship is always wonderful. Bring a boatload of people with you (in which case you might need to bring some extra food as well).
April 24 is our monthly carry-in dinner. This week, you do not have to bring any food, just an appetite. The youth group will be providing dinner for everyone. They request, but do not require, a donation toward their activities planned for the summer. This will be great time to help the youth provide activities to which they can invite their friends, as well as enjoy a good meal and fellowship.
Thanks for reading,
Rick
YOUTH GROUP
Sundays from 4-5:30 pm
In the Fellowship Hall
Meetings - Sunday, April 10th
ELDER'S MEETING
9:00 am
BOARD MEETING
After Morning Worship Service
Easter Sunday, April 17th
Carry-in Breakfast at 9:00 am
Morning Worship at 10:00 am
SUNDAY DINNER
Cooked & Served by our Youth
Sunday, April 24th
after Morning Worship
A freewill donation would be appreciated to offset
Summer youth activities.
CFCAC VOLUNTEER DAY
Thursday, April 28th
Noon – 6:00 pm
April Calendar & Serving Schedule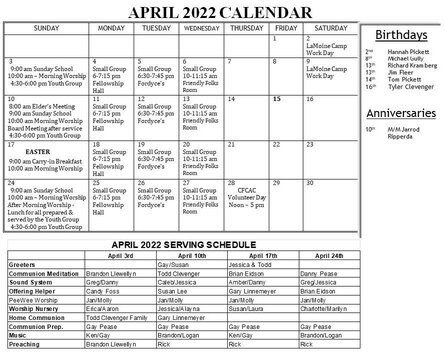 Our address is: 210 S Ohio St, Camp Point, IL 62320, USA