The Gospel Harbinger
June 2022 Volume 52 Number 06
Rick's 'Ritin's
The grass is growing faster than we can keep up with it. The no-see-um bugs are out and pestering us as we walk from place to place. The temperature reaches into the 90s one day and down into the 50s the next. It must mean summer is just about here. Summer brings a time of no school (I always loved that time best when I was younger) and a lot of activities. Our summer is no different. Here are some activities coming up:
Camp
· The camp schedule has been set and registrations may be made for a week of camp. Check out the camp website to see the schedule, costs, and to register for your week. https://www.lamoinecamp.org Register by May 30 and your cost is $15.00 less than after May 30. Remember, when you register, put First Christian Church of Camp Point as your home church and the church will cover the cost of registration.
· Clean-up day has come and gone. The weather was not conducive to cleaning up, but we were able to get the canteen clean and ready for the summer. We also put some waterproof varnish on some picnic tables and benches.
· We have collected enough mayonnaise for the summer meals. Thank you to all who contributed this essential food item for summer salads and cook-outs.
· The camp is hosting an Open House on June 4. They will have free food starting at noon, the pool will be open, inflatables and more! Come check out the camp from 12:00 pm - 4:00 pm.
· One of the main goals for the immediate future is to pay down the debt on the new cabins. Any money sent to the camp for this purpose, and designated for the dorm debt, will be used only for reducing the debt. Our Board has agreed to send $2,000.00 toward this goal.
· Our day to prepare meals for camp is July 8. We help prepare meals for lunch and supper. If you are at least 14 years old and would like to help cook on July 8, please let Gay know. The camp usually wants about 4 or 5 people to help. There is no pay for the day, but you do get to eat two free meals, plus have a lot of fun working in the kitchen and interacting with the campers.
· Did you know that Caleb Eidson is the VP of the camp board this year? He is in his fifth year on the board and has one more year before a required year off.
Sermons Yes, even though it is summer, we will continue bringing sermons each Sunday. Sorry to disappoint those who were hoping for a summer break from sermons. We will continue our series on Choose Life!, concluding our series on the 10 Commandments. Then, in the spirit of church camp, we will have a series Around the Campfire. These six sermons will focus on (mostly) familiar stories often used around the campfire at church camp. Then, we will finish the summer with a series entitled Baggage. Many of us carry around baggage that prevents us from enjoying the Christian life as we were intended to enjoy it. The specific baggage we will address is: Anger, Worry, Guilt, and Bitterness. Maybe you don't have a problem with any of these issues, but you probably know someone who does. God does not want us to carry this excess baggage around with us, so He has given us instructions on how to lose the baggage that weighs us down.
Vacations Jan and I will be gone on vacation throughout the summer, sometimes even together.
· May 28-31. Jan and I will be traveling to the Louisville area to be with our daughter and her husband, four kids, one dog, one cat. We will pick up Stephanie on the way and have a pleasant Memorial Day with them.
· June 8-21. We will be spending a week in Virginia with our friends Ron and Patti Oakes. I'm not sure how many times our families have vacationed together, but as I have often said, "They have the timeshare, we have the time, and they are willing to share it with us." The week with them is actually June 10-17, and we plan to stop in Indiana on the way out and back and visit with Jan's mother.
· July 24-30. We will leave after church on the 24th and spend a week in Gatlinburg with my sister and brother-in-law. Their son and family will be joining us. If you have ever been in the Gatlinburg area, you know how beautiful and relaxing it is. I am sure we will take in some of the area sights, but I will be content to sit on the cabin porch and look out over the mountains. These are some of the most beautiful mountains in the world.
· August 4-14 (or 15). My daughter Stephanie and I will be going to Scotland. We did not make it last year, but so far this year it is still a go. Jan was invited, but she does not like to fly. Since there is no other way to get to Scotland (in the amount of time we have), she has decided to stay home. Our flight has only been changed 3 times, but so far it still will get us to Scotland and back.
I hope you will be able to get away and have some time to rest, recuperate, or whatever you need to do this summer to recharge your engines. Just don't take a vacation from God.
Thanks for reading,
Rick
Care Net Pregnancy Services
Please return your filled bottles anytime through Father's Day.
BOARD MEETING
Sunday, June 12th
after Morning Worship
CFCAC VOLUNTEER DAY
Saturday, June 25th
9:00 am – 2:00 pm
Family Fellowship Carry-in
Sunday, June 26th
after Morning Worship
June 2022 Calendar & Serving Schedule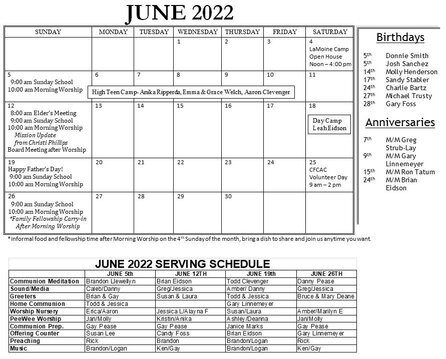 Our address is: 210 S Ohio St, Camp Point, IL 62320, USA