The Gospel Harbinger
August 2022 Volume 52 Number 08
Rick's 'Ritin's
Vacation time is here. Again. Some of you have already taken your vacation and no doubt had a great time. This has been an unusual summer for me and vacations. We have already spent a week in the Shenandoah Valley of Virginia. While many of you read this newsletter Jan and I will be staring at the Smoky Mountains near Pigeon Forge, TN. (Before you get too jealous, the weather forecast calls for 60% or more chance of rain every day and temperatures in the 90s.) And then I am home for one week before heading to Scotland with my daughter, Stephanie. We have quite the busy travel itinerary set up to see as much as we can in one week. (Jan isn't going to Scotland because she has this aversion to flying, and since we cannot drive to Scotland . . .)
Meanwhile, life goes on here in Camp Point. I will be out of town (out of the country) for two Sundays – Aug. 7 and 14. Logan will finish our "Around the Campfire" series on Aug. 7 talking about the Transfiguration of Jesus. Brandon was scheduled to preach on Aug. 14, but he has been invited to preach for the Sunday service during the Adams/Brown County Old Settlers celebration. Logan has graciously agreed to preach on the 14th, saving me the effort of trying to get back here on the 14th after flying from Scotland to Chicago to St. Louis all day Saturday and arriving in St. Louis Saturday night (assuming there are no flight delays along the way). I might have made it, but it could possibly be an occasion when the preacher fell asleep while delivering his sermon. No doubt some of you would like to see that. Perhaps on another occasion. Thank you, Logan, for delivering us from that.
School Breakfast. This year we are providing breakfast for the school personnel on August 15. This is another opportunity we have to serve our community. The menu will be biscuits and gravy, scrambled eggs, bacon, and fruit. The school will provide the drinks, plates, silverware, etc. The cooks from the high school will be on hand to assist us (and to make sure we don't break or lose anything before school starts!). We will need about 4 or 5 people who are willing to show up at the high school about 6:30 or 7:00 to get everything ready, be willing to serve breakfast, and then clean up afterwards. We might even get to help the cooks unload their Kohl's order that morning if it arrives while we are there. If this sounds like something you would like to do, please let me know.
Fall Activities. I know it is only mid-summer, but Fall is not too far off. Katydids have been heard, and according to some folk lore, Fall weather arrives six weeks after the first katydids' serenade. Weekly Youth group meetings will start up soon. Sometime toward late September or October we will have another session of Small Groups. More details on both of these activities will be coming soon.
Looking way ahead, another Build Day for Sleep in Heavenly Peace will take place November 5 at Bailey Park. The last one was such a success the community wants to do another one. Again, more details will follow, but put the date on your calendar.
Enjoy what is left of your summer and start gearing up for a wonderful Fall here at church. It will be fun to see what God has in store for us as we live to serve and praise Him.
Thanks for reading,
Rick
Christmas In August
The Mission Committee has designated August as
Christmas In August for Care Net Pregnancy Services.
There will be a container provided in the entry way for
baby items to be collected to bless the women who find
themselves with child and are in need of supplies.
CFCAC VOLUNTEER DAY
Thursday, August 4th from Noon – 5:00 pm
LAMOINE FELLOWSHIP
Monday, August 8th in Blandinsville
leaving church at 5:30 pm
BOARD MEETING
Sunday, August 14th after Morning Worship
FAMILY FELLOWSHIP CARRY-IN
Sunday, August 28th after Morning Worship
August Calendar & Schedule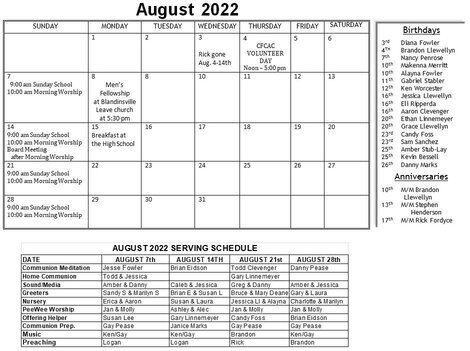 Our address is: 210 S Ohio St, Camp Point, IL 62320, USA