The Gospel Harbinger
Rick's 'Ritin's
"Caffeine, Calories, and Conversation." This is what we are calling our first second-Sunday of November Annual Meeting. The intent is to talk together about where we are as a church and where we want to go as a church. The only "business" of the night will be to vote on the nominees for elder and deacon. The rest of the evening will be devoted to discussing where we are as a church financially, present the budget for the next year, and highlight some future plans:
· We will introduce programs the elders have approved, such as Church Revitalization University and Faithlife Equip and Faithlife Proclaim. These are programs that will position our church to reach out to people who are not currently attending church at our building and design a way to lead them to become active disciples of Christ.
· The Board members responsible for the Internal Property of the church have been examining our building for projects to repair and improve our facilities. They will present a report on what they have found and highlight the projects we are focusing on now and also list future projects that need to be done as the funds are available.
· We will talk about the Anniversary coming up in April and inform you of the plans we have made so far.
· We will present updates and plans for the Young Adult Ministry and the Youth Ministry.
· We will also have time for your questions about any of these, and other, programs and plans for the church.
Our goal is that when the evening is over, you will have a clear picture of what we want to accomplish and where we are headed as a church in 2021 and beyond.
Board Nominees. The nominees for Elder are: Todd Clevenger and Danny Pease. The nominees for Deacon are: Fred Bessell, Ken Worcester, and Richard Kramberg. Some other men were nominated, but after the interview process decided this was not the best time for them to serve. We honor their decision and look forward to the time that will be right for them.
All Board terms are for three years, and after two terms, a person must take at least one year off the board. The idea is there will be a smooth transition each year of men on and off the board. However, because of unusual circumstances, we currently do not have men to go off the board each year. The board has determined that in 2021 we will look at the schedule of expiring terms and adjust the number of years the new men will serve so we have people leaving the board every year. It may sound a bit complicated, but we will let you know how all this plays out once we have it figured out.
Sermons. The first four Sundays of November will look at some of the Great 3:16s of the Bible. We are all familiar with John 3:16. Three other 3:16 passages we will be looking at are Colossians 3:16; 1 Corinthians 3:16; and 2 Timothy 3:16. The last Sunday of November we will begin addressing the themes of Advent: Hope, Peace, Joy, and Love. These sermons will provide us some great promises from God that we need to remember as we close out a crazy 2020.
Thanks for reading,
Rick
Mid-week With Brandon
Tune in to….
Mid-Week with Brandon
on Wednesday evenings around 7:00 pm
on the FCCCP FaceBook page.
November Calendar and Schedule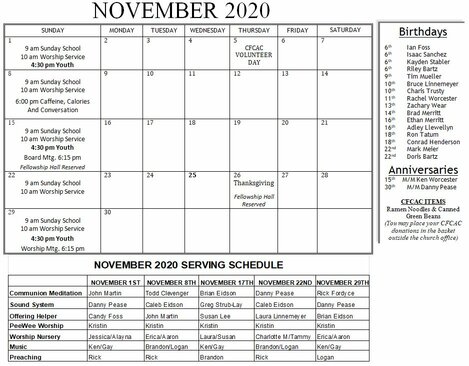 Our address is: 210 S Ohio St, Camp Point, IL 62320, USA