The Gospel Harbinger
December 2020 Volume 50 Number 12
Rick's 'Ritin's
As the year winds down and the New Year approaches . . .
1. Covid-19 hangs around. What will we do as a church? We discussed this question at our last Board meeting. The facts are: we don't know what the virus will do as the new year approaches; we don't know how the local, state, or federal governments are going to respond to the virus. There are indications that President-elect Biden is being advised to shut down the country for at least six weeks. We do not know if that will happen or not. At this point, perhaps God only knows. Even so, the current leaning of the Board is to treat the virus much like we have treated winter weather. That is, the building will be open, but each person/family must decide for themselves if they want to venture out or not. We plan to continue providing the online services in addition anything we may be able to have at the building. We ask that you choose wisely what is most safe for yourself and your family. Whether it is the virus, or winter weather, do what is safe for you. We will provide Sunday school classes and worship each Sunday, but we are also prepared to make any adjustments as necessary.
2. It is time to say Good-Bye to an old friend that has served the church faithfully. I'm not sure this friend even has a name, but I am talking about the computer that has been in the sound booth for about nine years (which is probably over 200 years in human-life). The computer is at that stage of life that it refuses to accept any life-sustaining updates, and will not be able to serve us much longer. As a result, we need to replace it. We have found a used computer that still has a two-year warranty. It will not only give us an upgrade on what our current computer has been doing, but it will also enhance our online ministry. The cost is $2,000.00, which of course is not in our budget. Perhaps you were thinking of giving a Christmas gift to the church, but had no idea what to give. Would you consider giving a gift toward the purchase of the new (used) computer?
3. "Carols and Candlelight." As with many families, organizations, and churches, our Christmas schedule will be very light this year. As of now, we intend to have a Christmas Eve service at 6:00. As always, our service will be simple, helping us make the transition from the hectic activities of Christmas to remembering the true purpose and meaning of Christmas. Once again, we must be aware of the weather and the virus, but if at all possible, we hope you can join us for an evening of Scripture, carols, and a spiritual uplift.
Thanks for reading,
Rick
Tune in to….
Mid-Week with Brandon
on Wednesday evenings around 7:00 pm
on the FCCCP FaceBook page.
BOARD MEETING
Sunday, December 20th
6:00 PM
ELDER'S MEETING
Sunday, December 13th
6:00 PM
Worship Planning Meeting
Sunday, December 27
6:00 PM
Youth Group
Sunday, December 6th, 4:30 pm at the church
Sunday, December 20th, 4:00 pm at the church
Join our Faithlife church group
On your phone or device, open a web browser and go to fl.vu/f
Download the Faithlife app
Login to your account or create a Faithlife account
You'll see posts if you're a member of our Faithlife group
If you're not a member of our Faithlife group, search for our church by name in the search bar at the top
Select our church and join our group.
If your device will not support the app and you would rather use your computer go to Faithlife.com and follow the directions to register. It is free! Follow numbers 3 – 5 from above.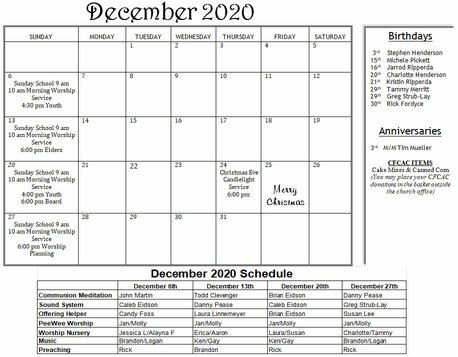 Our address is: 210 S Ohio St, Camp Point, IL 62320, USA