The Gospel Harbinger
January 2021 Volume 51 Number 01
Rick's 'Ritin's
Happy New Year!
When 2020 began, we had no idea how much our world, and our personal lives, would change. We entered 2020 with the usual giddiness that a new year would bring new opportunities, new successes, and overall a better life than we were leaving behind. Then, Covid-19 arrived, and everything changed after that. Life got a whole lot worse, not better.
As we enter 2021, we don't seem to have the same hope and expectations we usually do with the coming of a new year. In many ways it will be nice to say goodbye to 2020, but unfortunately, the worst of 2020 is still with us. And we have no idea how long it will stay around. The vaccines bring us hope, but we are still being told to expect a dark, dreary time before it is under control. Meanwhile, in addition to Covid-19, the new year begins with
· More hatred and division in our country than many of us can remember. Politicians do not seem to have the best interests of the country at heart, but rather their own selfish interests.
· A seeming total disregard for human life. States have adopted abortion policies that allow them to kill new-born babies. We have more random and senseless murders. Rioting and looting seem to be the new pastime for many people.
· The incoming government appears to be much more openly anti-Christian than any previous administration. Some who have been designated for leadership positions have openly admitted their desire to completely eliminate any semblance of Christianity in this country. Their goal is to turn the United States into a totally secular country. (Look at Europe in the last half of the 20th Century to see what will happen when that occurs.)
· We have politicians (and others) who cannot even tell the biological difference between males and females. Before long, if they have their way, every sports record for both men and women will be held by those who are biological males. And these idiots further think all athletes should share the same locker rooms and rest rooms. When God described the city of Nineveh to Jonah, he said there were "more than 120,000 persons who do not know their right hand from their left." How will he describe the United States?
Are you happy yet for the new year? Here's the good news. Our country, and our world, is rapidly approaching the politics, ethics, morals, and lifestyle of the world into which Christ was born. Read about some of the lifestyle practices Paul identified and said should not be part of a Christian's thoughts, let alone lives. (See, for example, Romans 1:24-32; 1 Corinthians 6:9-10; Ephesians 4:17-31; Colossians 3:5-9)
So why is this good news? Why should this make us happy? If we can rally and conduct ourselves as the first century Christians did, then we know we can overcome and win the battle. Like them, we will face opposition, ridicule, and maybe even outright persecution and martyrdom. But like them, with God's help, we can prevail. And that's the good news. That is what should make us happy as the new year approaches.
So what can we do in the face of such a gloomy and disastrous future?
· Live out what we say we believe. As someone once said, "I'd rather see a sermon than hear one any day." Do our lives present sermons to those around us? Do people spend time with us, and watch us, and conclude that we have been with Jesus, and that he makes a difference in how we live?
· Spend more time in God's word, so God's word can spend more time in us.
· Strive to be as faithful to God as He is to us. Do you faithfully gather around the table Jesus invites us to each week? Do you faithfully give back to God a portion of what He has given to you? Do you treat your body as the temple of the Holy Spirit?
· Are you willing to share the good news of Jesus Christ with those who need to hear it?
The bottom line is this: our happiness in the new year is in our hands. We can keep living the same way we have always lived, or we can dedicate ourselves to living the way Christ wants us to live. It may not really bring us happiness, as the world counts happiness, but it will bring us joy, and peace, and love, and hope, and a whole lot more "good stuff."
Instead of a Happy New Year, I wish for you a "Good stuff" New Year.
Thanks for reading,
Rick
Tune in to…. Mid-Week with Brandon
on Wednesday evenings around 7:00 pm
on the FCCCP FaceBook page.
Youth Group Meetings
January 10th, 17th, 24th & 31st
from 4:30 – 6:00 pm
CFCAC VOLUNTEER DAY
Thursday, January 7th
Noon - 5:00 pm
Elder's Meeting
8:00 am on Sunday, January 10th
Board Meeting
Sunday, January 10th
After Morning Worship
January 2021 Calendar and Serving Schedule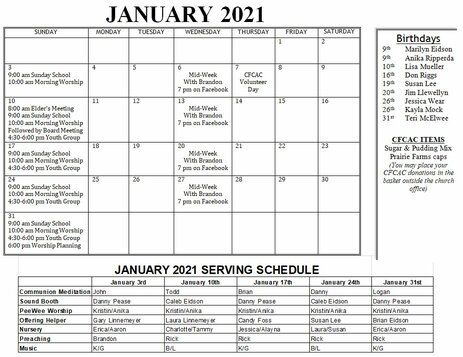 Our address is: 210 S Ohio St, Camp Point, IL 62320, USA