The Gospel Harbinger
February 2021 Volume 51 Number 02
Rick's 'Ritin's
What does a pandemic and a winter storm have in common? They both tend to keep us in doors more than we want to be. We have endured the pandemic for about a year now, and the weather forecasters suggest we may be in store for a winter storm for the next few days. So, I decided to share with you some strange and amazing facts (according to the internet) to entertain you while you are stuck inside.
1. The number one cause of electrical outages in the United States is the squirrel. And you thought those squirrels were simply running around gathering nuts. In reality they have been instant messaging and snap chatting in record numbers.
2. Ancient Greeks and Romans used spider webs as bandages. Next time you cut yourself, run into the woods and try to find a spider web.
3. One-quarter of all your bones are in your feet. You have 26 bones in each foot and 206 total bones in your body. Do the math.
4. The inventor of Pringles is buried in a Pringles can. The family opted to use a can of original Pringles and not one of the other multiple options.
5. A cornflake in the shape of Illinois sold on eBay for $1,350. That's probably more than the whole state is worth.
These next strange and amazing facts are not from the internet, but from our own church. During the pandemic, when churches finally opened for services in the building, many churches found their average attendance was about one-third to one-half what it was before the pandemic shut them down. They also realized that their weekly offerings went down as well. Many (if not most) churches struggled during 2020 as the pandemic affected them. As I would read these statistics, I would be amazed and pleased that our attendance dropped by about 5 – 10%, and our offerings did not drop at all. In fact, we just missed "making budget" for the year, in spite of the pandemic.
That is amazing. This is strange. As 2021 arrived, our attendance and offerings have both dropped more than they did during all of 2020. During all of 2020, our offerings averaged about $2,000 per week. So far in 2021, our offerings have averaged about $1,450 per week. Our average attendance has dropped about 5% from what it was.
Please understand, this is not a "the sky is falling" letter suggesting we are about to close our doors. This is simply a letter to let you know how we are doing four weeks into 2021. The good news is, many of those who have chosen for health reasons not to attend church in person are still able to be part of our service through our online services. In total numbers (in person and online) we are reaching as many if not more people than we were before the pandemic hit.
What can you do? Well, if you have been faithfully and regularly giving what you can, thank you and please keep it up. If you have missed giving some of your offering because of illness and absence, are you in a position to catch up? If you are in a position to "give a little more," would you consider doing it?
If it would help you, we now are able to receive offerings and donations online. Go to our church's website, click on the Give button, and follow the directions. You will have several options: Regular giving, Online ministry, Missions, and Building. Make your choice, fill in the amount, determine if you want to cover the fee or not, and click send. It is that easy. You can even set up your online giving to give at regular intervals if you so desire.
Looking Ahead
The Camp is eager to start the Fellowship Dinners and meetings again. We will host the first one in over a year. The next Camp Fellowship will be here, March 8. We plan to have our world-renowned hot roast beef sandwiches with mashed potatoes and gravy, green beans, and glazed carrots. Of course, we will also offer pies and cakes for dessert. Once again, we are inviting the women as well as the men to join us. Brandon Llewellyn will be bringing the message, and we will have a great song service as well. It will sure be nice to have our fellowships once again.
Don't forget the 185th Anniversary on April 25. We have a great day planned with preaching, singing, and dinner on the grounds. Invite family and friends who have been part of the church in the past (and present) to join us for a terrific time of remembrance, rejoicing, and fellowship.
Thanks for reading,
Rick
Upcoming Events
Download
Tuesday, February 2nd, 9 am (CST)
Download
Sunday, February 14th, 8 am (CST)
Download
Sunday, February 14th, 11:30 am (CST)
Youth Group
The Youth Group meets on Sundays from 4:30 pm - 6:00 pm in the Fellowship Hall.
Tune in to…. Mid-Week with Brandon
on Wednesday evenings around 7:00 pm on the FCCCP FaceBook page.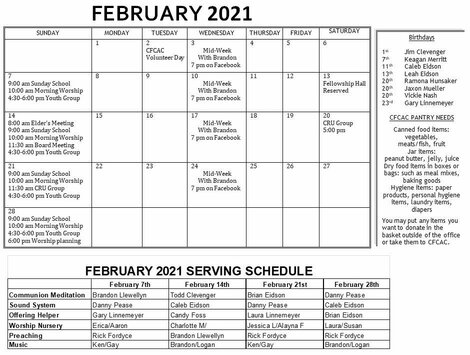 Our address is: 210 S Ohio St, Camp Point, IL 62320, USA