The Gospel Harbinger
Sharing Christ · Creating Community
Rick's 'Ritin's
Our Anniversary will be here before we know it (but we will have our Camp Fellowship and Easter Sunday before then). But let me focus a bit on the Anniversary and especially what is leading up to it. Our theme for the Anniversary is "Honoring Our Past; Forging Our Future." We have a Strategic Leadership Team that has met twice, and will meet two more times before the Anniversary. This Team has been working with information from The Malphurs Group, called Church Revitalization University, to design a plan for the future of this church. Let me update you on what has been accomplished and what is yet to come.
In our first meeting, we crafted a new mission statement for the church. It is: "Sharing Christ; Building Community." This is our expression of Christ's Great Commission in Matthew 28:18-20. As we, as a church, share Christ with those who need to know him as savior, and build each other up in the way Jesus wants us to live as his followers, then we will be fulfilling the Great Commission.
In addition to a new mission statement, we affirmed the Core Values we had previously adopted. In short, we affirmed that as a church we value: Bible teaching; Fellowship; Worship; Evangelism; Service/generosity; and Prayer. These values are consistent with the core values demonstrated by the early church as found in Acts 2:42-47. Everything we do as a church needs to reflect and develop one or more of these core values. We also acknowledged that some of these values may be more aspirational than real at present, but it gives us a target to aim toward as we look to the future.
In our second meeting we worked through the process of developing a Pathway of Discipleship. That is, what pathway do we want to develop that will lead a person to becoming a mature follower of Jesus Christ. After some great discussion, we adopted the following pathway: Connect, Grow, Serve, Go. Each step of the pathway will have a bit more explanation of what it entails, but essentially, we want everyone in our church to be connected to Christ and each other, to grow in Christ through personal Bible study and corporate study and worship, to identify their gifts, skills, and abilities and use them to serve as Christ served, and to go out and share the message of Christ with those who need to hear it.
This month, we will meet to discuss what our vision for the church is. In short, we want to paint a picture of what we would like this church to look like in five years. Some of the questions we will address are: What undeniable impact will our church make over the next 5-10 years in our community and our world? What has to change for us to make that impact? How will we know if we are accomplishing our goal? These are not easy questions, but if we going to make and mature disciples in our community over the next 5-10 years, they are questions we must ask and answer.
Finally, in April, we will have our last session to put together a strategic plan to implement the vision. This is when everything we have done up to then is put into a document that lays out our dreams and goals as a church. Then, the team will meet once a month to evaluate our progress and determine when and how to implement the strategies we put into the plan.
We are not looking to make dramatic changes overnight, but we are looking to make changes that will help us as a church to make and mature disciples. You have no doubt heard the saying that insanity is doing the same thing over and over and expecting different results. We don't want to be insane. But neither do we want to blow up everything we have and start all over.
I ask you to pray for the Church Revitalization University Strategic Leadership Team over these next two months as we try to discern where and how God is leading us to position our church to make an impact for Christ in this community. And I pray that you will support the recommendations that will come from this Team that will help us Forge our Future.
Thanks for reading,
Rick
March Calendar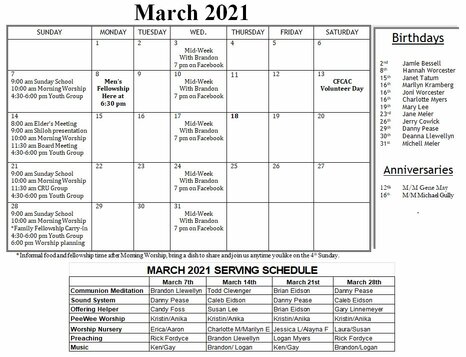 Our address is: 210 S Ohio St, Camp Point, IL 62320, USA