The Gospel Harbinger
April 2021 Newsletter
Can the church learn from the government?
This might seem like an unusual title for an article in a church newsletter. You may be asking yourself, "How in the world can the church learn from the government?" Some might suggest that the church follow the government's practice of printing money whenever they need it. That might solve most churches financial needs, but at best it would only be temporary, and then the loss would be worse than any gain that might be experienced. After all, printing money is illegal for anyone but the government. The church might lose any credibility it may have in a community if its leaders are in jail for counterfeiting.
Let me offer a different way the church can learn from the government with no fear of going to jail. Now, I must preface this with a caveat; I saw this information on the Internet, so I cannot guarantee its trustworthiness. But if true, what an example for churches. I read recently that the $1.9 trillion bill recently passed by congress will cost each American citizen about $14,000. In return for that "gift," each citizen then received $1,400 from the government. That means the government tithed the "gift" you gave to them. You gave the gift, and the government tithed it right back to you.
Okay, I can hear some of you groaning, "Here we go, another lesson on tithing. Doesn't he know tithing was part of the Law in the Old Testament, and we are no longer under the Law?" Yes, I am quite aware that tithing was part of the Law of the Old Testament (see, for example, Leviticus 27:30-33) and that we are no longer under the Law. However, did you know that tithing actually predated the Law? The first reference to tithing in the Bible is Genesis 14:17-20. This is the story of Abram returning from battle after rescuing Lot from those who captured him. Abram encountered Melchizedek, the priest of the God Most High, and paid to him a tenth of everything.
The second mention of tithing is found in Genesis 28:18-22. This is the story of Jacob and his vision of the ladder and angels. Jacob promises that if God would be with him on his journey and return him home again, then of everything God gave to him, he would return a full tenth to God. I wonder where Jacob ever got the idea of giving a tithe to God. It certainly did not come from Moses and the Law.
It is true that the New Testament does not command Christians to tithe. However, the writer of Hebrews (chapter 7) makes an interesting argument. The Levites received the tithes from the Jewish people. Yet the Levites (while still in the loins of Abram) themselves tithed to Melchizedek. And now, we follow and serve Jesus, who is greater that Melchizedek. His argument is this: if Melchizedek (the great) received tithes from the Levites, then doesn't Jesus, (the greater), deserve more from his priests (Christians)? Maybe the government is not such a great example after all!
Let me try to sum up the New Testament teaching on Christians and giving:
· 2 Corinthians 8:12. If you don't have it, God does not expect you to give it. If you do have it, God expects you to give some back to him.
· 1 Corinthians 16:2. As God prospers you, lay aside an amount you have determined to give. Whatever you decide to give (amount or percentage) is between you and God. Just be faithful in giving it when he provides it to you.
· 2 Corinthians 8:7. Grow in the grace of giving. Wherever you are in your journey on giving, allow God to increase your faith and the amount you give. For some, tithing may be an intermediary goal to set, and grow toward that goal. For others, tithing may be the jumping off point to the next level of giving.
I remember hearing a sermon illustration years ago. An older widow was in the habit of giving to God much and often. In fact, her giving often was more than the wealthier folk in the church. One day someone asked her how she could give so much, when her income was so little. Her response was, "God shovels it to me and I shovel it right back to Him. I guess His shovel is much bigger than mine."
What do you plan on doing with your stimulus check? Can you at least follow the government's example to tithe it? You may have a project at church you have wanted to give to but haven't had any extra money. Or maybe you know some missionaries you have wanted to support. Or perhaps there is some other charitable organization you have wanted to support for some time but have not been able to. Or just maybe, this may be God's way of letting you be more generous than you have ever been able to be before. Then again, this may be God's way of enabling you to catch up on some bills and other expenses that the pandemic has brought your way. For whatever reason, God has used our government to provide you with funds you were not expecting. Give thanks to God, and if possible, give a little extra to God, and rejoice in His faithfulness.
Thanks for reading,
Rick
Easter Sunday, April 4th
Carry-in Breakfast at 9:00 am
Morning Worship at 10:00 am
Have a Happy Easter and Celebrate our Risen Savior!
A Note of Thanks…
I would like to thank everyone for sending me birthday wishes. I received 198 cards and I enjoyed each and every one of them. I appreciate my church family for remembering me. God bless you!
Mary Lee
Upcoming Events
CFCAC Volunteer Day - Thursday, April 1st - Noon - 5:00 pm
Elder's Meeting - 8:00 am, Sunday, April 11th
Board Meeting - After Morning Worship, April 11th
CRU Group - After Morning Worship, April 18th
Homecoming/Anniversary - April 25th (See the poster)
Worship Planning Meeting - 6:00 pm, April 25th
Youth Group
The Youth Group will meet from 4:30 - 6:00 pm on the following Sundays in April: 11th, 18th and the 25th.
Homecoming Poster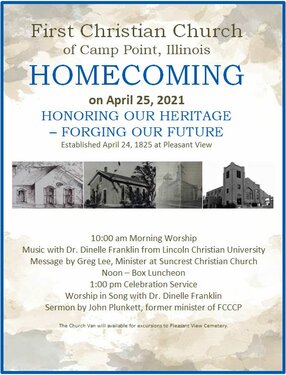 Shower Invitation for Brianna Clevenger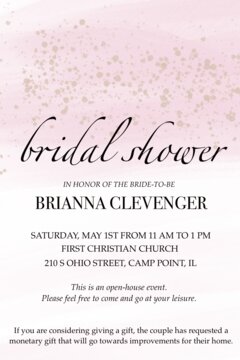 April 2021 Calendar and Serving Schedule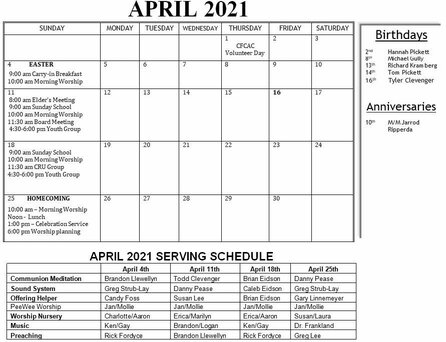 Our address is: 210 S Ohio St, Camp Point, IL 62320, USA