The Gospel Harbinger
May 2021
Rick's 'Ritins'
Homecoming 2021
The dust, as they say, has settled. The people have come and gone. But I certainly hope the spirit and enthusiasm of the day has not disappeared. The preaching, the singing, the worshipping, the fellowshipping, was all fantastic. Greg's sermon was encouraging, challenging, and overall spot on for a day of celebration. (In case you missed it, or would like to see it again, you can access it on our Facebook page.) Dinelle's concert of worship illustrated for us the true meaning of worship – to acknowledge the worth of God and Jesus Christ. John's sermon was a fitting ending to a great day. He reminded us of some of the people and events from the past, but also challenged us not to live in the past, but to keep doing what we have done for a lot of years.
It seems to me the day was a perfect kick-off to the next phase of the history of the First Christian Church of Camp Point. The past is great – there have been a lot of great people and events in the past that have established a heritage that is worth remembering. But the church cannot afford to live in the past. We rejoice in the past, we celebrate the past, but we cannot live in the past. Christ challenged the church to keep our eyes on the future, to keep growing and maturing and searching for people who need to become part of his Kingdom. Homecoming reminded us to celebrate the past but keep looking forward.
What will our future be? I wonder what those who first met on April 24, 1835 in Pleasant View thought their future would be. Did they imagine their efforts at starting a church based on the foundation of Jesus Christ and his word would still be around 185 years later? Did they anticipate all the hundreds of people in the Camp Point area, and ultimately thousands around the world that would be influenced and changed by the gospel through their efforts? Or were they more concerned about having enough wood for the fire to keep them warm, or keeping their wagons from getting stuck in the mud, or keeping safe from Indian attacks? Or maybe all of the above. I don't think any of us can answer the question.
However, I am convinced that their example is still a good one for us to follow in this regard: do what you believe God has called you to do, do it to the best of your ability, and do it with all that you have, and God will honor your efforts. We are to do what God has called us to do and leave the "results" with him.
As we look to the future, we believe that God has called us to try to reach at least 1% of the 11,000 people who live within a 10-mile radius of our church building. Can we do it? No, WE cannot do it in our own strength and wisdom. But we serve a God who is able to do it. The God whom we worshipped in song and sermon on Sunday is able to do that, and far more. The question is not, "Can it be done?" but rather, "Will we let God use us to get it done?" As Greg reminded us Sunday, it will take all of to deny ourselves, to lose ourselves, so people might find Jesus Christ. This is our real challenge – to become uncomfortable, to be willing to make changes, to deny our own preferences if necessary, so Christ and His Spirit can work in us and through us to reach out to those in our community who need to become part of the Body of Christ.
I am certain "going to church" in 1835 was not comfortable. At least not as comfortable as it is for us. But the reality is, Christ has never called us to "go to church." He has called us to "be the church." And there is a great difference. Going to church implies there is a time when we can go from "here" to "there." When we are done being "there," we leave the church behind. Unfortunately, there has been too much of that done through the years. On the other hand, being the church means you never go to it and then leave it. Wherever you are, the church is there. Whatever you do is the church doing it. That is a much scarier thought, but more in line with what Jesus had in mind. After all, he did not say, "Go to the light," He said, "You are the light." Big difference.
As we consider our future, we used a phrase in the anniversary theme: Forging Our Future. The reality is, we should see it as Forging His Future. After all, it is his church. Our task is to do what we believe he wants us to do, with all of our ability, with all that we have. Are we up to it?
Are we all going to agree with every decision that is made? Are we all going to agree with every change that is recommended? I doubt it. But those are not the questions we need to be asking. What we need to ask is, "Are these decisions and changes going to help us seek and save the lost?" After all, that is what Jesus said he came to do, and he challenges his followers to do the same. As we have heard numerous times, the message does not change, but the methods do – and must. Consider this: how would you like to have church exactly as they did in 1835? Not many of us would. We have changed many of the methods they used, but the essential message of Jesus Christ has not changed.
We are about to embark on a five-year plan to add over 100 people to this church within five years. We are developing strategies and steps to take to move us in that direction. It will happen as each of us is willing to say to Jesus, "This is your church, not mine. You died for the lost, not me. I'm yours, to be used as you see fit, to seek and to save the lost. I am all in. You have done your part, now help me to do mine. For your glory."
Will you accept the challenge?
Thanks for reading,
Rick
Upcoming Events
~Saturday, May 1st - Bridal Shower for Brianna Clevenger 11 am - 1 pm in the Fellowship Hall
~Sunday, May 2nd - CRU Group will meet right after Morning Worship, Worship Planning Meeting at 6:00 pm
~Sunday, May 9th - Mother's Day!
~Monday, May 10th - Men's Fellowship, 6:30 pm at Liberty
~Saturday, May 15th Graduation Reception for Eli Ripperda from 4-6 pm
~Sunday, May 16th - Elder's Meeting at 8:00 am, Board Meeting after Morning Worship Service
~Tuesday, May 18th - CFCAC Volunteer Day, 9:00 am - 1:30 pm
~Sunday, May 23rd - Family Fellowship Carry-in after Morning Worship Service
~Sunday, May 30th - Worship Planning Meeting at 6:00 pm
Youth Group
The Youth Group will meet from 4:30-6:00 pm on the following Sundays in May: 2nd, 16th, 23rd and 30th
May 2021 Calendar and Serving Schedule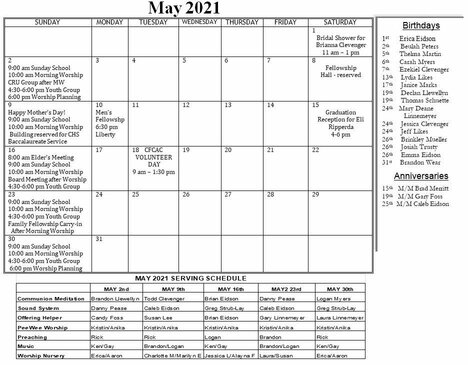 Our address is: 210 S Ohio St, Camp Point, IL 62320, USA