Storms Don't Stop God
Encouraging words, events & more.
This Sunday we'll be digging into Acts 27 and uncovering some of the reasons why Paul has confidence in God even when his good advice is ignored resulting in treacherous fall storms, being lost at sea, and ship wreck. Storms don't stop God but they sure can shake our confidence. How reassuring to know that storms come and go but God remains.
We'll also be celebrating our second (and last for the year) Old School Sunday. All are welcome! We're especially looking for people who either own and/or is into classic cars to help fill up our parking lot. If you own or know someone who owns a classic car, invite them out to the Worship Service, 10:30am. We'll follow up the service with all you can eat street tacos, rice and beans. Bring a friend and we'll see you there!
Tonight at 6pm in the Gathering Place, we'll be hosting a Q/A Meeting regarding selling the land north of the sanctuary.
Coffee & Fellowship is starting up again this Tuesday, 8am at the Donut Factory off of Prosperity. And also, Gather & Pray is still going strong on Tuesday nights, 6pm in room 401.
All are welcome :)
Please keep Glyndia Pool's family and friends in your prayers as we continue to morn her loss. Her graveside funeral is this Friday, 1pm at the old cemetery in Tulare.
Finally, our Yard Sale to raise funds for the 2022 Mexico Mission Trip is next Saturday, Oct 2, from 6am to 12pm. If you're able to help, please sign up at the Welcome Center or contact the office.
Regardless of the storm, our confidence in God can remain. Choose Him today, for He is good and loves you deeply.
Pastor Aaron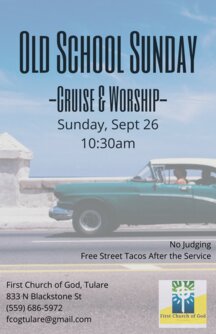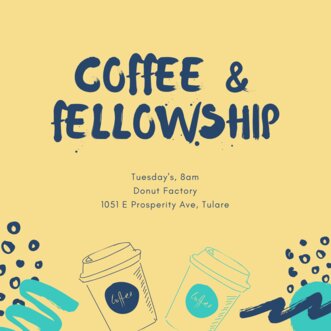 Worship with us live every Sunday at 10:30am on our website (fcogtulare.com) or through our faithlife app for your phone or tablet available through your app store.
If you have any questions, please feel free to contact the office.
Our address is: 833 North Blackstone Street, Tulare, CA, 93274