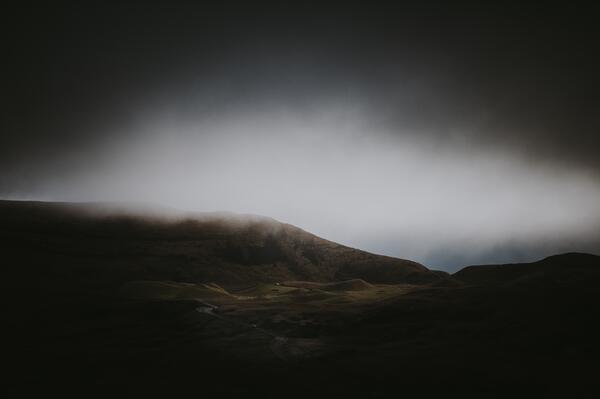 How to Recover . . .
Jesus is with You
Valleys and mountain tops: these are the common images used to describe the spiritual life. But what happens when the valley is much longer and darker than originally anticipated? What happens when one struggles through a valley for 6 months, a year or even two? What then do we call it? Surely it's more than a valley. Surely it's a spiritual recession.
Spiritual recessions have a plethora of causes. Some are caused by the death of a loved one. Others are caused by a loss of employment. For others the previous shutdowns were reason enough. Usually, there is more than one cause and it's often difficult to discern exactly what it is till after the fact. When one is above the valley, not amidst its dense growth and winding paths, it can be seen as a whole and properly understood. Regardless of the particular cause(s), spiritual recessions take place in times of great disruption and change. Such a time is this.
When a person experiences a spiritual recession, they go through a difficult sustained period of loss. They grieve and feel isolated. They often vacillate between anger and despair. Pain and suffering eclipse their identity and put a strain on relationships and matters of faith. Hope and love lose their potency to inspire and are regulated to an intellectual principle either followed or denied. Much the same is said of courage and the rest of the cardinal virtues. This is all to say, a spiritual recession can easily turn into a spiritual depression if it is not first recognized for what it is and admitted as an adequate descriptor. Too often a bad conscience prohibits the soul from moving beyond a spiritual recession, and so, a prolonged spiritual depression takes hold and moves the person deeper and deeper into the valley till decadents, apathy and finally inactivity becomes the new norm. Drop the guilt and admit when you're in a spiritual recession. This is the first step out of the valley.
Next, you'll need good rest and good activity. Jesus said, "come to me, all of you who are weary and carry heavy burdens, and I will give you rest" (Matthew 11:28). All spiritual recovery has rest and activity. Rest is needed because recessions disrupt, bringing fear and subsequently, stress. Activity too is needed because one cannot remain in the valley forever. Typically, rest and activity means slowing down, putting the phone away and being still in the presence of God. Reading a little Scripture with quiet reflection breathes life into weary bones. Praying and then writing can give clarity and focus as the Holy Spirit guides and ministers. Whatever the approach, keep it slow and steady and keep it about Jesus. We have to come to Jesus in order to have proper rest, for the two are intertwined and heal the soul.
Once a good rhythm of rest and activity has been established, peace can not only be found but also enjoyed. In John 14:27, Jesus promises to leave the gift of "peace of mind and heart." He goes on to admit that the peace He gives "is a gift the world cannot give. So don't be troubled or afraid." The valley is a troubling and fearful place to be stuck in, but with Jesus we can have peace amidst the hardships. With Him at the forefront, a better footing is found and the path out of the valley is discovered. It isn't through warring against inner desires, outward sin, injustices, propagandist pushes, or ever present slights that'll lead to a higher place. It is the way of Jesus that'll lead to higher and greater places. Put your faith in Christ and you will experience His elevating peace.
Finally, strength will return. While in prison, the Apostle Paul wrote a magnificent letter to the early church in Philippi. The divinely inspired epistle permeates with joy. Though valleys are tough they also produce an abundance of fruit, adding to life in ways mountaintop experiences cannot. It's on the mountaintops that we admire strength. It's in the valleys that we use strength. Paul writes, "I can do everything through Christ, who gives me strength" (Philippians 4:13). So can you. Spiritual recessions happen to all of us, but they are not to be forever. Seek out good rest and activities for the soul. Talk it over with family and friends. Pray for the peace of Christ, and His strength will carry you out of the valley and into the crisp air and scented pines of the mountains, where you will continue to walk with Jesus. He's with you on the mountaintop and He's with you in the valley.
Jesus is with You,
Pastor Aaron
You're ongoing giving is a tremendous blessing. Thank you for all of your support! Check out our online giving option on our website: https://fcogtulare.com/give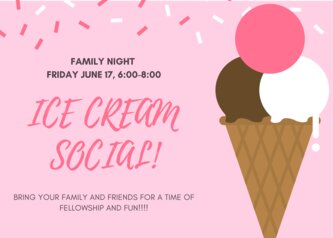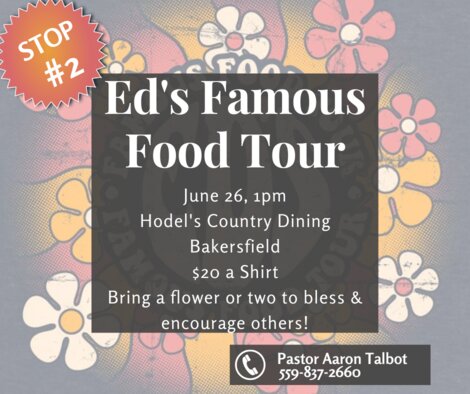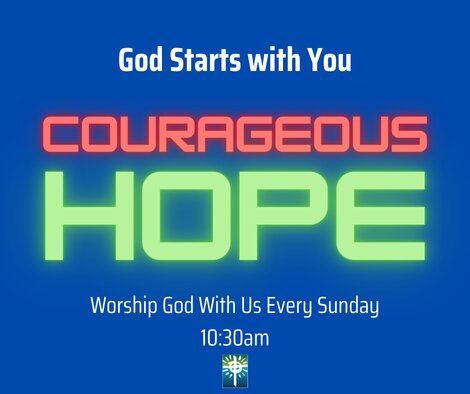 Our address is: 833 North Blackstone Street, Tulare, CA, 93274