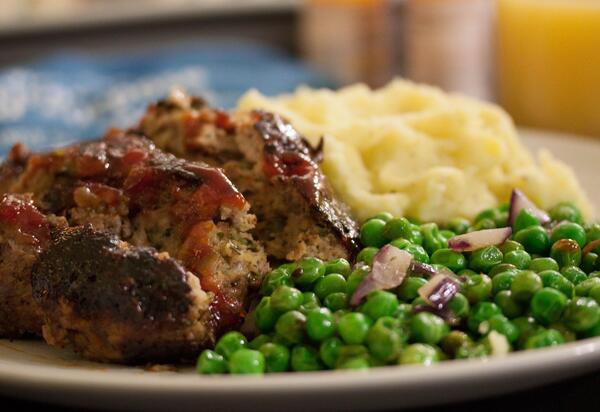 Empty on a Full Stomach?
Mmmmmm, meatloaf . . .
"I'm not hungry."
After a Saturday afternoon of snacking on bags of chips and chocolate bars and a treasure trove of candy and soda, the 10 year old boy was full. He peered at his plate of meatloaf, mashed potatoes, and peas and couldn't stomach it. He felt sick but didn't want to let on, for a pang of guilt mixed with a dash of fear superseded his desire to be honest. He knew he should've left the snacks alone and was warned that he'd spoil his supper.
"No I won't," he said in defiance. "I like meatloaf. I'll eat it."
It's hard to eat the good things when you're full from the junk. Paul warns that you are to not "let anyone capture you with empty philosophies and high-sounding nonsense that come from human thinking and from the spiritual powers of this world" because such things can never bring true fulfillment (Colossians 2:8, NLT). Paul goes on to rightly state that you "are complete through your union with Christ" (2:10). Being in union with Jesus means trusting Him daily, knowing and following His commands and crucifying the passions that are counter to Jesus. Union with Jesus requires the whole person.
In contrast, when we fail to trust Jesus, ignore His commands and live for the passions that are counter to His good ways, we become full and sickly while still, paradoxically, always hungry. We are empty on a full stomach. The soul cannot sustain nor adequately endure trials apart from the Bread of Life. A simple solution is found in the Scriptures when weakness begins to overcome the starving spirit: "taste and see that the Lord is good. Oh, the joys of those who take refuge in him" (Psalm 34:8)!
Taste and see. Simply start there if you haven't the stomach for a full course at the Lord's table. In due time the junk in your system will pass and you will grow in hunger and you will eat and be satisfied in the Lord.
God Starts With You,
Pastor Aaron
You're ongoing giving is a tremendous blessing. Thank you for all of your support! Check out our online giving option on our website: https://fcogtulare.com/give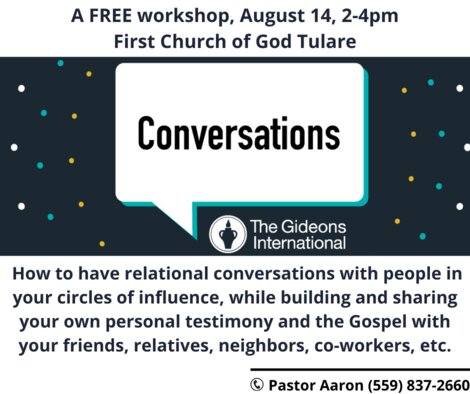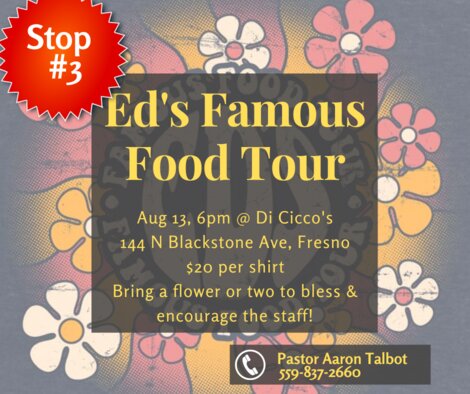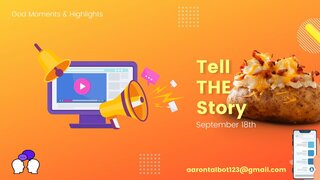 Hey you!
Yeah, you. We want pictures and stories from your awesome summer. How did God bless you this year? What were some of your challenges? Where did you see God at work?
Send us your pictures to aarontalbot123@gmail.com and we'll share our stories of God's goodness on September 18th :)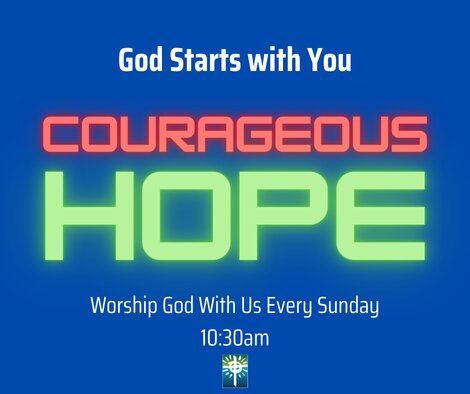 Our address is: 833 North Blackstone Street, Tulare, CA, 93274