Look Past the Sign
All Glory to God
Now all glory to God, who is able, through his mighty power at work within us, to accomplish infinitely more than we might ask or think (Ephesians 3:20).
If a church sign breaks in the wind, and there's no one around, does it make a sound?
I would think so. What about you?
Last night we had some strong winds come into the valley. Branches were torn off trees. Patio equipment was tossed and smashed. And our big church sign was damaged in the ensuing gale. It was an odd sight to see a quarter of that giant sign drooping like it was having a bad, bad Monday. But it's nothing that can't be fixed and reinforced for future gusts of wind.
Sometimes we can mix up the sign for what really matters. The Bible is the most important book in the world. Everyone should read it and study it. Not because the Bible saves you. The Bible can't save you. It's a book. But it can point you to the one who can save your soul: Jesus. Likewise, the Bible can outline what the good life looks like and the various commandments that Christians are to keep (Jesus gave us 49 commandments), but it can't really help you to keep them. Only the grace and the power of God can do that.
Signs can aid us but they can never substitute the real thing. When I drive into a new city, I don't stop at the sign, examine it endlessly and ponder its significance. I use it to direct me into the city. In a similar way, the Bible is to be understood and studied as something that leads us to God. The truth is, we all need God's "mighty power" to be "at work within us", for it is by His Holy Spirit that He will "accomplish infinitely more than we might ask or think". What is it that you need God to do in your life today?
Like the winds of last night, God can move suddenly and with power. Look past the signs in your life and seek Him today for His own sake. Look beyond your weaknesses and rely on Him. All glory is His, for He is able and he loves you as no other can.
Following God's Lead,
Pastor Aaron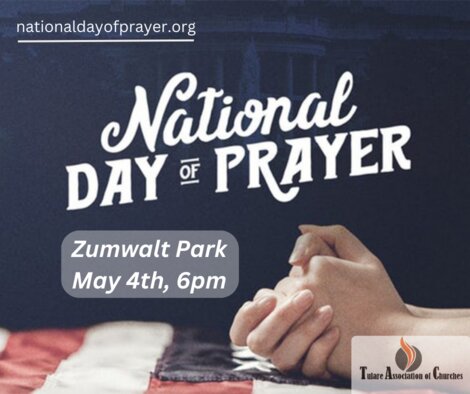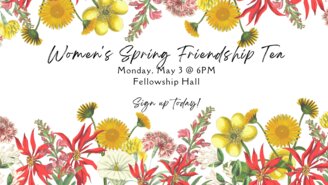 Note: the Tea is May 8th not May 3rd.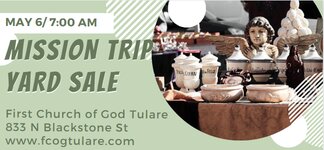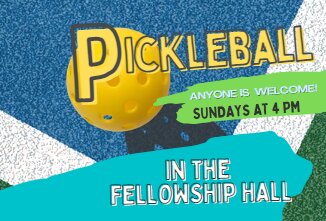 You're ongoing giving is a tremendous blessing. Thank you for all of your support! Check out our online giving option on our website: https://fcogtulare.com/give
Our address is: 833 North Blackstone Street, Tulare, CA, 93274