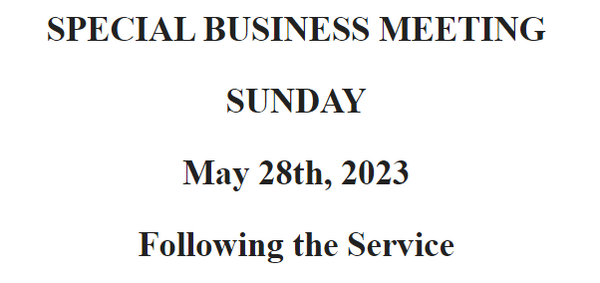 May 28th Vote
Land Proposal
PURPOSE: To vote on a Land Sale Proposal
The Governance Board proposes the sale of the 1.90 acres of excess Commercial land, north of the Sanctuary Parking lot, for no less than $520,000, so long as the property is, to the best of our knowledge, not developed in opposition to the ministry and mission of First Church of God, Tulare. Furthermore, the funds acquired from said sale will be divided and budgeted 80% for Campus Upgrades and 20% for savings.
First Church of God, Tulare
833 North Blackstone Street
Tulare, California 93274
All *members are urged to attend this important meeting.
Absentee ballots are available in the Office.
*Per by-laws, Article IV – Section 1: The rules governing membership herein stated shall apply to business organization only and shall not affect the standing of the members in the church body. The membership of the corporation shall be restricted to those who meet the following conditions: a) They shall be eighteen (18) years of age or older; b) They shall have worshipped regularly with the local congregation for a period of at least three (3) months immediately preceding any meeting at which they exert the rights of membership; c) They shall be "Born again Disciples of Jesus" who have lived during this period of three (3) months in harmony with the accepted standards of the Church of God of Tulare of Tulare, California; and in harmony with the General Assembly of the Church of God, Anderson, Indiana.
POSTED: May 7, 2023
Our address is: 833 North Blackstone Street, Tulare, CA, 93274