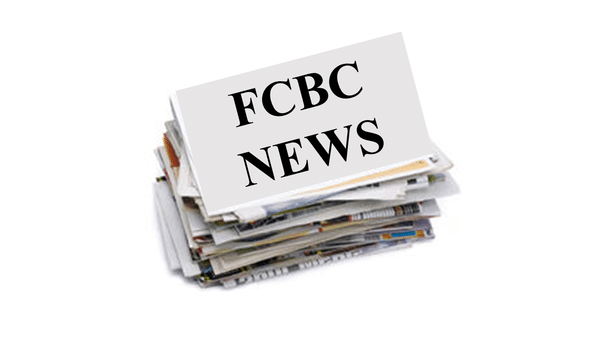 June 1, 2021
HAPPY JUNE EVERYONE!!!!
Summer is always an exciting time. The kids are out of school and hopefully promoting to the next grade. High School graduations are over, at least here in Arizona. Their excitement is so fun to be around as they say goodbye to high school and hello to their next chapter in life, joining the military, going to college or trade school, getting a job, and some getting married and starting a family. For a parent there no better feeling than seeing you child ready to take on the world or at least you hope they are. I think back to my graduation and I really did not have any clue what I was going to do or even wanted to do. I sure am glad God already had my future planned; I just didn't know it.
The church has been fortunate to have several people busy doing maintenance projects around the church during the last three or four months. Our painting project has resulted in the outside of the sanctuary and the south side of the fellowship hall being painted. Along with this the three ramps that give access for the handicapped to our buildings have been refurbished and look great. I almost forgot our parking lots have been resealed and restriped and look great. We are ready for God to send us a bunch of new people to fill up our worship services.
As the Covid numbers continue to get better and the state opens up more we are following suit. Beginning this weekend, we will no longer have any of our rows of chairs blocked off for social distancing. Along with that, we will be using our hymnals once again. We will be relaxing our guidelines concerning the wearing of masks by making them optional. We ask you to just use common sense and if you are experiencing any Covid symptoms please stay home. This applies to flu symptoms also.
I will be sharing a series of messages the first three weekends of June that are focused on the vision of FCBC that God gave Bill and I about a year ago. Since the first of the year, we have been slowly introducing the vision ideas to the church. These messages will focus on our strategy to revitalize our church and simply titled, "Gather, Grow, and Go." We at FCBC are on a mission to carry out this strategy as we "help people discover a better life in Christ Jesus." Our vision is "to bring vitality to the senior adult community."
Will you join us in the journey God has placed before us? We need your help to carry out this strategy. Begin praying how God can use you to fulfill His "Great Commission." We need people willing to fill positions of service. We need you to join our church if this is where God is calling you to serve. We need you to be active inviting our friends and neighbors to church. We need you to support God's ministry financially. Listen to the Lord and obey His desires for you at FCBC.
God bless you all and I look forward to seeing you in church this weekend.
Worship times: Saturday 6:00 pm; Sunday 8:15 & 10:45 am
Prayer/Bible Study: Wednesday 6:00 pm
Pastor Jon
Helping people discover a better life in Christ Jesus.
Our address is: 12844 W. Santa Fe Dr., Surprise, AZ 85378