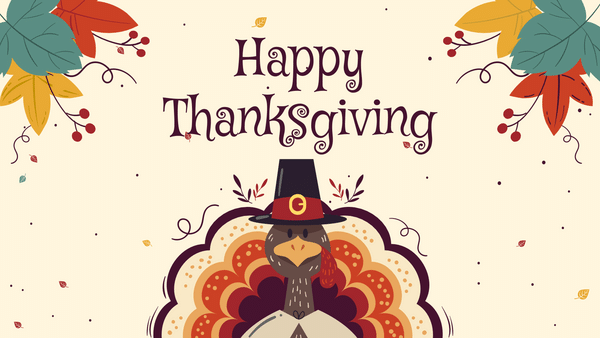 Thanksgiving Greeting
November 23, 2022
I come to you bidding you a Happy Thanksgiving. However, I know that many times our happiness is just a façade masking what is truly happening in our lives. My prayers are that in the face of our trials and tribulations that the joy of knowing Jesus as our Savior will overcome our anxieties and fears.
Joy is not dependent upon our circumstances, like happiness is, so during this holiday season and every season of your life lean upon Jesus, He can change our frowns into smiles of joy. Psalm 55:22 says, "Cast your burden on the LORD, and he will sustain you; he will never permit the righteous to be moved. (ESV)" Let us all have a "joyous" Thanksgiving.
Join us this weekend as I share the message, "Parting Your Red Sea."
December is going to be a month of enjoying God's bounty as we worship Him. Join us for these events:
Dec. 3 Concert—Terry Hutson & the Believers (Saturday @ 6 pm)
Dec. 12 Gospel Jam Session (Monday @ 6 pm)
Dec. 17 Movie Night—"Why The Nativity?" (Saturday @ 6 pm)
Dec. 24 Christmas Eve Candlelight Service (Saturday @ 5 pm)
Join us during this holiday season. The December preaching series is "Why The Nativity?"
Dec. 3 & 4 "Why Did Jesus Become A Man?"
Dec. 10 & 11 "Why Joseph?
Dec. 18 "Why Mary"
Dec. 24 "Candlelight Service" @ 5 pm
Dec. 25 "Why Do We Call Him Savior?"
Paul ended his letter to the Ephesians with these words:
Peace be to the brothers, and love with faith, from God the Father and the Lord Jesus Christ. 24 Grace be with all who love our Lord Jesus Christ with love incorruptible. (Eph. 6:23-24 ESV)
Love in Christ,
Pastor Jon
Helping people discover a better life in Christ Jesus.
Our address is: 12844 W. Santa Fe Dr., Surprise, AZ 85378