Weekly Update: 12.5.21
Stay in the loop with First Baptist Church of Leadville
Hello Church Family!
In case you're planning on going to our local Christmas Parade this Friday night, we have an outreach planned for it!
Bundle up and meet us at the Visitor Center on Harrison Ave (at 5:45pm) to grab a bag of invites to hand out!
Each invite bundle will contain an invitation to our Christmas Eve Candlelight Service, Christmas Play "Long Foretold," some candy, and a gospel tract. We'll spread out along the parade lines, offering invite baggies to anyone who's interested!
The parade starts at 6pm, so enjoy the procession and continue to engage our neighbors! We hope you'll be able to join us and bless tons of our fellow Leadville friends with this outreach!
RECAP:
If you missed last Sunday's message on "Don't Test God" from Hebrews 3:7-4:13, Part 1, you can listen HERE.
THIS SUNDAY!
This Sunday, we'll still be in Hebrews 3:7-4:13, Part 2, considering the idea of "Resting in Space." An open Q&A session will follow the service for those interested.
CAN'T ATTEND IN PERSON?
Hopefully we can see you tuning in live on one of our online platforms: (Facebook, YouTube, or Twitch).
- Tanner
P.S. We won't receive direct replies to this message, so if you want to reach us, please email us at church@fbcleadville.com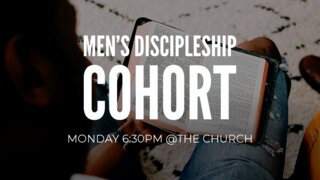 Join us for our Men's Discipleship Cohort! Mondays, 6:30PM at the church. All men are invited, so please spread the word!
NEXT TOPIC:
Coming up, we'll explore ideas surrounding secular and sacred work in addition to a time of fellowship, prayer, and discussion!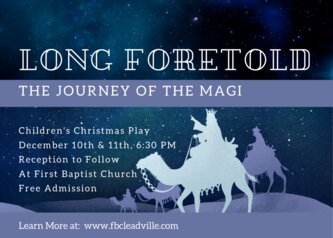 Christmas Play: Long Foretold
All are invited to attend our free Christmas play, "Long Foretold: The Journey of the Magi," featuring children from the Leadville community! The show begins at 6:30pm with a reception to follow both Friday and Saturday.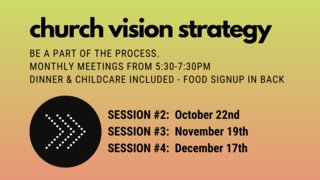 Our next session is December 17th! We're doing a potluck dinner, so let us know if you'd like to be a part of it while contributing to the future vision and structuring of our church!
If you have your packet from last time, please bring it! Otherwise we can make copies for those who need them. Email us at church@fbcleadville.com.
Discipleship for God's Glory. Welcome to First Baptist Church of Leadville.
Our address is: 219 Mountain View Dr, Leadville, CO 80461, USA