Weekly Update: 3.13.22
Stay in the loop with First Baptist Church of Leadville
Hello Church Family!
Thank you to everyone who stayed for our Communion Sunday Potluck last week! We hope it was a blessed time of fellowship for all.
DON'T FORGET!
This Friday, we're hosting a movie night at the church! See details below...
RECAP:
Thank you to our Pastoral Assistant, Trevor DeField, for preaching last Sunday! (Tanner & Jessie welcomed their daughter into the world on Saturday, so we're grateful for the team support!) If you missed last Sunday's message on "Church of Philadelphia: Perseverance Because of Promise" from Revelation 3:7-13, you can listen HERE.
THIS SUNDAY:
This Sunday, we'll continue in Hebrews, discussing "The Weakness of Bodily Descent" - Part III of Hebrews 7:1-28.
In addition, we'll host our monthly leadership meeting at the church following the service, so no Q&A.
CAN'T ATTEND IN PERSON?
Hopefully we can see you tuning in live on one of our online platforms: (Facebook, YouTube, or Twitch).
- Tanner
P.S. We won't receive direct replies to this message, so if you want to reach us, please email us at church@fbcleadville.com
MOVIE NIGHT THIS FRIDAY!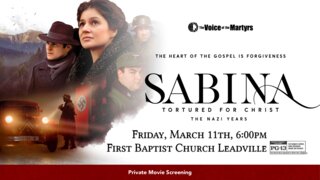 Join us for a movie night at the church! We'll be offering a free private showing of "Sabina," a PG-13 film by the Voice of the Martyrs with another "kid-friendly" option for younger ones in the basement. If you have any questions, please reach out to the Woods for details! Tina: (719) 966-7161.
UPCOMING EVENTS
Download
Wednesday, March 16th, 2022  •  6:00–7:30 pm (MST)
Download
FBC Leadville offers AWANA clubs during each school year for kids from age 2 through 6th grade. Clubs are on Wednesday nights from 6:00-7:30. Connect via our Facebook page: https://www.facebook.com/fbcleadvilleawana Register/See the AWANA Schedule: https://fbcleadville.twotimtwo.com/site/index
Wednesday, March 16th, 2022  •  6:00–7:30 pm (MDT)
Download
Join us for our Ladies Bible Study! Every 2nd and 4th Tuesday from 6:30pm-8:00pm. Join us online (via Zoom invitation) or in person in the church basement "Fireside Room." If you'd like a Zoom invite, please email us at church@fbcleadville.com Expect a time of study, discussion, fellowship, and prayer!
Tuesday, April 12th, 2022  •  6:30–8:00 pm (MDT)
Discipleship for God's Glory
Our address is: 219 Mountain View Dr, Leadville, CO 80461, USA