Weekly Update: 6.19.22
Stay in the loop with First Baptist Church of Leadville
Hello Church Family!
RECAP:
Happy Father's Day weekend! If you missed last Sunday's sermon on "The Necessity of a Godly Judge: Part II" from Hebrews 10:26-39, you can listen HERE.
THIS SUNDAY:
This Sunday, we'll continue in Hebrews with Part III of chapter 10, verses 26-39, followed by a Father's Day BBQ Picnic at Ice Palace Park! (Details below).
CAN'T ATTEND IN PERSON?
Hopefully we can see you tuning in live on one of our online platforms: (Facebook, YouTube, or Twitch).
- Tanner
P.S. We won't receive direct replies to this message, so if you want to reach us, please email us at church@fbcleadville.com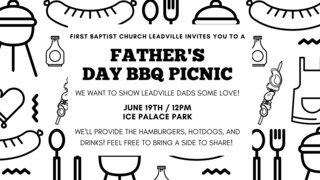 WE WANT TO SHOW LEADVILLE DADS SOME LOVE! WE'LL PROVIDE THE HAMBURGERS, HOTDOGS, AND DRINKS! FEEL FREE TO BRING A SIDE TO SHARE!
ICE PALACE PARK: 100 W 10TH ST, LEADVILLE, CO 80461
Discipleship for God's Glory
Our address is: 219 Mountain View Dr, Leadville, CO 80461, USA