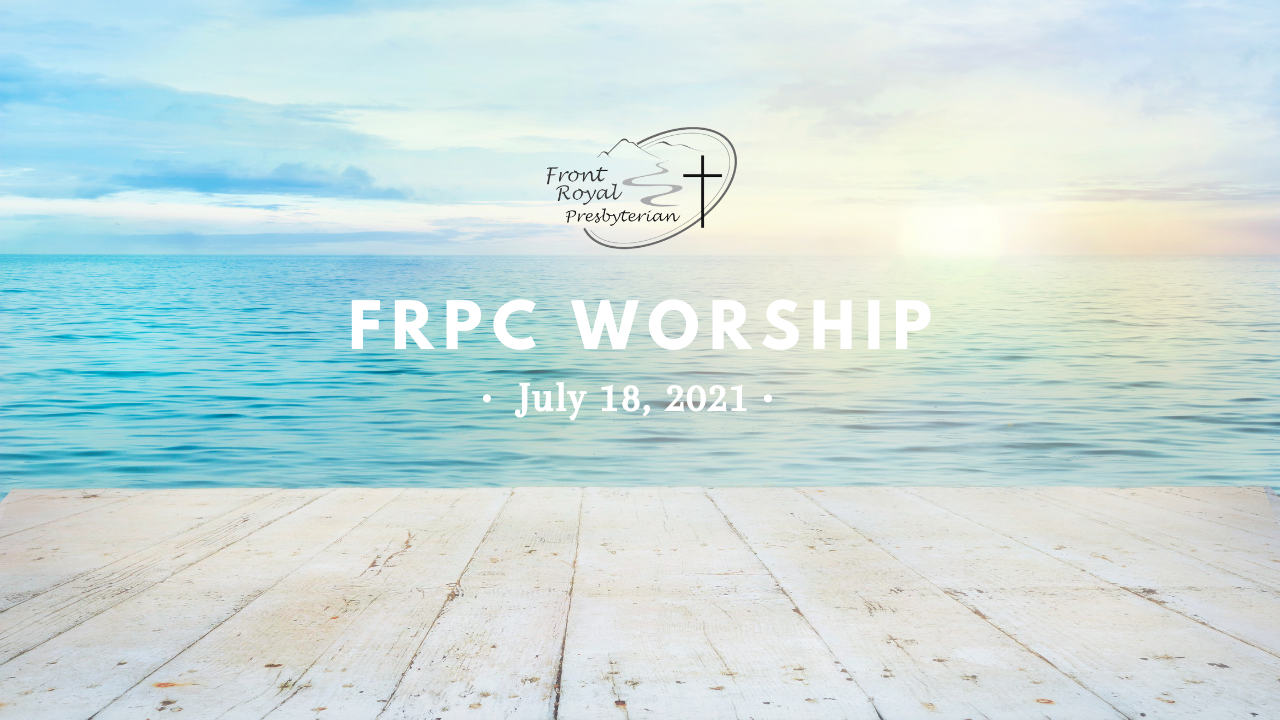 Front Royal Presbyterian Church (VA)
Virtual- July 18, 2021
Virtual- July 18, 2021
Prelude Listen, God is Calling Trad. Kenyan/Anne Krentz Organ🎼
Welcome & Announcements 👋
Gathering Wind Who Makes All Winds that Blow 🎼
Call to Worship
Strength is commanding
the wind and sea to obey,
Strength is wielding
a slingshot in the face of a raging giant.
Strength is accepting vulnerability
from inside the boat,
Strength is standing in solidarity
with the powerless.
Strength is turning a cheek,
Strength is loving an enemy.
We come to worship
a God who redefines our vision of strength.
Prayer of Confession 🙏
Lord, we know we have fallen short.
We turn our backs when we could embrace.
We remain silent when we could speak.
We speak when we could listen.
We judge when we could seek understanding.
We cling when we could give.
Forgive us, O God for focusing on ourselves and help us to continue to grow into the people you created us t be, through Christ our Lord. Amen.
Silent confession.
Response to Confession O Holy Spirit, Root of Life 🎼
Assurance of Pardon 💦
Gloria Patria 🎼
Time with Young Believers
Call to Offering
Prayer of Dedication 🙏
Doxology 🎼
Scripture Numbers 22:22-40 ✝️
Hymn Guide Me, O Thou Great Jehovah🎼
Pastoral Prayer/ Lord's Prayer 🙏
Special Music Sing a New Song Michael Praetorius/Mark Schweizer Ruth Younk & Dave Edwards🎼
Scripture Numbers 22:41-23:12✝️
Message
Benediction
Sending Shalom Chaverim 🎼
Postlude Oh, For a Thousand Tongues to Sing Paul Manz🎼
Let us get to know you!
Please take a moment to send us your information so that we may stay connected with you. Your information is carefully managed and protected.
How did you hear about us?