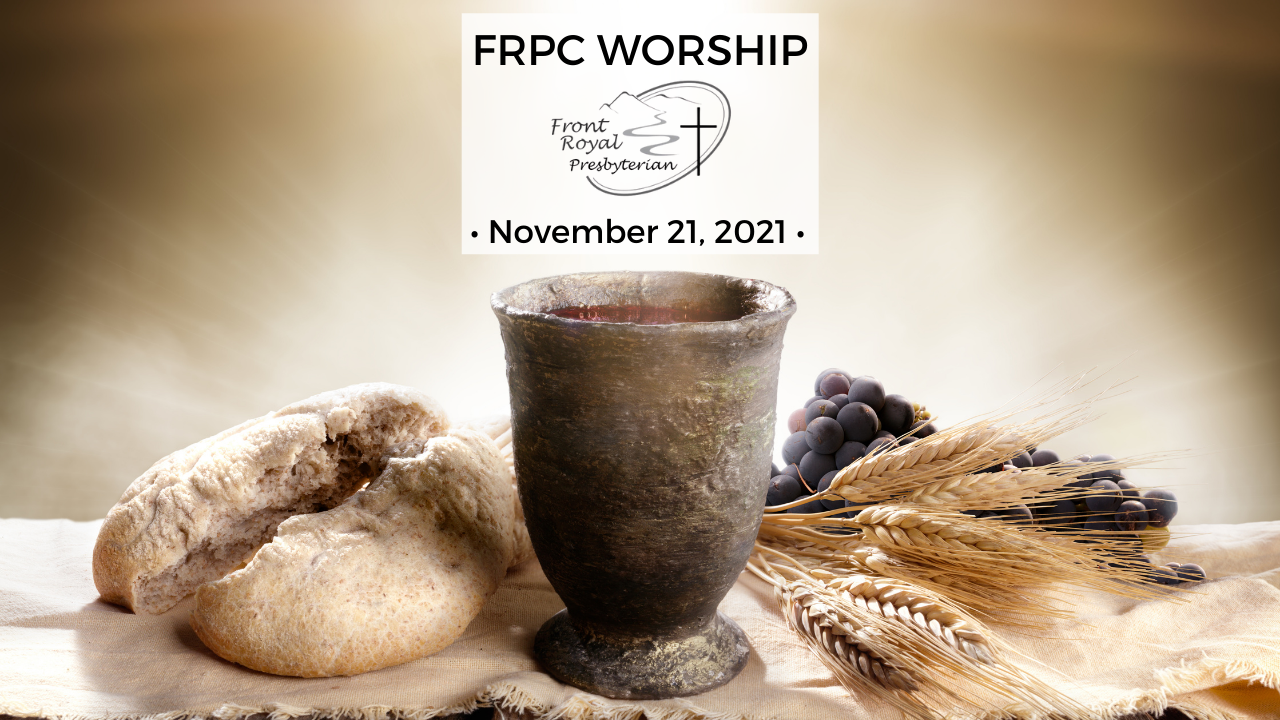 Front Royal Presbyterian Church (VA)
Virtual Worship- November 21, 2021
Virtual Worship- November 21, 2021
Prelude Prelude on "Eat this Bread" Jacques Berthier/
Charles Callahan🎼
Welcome & Announcements 👋
Gathering Wind Who Makes All Winds that Blow 🎼
Call to Worship
We come to worship Jesus Christ, Alpha and Omega, the one who is, who was, and is to come
We come to worship the one who rules justly
We come to worship Jesus Christ, the faithful witness
The firstborn of the dead,
The ruler of the kings of the earth!
Bread of Heaven, God with us!
Good Shepherd, True Vine!
Eternal Word, Great I AM
Wonderful Counselor, Prince of Peace!
We come to worship Jesus Christ, King of kings and Lord of lords!
To him be glory and dominion forever and ever! Amen.
Prayer of Confession 🙏
Most merciful God, we confess that we have sinned against you in thought, word, and deed, by what we have done, and by what we have left undone. We have not loved you with our whole heart; we have not loved our neighbors as ourselves. We are truly sorry and we humbly repent. For the sake of your Son Jesus Christ, have mercy on us and forgive us; that we may delight in your will, and walk in your ways to the glory of your name. Amen.
Response to Confession O Holy Spirit, Root of Life 🎼
Assurance of Pardon 💦
Gloria Patria 🎼
Time with Young Believers
Call to Offering
Prayer of Dedication 🙏
Doxology 🎼
Scripture Scripture: Revelation 1:4-8 ✝️
Hymn Come, Ye Thankful People, Come 🎼
Scripture John 18:28-38 ✝️
Special Music Clair de Lune Claude Debussy/Sidney Lawton
Karen Young, clarinet🎼
Sermon
Invitation to the Table
Words of Institution
Communion of God's People 🍷🥖
Benediction
Sending Shalom Chaverim 🎼
Postlude Voluntary on "This is the Feast" Richard W Hillert/ Charles Callahan🎼
Let us get to know you!
Please take a moment to send us your information so that we may stay connected with you. Your information is carefully managed and protected.
How did you hear about us?