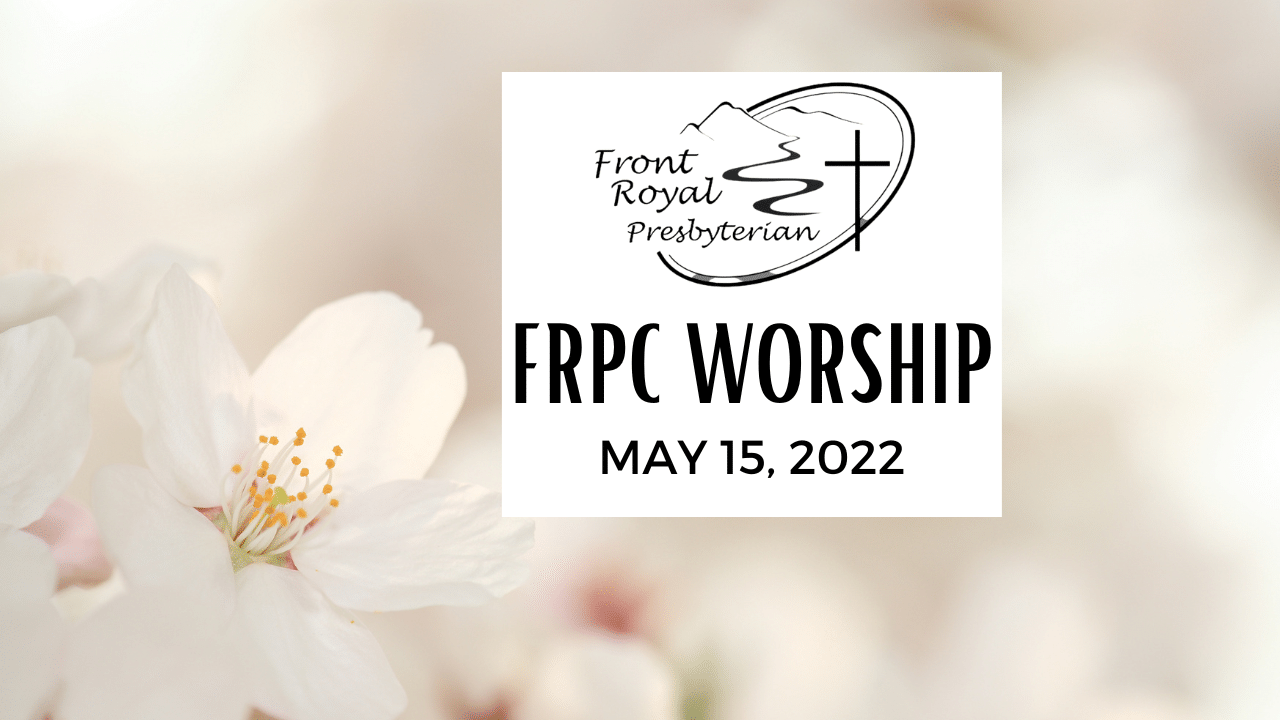 Front Royal Presbyterian Church (VA)
FRPC Worship- May 15, 2022
FRPC Worship- May 15, 2022
Prelude Come Down, O Love Divine Mark Sedio 🎼
Welcome & Announcements 👋
Prayer for World Peace
Gathering Lord, Listen to Your Children Praying 🎼
Lord, listen to your children praying,
Lord, send your Spirit in this place;
Lord, listen to your children praying,
Send us love, send us pow'r, send us grace.
Call to Worship
Kings of the earth and all peoples, princes and all rulers of the earth!
Young men and women alike,
old and young together!
Let them praise the name of the Lord, for his name alone is exalted;
his glory is above earth and heaven.
Let us Worship the Lord our God Together.
Hymn #472 O Sing to the Lord🎼
Call to Confession
The chaos of our world confuses us and leads us astray. Let us return to the clarity God can provide through our prayer of confession.
Prayer of Confession
Eternal God, we dissociate from parts of your creation and falsely separate into clean and unclean. You call us to love one another and make more space at the table of belonging. Forgive our exclusion and judgment. Cleanse us of the sin that distorts your truth. Amen.
Assurance of Pardon 💦
Time with Young Believers
Children are invited to go to Children's Worship with our Children's Worship Leader. Children will return to their parents during the final hymn.
Call to Offering
Offertory Silent Prayer Mikhail Shukh🎼
Prayer of Dedication 🙏
Anthem Come, Let Us With Our Lord Arise Charles Wesley/Trad. English🎼
Scripture: Psalm 148 ✝️
Pastoral Prayer & Lord's Prayer 🙏
Scripture: Acts 16:9-15 ✝️
Message ✝️
Affirmation of Faith (From A Brief Statement of Faith)
1 Cor. 15:1–6; Mark 16:1–9; Matt. 16:16; Rev. 22:13; John 20:28
This is the good news which we have received,
which we stand, and by which we are saved,
if we hold it fast: that Christ died for our sins according to the scriptures,
that he was buried, that he was raised on the third day,
and that he appeared first to the women, then to Peter, and to the Twelve,
and then to many faithful witnesses.
We believe that Jesus is the Christ, the Son of the living God.
Jesus Christ is the first and the last, the beginning and the end;
he is our Lord and our God.
Amen.
Closing Hymn #2220 We Are God's People🎼
Benediction
Postlude Partita on "O Sons and Daughters," Vars. I, V, VI
Wilbur Held🎼
Let us get to know you!
Please take a moment to send us your information so that we may stay connected with you. Your information is carefully managed and protected.
How did you hear about us?