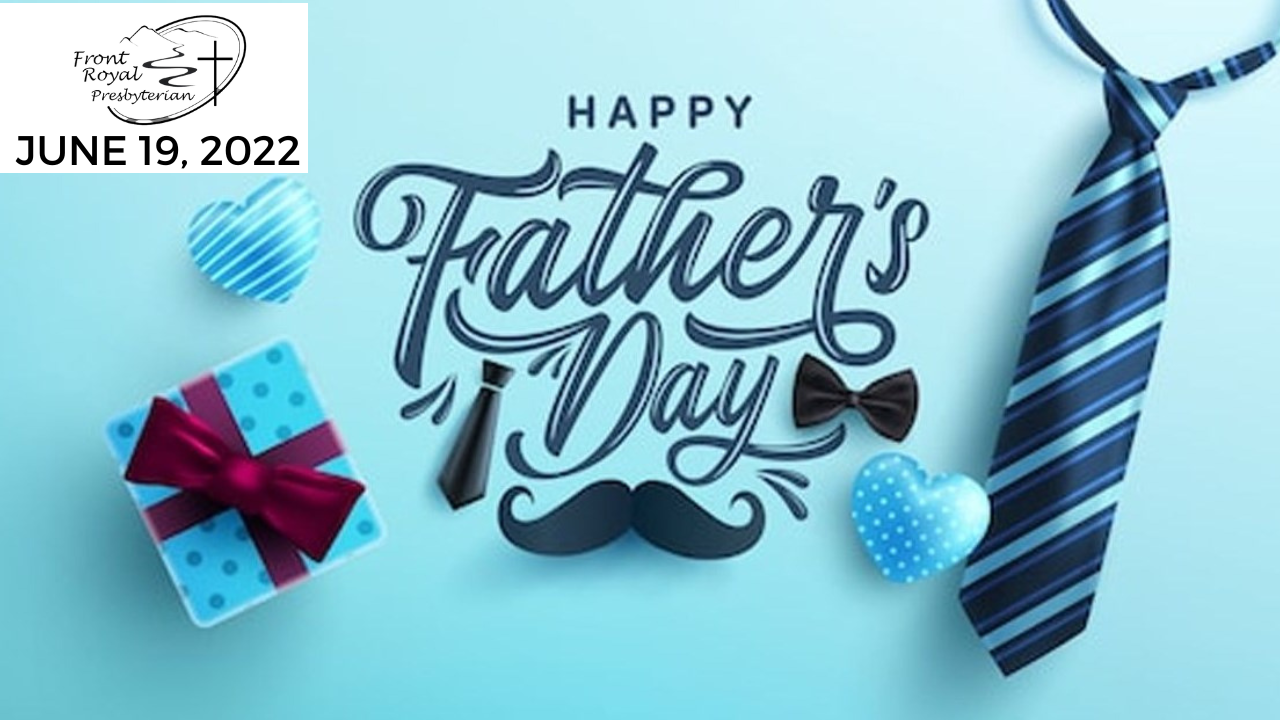 Front Royal Presbyterian Church (VA)
FRPC Worship- June 19, 2022
FRPC Worship- June 19, 2022
Prelude Pastorale Douglas E Wagner🎼
Welcome & Announcements 👋
Prayer for World Peace
Gathering Lord, Listen to Your Children Praying 🎼
Lord, listen to your children praying,
Lord, send your Spirit in this place;
Lord, listen to your children praying,
Send us love, send us pow'r, send us grace.
Call to Worship
For some of us, our father's love is like God's love -- too deep, too long, too wide, too strong to measure.
Some of our dads are here; some were never here.
For some of us, God's love fills in the empty spaces our fathers left behind.
All of us are shaped by the relationship or lack of relationship with our fathers.
On this day when we remember what it means to have a father or be a father, we recognize the importance of fathers in our communities. We pledge as a congregation to love and nurture the fathers among us so that they will manifest the love of God in all that they do.
Hymn #466 O For a Thousand Tongues to Sing 🎼
Call to Confession
If we say we have no sin, then the truth is not in us. Boldly, let us confess our sins before God and before others.
Prayer of Confession
Dear Lord,
You are the King of the world, the Creator of all things, and the Giver of life. You have made us in Your image and invited us to be Your children—the heirs of Your Kingdom—and we give You our thanks and praise. We confess that we have sinned and fallen short of what You would have us be. We have found our identity in earthly things like work, money, family, reputation, our homes, our friends, even our country. We have worshiped them more than You. We have turned away from being part of Your Kingdom work to satisfy our own agendas. We have broken Your heart with our sin, and we are sorry. Please forgive us. Help us open our hearts to receive the gift of forgiveness that You offer through Jesus' sacrifice on the cross. Create in us clean hearts and fill us with Your presence. In Jesus' Name we pray, Amen.
Assurance of Pardon 💦
Time with Young Believers
Children are invited to go to Children's Worship with our Children's Worship Leader. Children will return to their parents during the final hymn.
Call to Offering
Offertory Our Father Who Art in Heaven Johann Krieger🎼
Prayer of Dedication 🙏
Anthem The Lone Wild Bird Walker's Southern Harmony/Henry Richard McFayden/Marty Haugen🎼
Scripture: Galatians 3:23-29 ✝️
Pastoral Prayer & Lord's Prayer 🙏
Scripture: Luke 8:26-39 ✝️
Message ✝️
Affirming our Faith – Apostle's Creed
Closing Hymn Faith of Our Fathers🎼
Benediction
Postlude O For a Thousand Tongues to Sing Paul Manz🎼
Let us get to know you!
Please take a moment to send us your information so that we may stay connected with you. Your information is carefully managed and protected.
How did you hear about us?