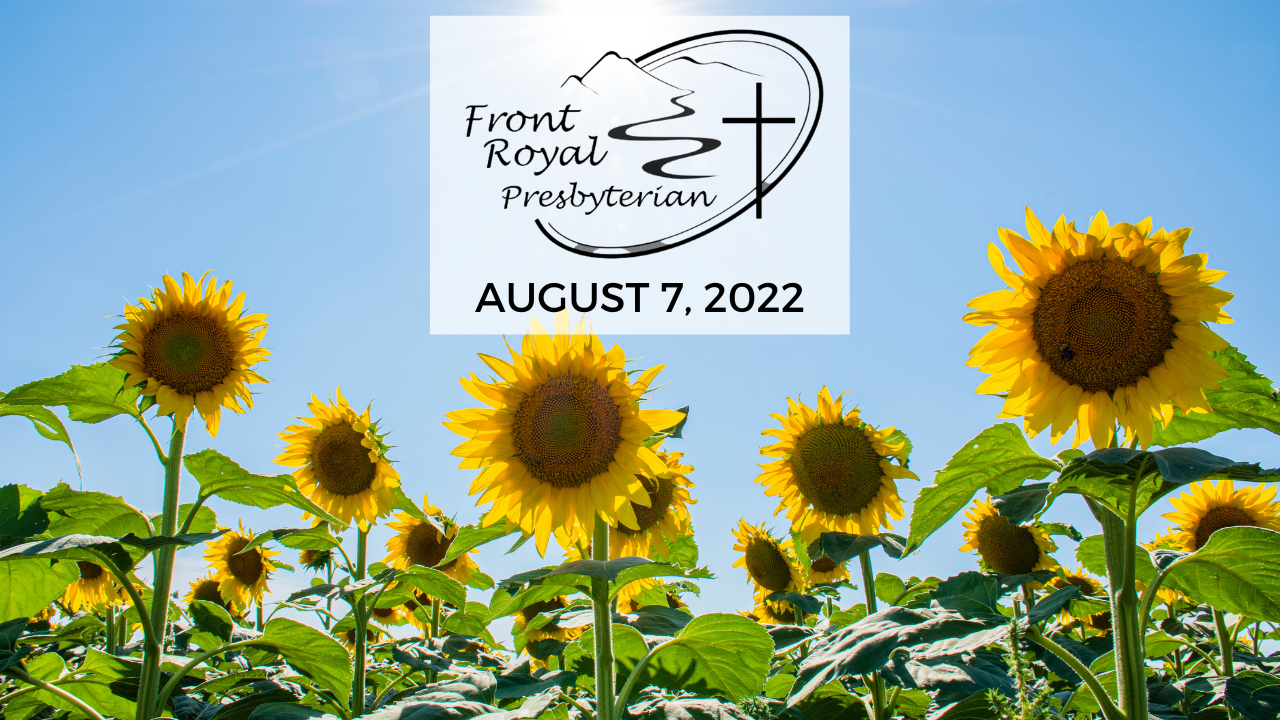 Front Royal Presbyterian Church (VA)
FRPC Worship- August 7, 2022
FRPC Worship- August 7, 2022
Prelude Deck Thyself, My Soul with Gladness Aaron David Miller🎼
Welcome & Announcements 👋
Prayer for World Peace
Gathering Lord, Listen to Your Children Praying 🎼
Lord, listen to your children praying,
Lord, send your Spirit in this place;
Lord, listen to your children praying,
Send us love, send us pow'r, send us grace.
Call to Worship
Sometimes God gets angry.
People and nations don't do what they should.
Today, God reminds us of our covenant,
asking us to wash and make ourselves clean.
Learn to do good. Seek justice.
Remind us, O God, and show us the right way to go!
Hymn #361 How Firm a Foundation 🎼
Confession of Sin
O God,
your call for justice is so clear
that we are amazed at how easily
we fail to hear you
over the din of daily life.
We want to cease to do evil.
We want to learn to do good.
Yet, we rarely do all we can
to rescue, defend, and plead
for those in need.
As you have sought us out,
so we seek your pardon.
Grant us courage, we pray,
as persons, as communities, and as nations,
to bring about the justice you desire. Amen.
Assurance of Pardon 💦
Time with Young Believers
Children are invited to go to Children's Worship with our Children's Worship Leader. Children will return to their parents during the final hymn.
Call to Offering
Offertory Dearest Jesus, We Are Here Johann Gottfried Walther🎼
Doxology #592 Old Hundredth 🎼
Prayer of Dedication 🙏
Special Music Come, Thou Fount of Every Blessing 🎼
Robert Robinson/John Wyeth/Richard Walters
Jackie Lawall, soprano
Scripture: Hebrews 11:1-3,8-16 ✝️
Pastoral Prayer & Lord's Prayer 🙏
Scripture: Luke 12:32-40 ✝️
Message ✝️
Celebration of the Lord's Supper
Closing Hymn #2241 The Spirit Sends Us Forth to Serve🎼
Benediction
Postlude Now the Silence Carl Schalk/Michael Helman🎼
Let us get to know you!
Please take a moment to send us your information so that we may stay connected with you. Your information is carefully managed and protected.
How did you hear about us?