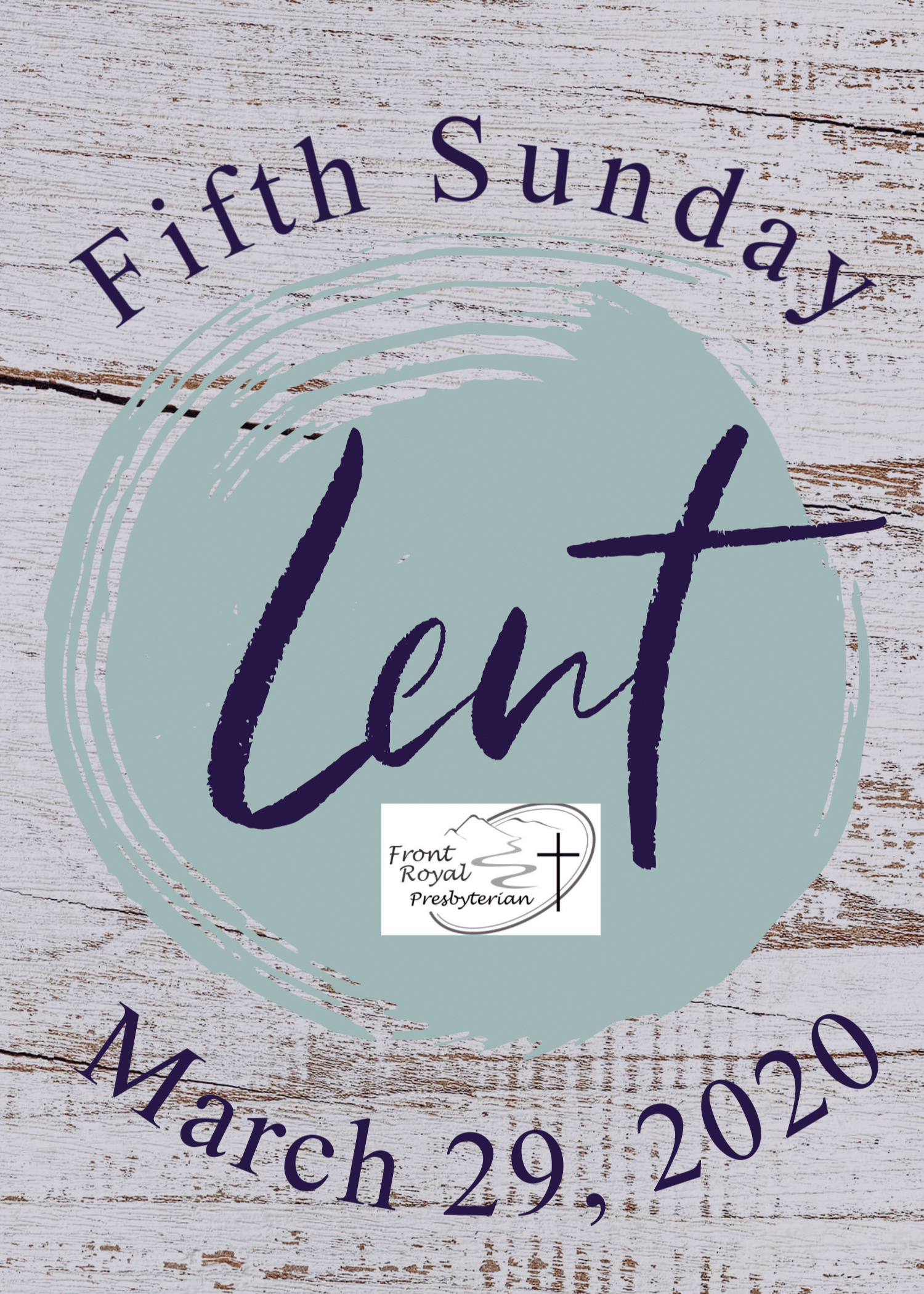 Front Royal Presbyterian Church
Virtual Bulletin for March 29, 2020
Call to Worship 🙌
Prelude He's Got the Whole World in His Hands 🎵
Call to Worship 🙌
As we gather for worship today, our call to worship is a little different. Instead of a responsive liturgy, I'll read a line of scripture, and then have a moment of silence as you release to God your praises and concerns. In this way we not only affirm our faith together that God is present, but we put our minds in the perspective of worship.
Pastor Carrie:
From the rising of the sun to the place where it sets, the name of the LORD is to be praised. (Psalm 113)
Share one praise with the Lord as we settle our minds on worship.
Pastor Carrie:
Do not be anxious, but in every situation, by prayer and petition, with thanksgiving, present your requests to God. (Philippians 4:6)
Speak your anxiety, worries and cares to the Lord, release them as we settle our minds on worship.
Pastor Carrie:
O come, let us worship and bow down; let us kneel before the Lord, our Maker!
We are the church. Whether we gather in our pajamas around a kitchen table or within the walls of the greatest cathedral… wherever two or more are gathered, we are the church and Christ promises to be here with us. Today and in the many days to come, that gathering looks different and I'm thankful that though our world changes, God remains the same.
Listen to some of the wonderful deeds the Lord is allowing us to do in the community.
Prayer of Confession 🙏
Each week, our prayer of confession focuses on an aspect of our own lives. Today, we gather in our tiny worlds of community and I invite you to join in prayer together as we confess our brokenness before our Savior.
I will pray and during the time of silence, you are invited to pray silently after the bell toll, you are invited to pray with me
Lord, hear our prayer.
Lord, hear our prayer.
Assurance of Pardon
Special Music by Johanna and Willow Rutz 🎵
Time with Young Believers ✝
Giving our Gifts to God
In this time of uncertainty, we understand that each one's economic situation is different. Just as God is constant in His love for us, so the church endeavors to remain a constant beacon of hope and faith during these turbulent times.
Therefore, the elders and your pastoral staff are asking for you to prayerfully think about your gifts to the church at this time.
Online giving is available at tithe.ly.com
You may mail your check to the office.
Scripture Reading ✝
Psalm 18 – selected verses
1 I will love You, O Lord, my strength.
2 The Lord is my rock and my fortress and my deliverer;
My God, my strength, in whom I will trust;
My shield and the horn of my salvation, my stronghold.
3 I will call upon the Lord, who is worthy to be praised;
So shall I be saved from my enemies.
4 The pangs of death surrounded me,
And the floods of ungodliness made me afraid.
5 The sorrows of Sheol surrounded me;
The snares of death confronted me.
6 In my distress I called upon the Lord,
And cried out to my God;
He heard my voice from His temple,
And my cry came before Him, even to His ears.
…
For You will light my lamp;
The Lord my God will enlighten my darkness.
29 For by You I can run against a troop,
By my God I can leap over a wall.
30 As for God, His way is perfect;
The word of the Lord is proven;
He is a shield to all who trust in Him.
31 For who is God, except the Lord?
And who is a rock, except our God?
It is God who arms me with strength,
And makes my way perfect.
33 He makes my feet like the feet of deer,
And sets me on my high places.
34 He teaches my hands to make war,
So that my arms can bend a bow of bronze.
35 You have also given me the shield of Your salvation;
Your right hand has held me up,
Your gentleness has made me great.
36 You enlarged my path under me,
So my feet did not slip.
…
The Lord lives!
Blessed be my Rock!
Let the God of my salvation be exalted.
Special Music 🎵
by David Edwards and Heather Ankerbrand
Scripture Reading ✝
13 "You are the salt of the earth; but if salt has lost its taste, how can its saltiness be restored? It is no longer good for anything, but is thrown out and trampled under foot.
14 "You are the light of the world. A city built on a hill cannot be hid. 15 No one after lighting a lamp puts it under the bushel basket, but on the lampstand, and it gives light to all in the house. 16 In the same way, let your light shine before others, so that they may see your good works and give glory to your Father in heaven.
Words of Encouragement
Prayers of the People 🙏
You are invited to submit your prayer requests in a variety of ways:
-Online through our website.
-Online through our Facebook page.
-Email Pastor Carrie.
-Call the church office, 540-635-3894, Pastor Carrie will be in the office Monday – Friday.
Our Father
Who art in heaven
Hallowed be thy name
Thy kingdom come
Thy will be done
On earth as it is in heaven
Give us this day our daily bread
And forgive us our debts as we forgive our debtors
Lead us not into temptation
But deliver us from evil
For thine is the Kingdom, the Glory, the Honor
Forever and ever
Amen.
Benediction
God Be with You Till We Meet Again 🎵
Postlude O For a Thousand Tongues to Sing 🎵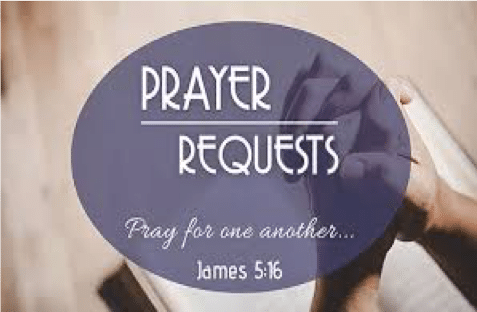 Prayer Requests
Pray for people who are infected with COVID-19 or facing quarantine.
Pray for people at higher risk of developing the disease.
Pray for medical professionals, caregivers, and researchers responsible for fighting the new coronavirus.
Pray for leaders responsible for making decisions about the new coronavirus.
Pray for families adjusting to new ways of life.
Pray for business owners and families facing financial stress.
Pray for grocery store workers and delivery drivers.
Pray for the disease to stop spreading.
Maria Arellano, Joan Barrett, Dr. Tripp Bradd, Tammy Bunch, Shannon Burns, James Calahan, Kali Cameron, Caroline, Kaitlyn Cook, Ayashe Cornelius, Ruthann Cheroy, David, Chris Foster, Gideon, Robert Goodman, Pamela Groom, Dorothy Haigh, Frannie Huesman, Kim Kay, Ben Lacy, Teresa Lewis, David Loomis, Lorene, Robert McVey and Dorothy McVey, Amanda Moore, Brian and Marina Moore, Norman family, Walter Perez, Whitney Peterson, Rev. Bruce P. Gillette, Paula Saxton, Travis Smith, Jared Starks, Elsie Upchurch, Carolyn Wertz, Tim White
College Students
Rachel DuMez, Katie Bowers, Quinn Blankenship, Lucas DuMez, Katherine Sparger,
Kaylee Venable
Military
Paul Conner, Marc Iverson, Ian McVey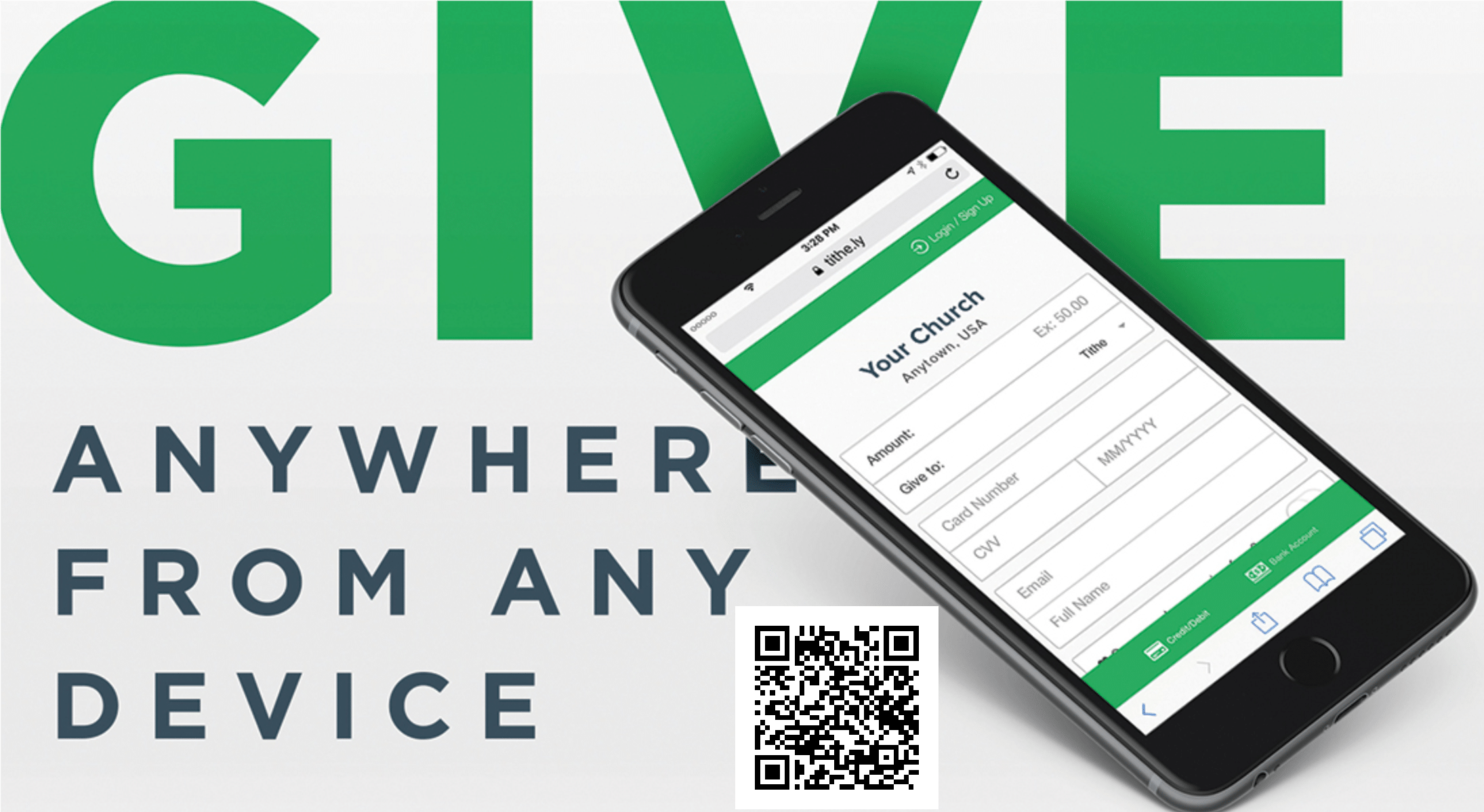 How to remain faithful in giving during coronavirus outbreak.
1. Use Tithe.ly to make your online donation.
2. Set up auto pay through your bank.
3. Send your donation weekly through the U.S. Postal Service.
4. Drop the donation off at the church.
Let us get to know you!
Please take a moment to send us your information so that we may stay connected with you. Your information is carefully managed and protected.
How did you hear about us?