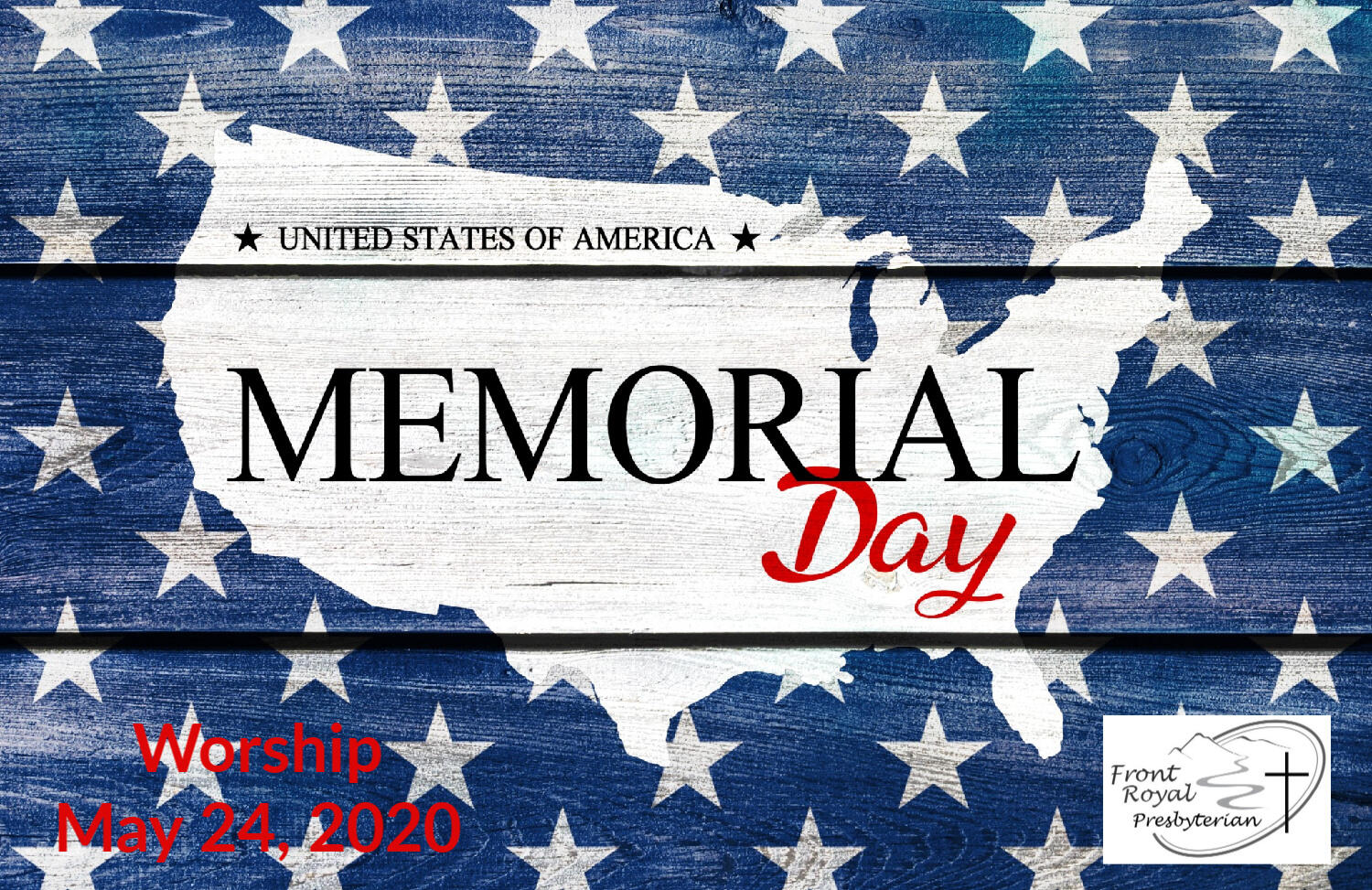 Front Royal Presbyterian Church
May 24, 2020
Prelude America the Beautiful Callahan 🎼
Call to Worship 🙌
O God of all power and majesty, you created the heavens and stretched them out. You formed the earth and all that comes from it. You give the breath of life to all who walk on the face of the earth. Jesus, you conquered sin and death and now reign victorious. You are Lord; glory is due your name. The former things have come to pass; we now await the new things you will bring through the Holy Spirit. We rejoice to be gathered in your name. Alleluia!
Special Music When We Face An Unknown Future Gillette
Jacki Lawall 🎼
Prayer of Confession 🙏
To often, Lord God,
We hesitate because we are afraid, so we seek the safe, suitable and regular instead of the new adventures that you have ahead for us.
Silence
Lord Hear our Prayer
We strain to look up into the clouds, into the heavens and fail to recognize you when you walk among us…
Silence
Lord Hear our Prayer
Forgive our naïveté when we think we have all the answers
Forgive our pride when we act as if we are in charge
Forgive our actions when they fail to follow Your commandments
Silence
Lord Hear our Prayer
Amen
Assurance of Pardon, Remembering Our Baptism 💦
Children's Message 🧒🏼👦🏻
Please visit this link to view this morning's children's message with Pastor Carrie and Rita.🙂
Scripture Luke 24:50-53 ✝️
Time of Prayer 🙏
Scripture Acts 2:1-21 ✝️
Message In-between
Returning our Gifts to God
In the chat section below, you are invited to share today in worship ways in which you are offering your time and service during this time so that we may see the wonderful ways in which God is using you to further His Kingdom.
We invite you to rejoice with us in ministry by giving of your gifts and talents.
Online giving is available at www.tithe.ly.com
You may mail checks to the church or drop them by during office hours.
Prayer of Thanksgiving 🙏
Benediction
Postlude Processional from Variations on the Navy Hymn Michael Joseph 🎼
Let us get to know you!
Please take a moment to send us your information so that we may stay connected with you. Your information is carefully managed and protected.
How did you hear about us?