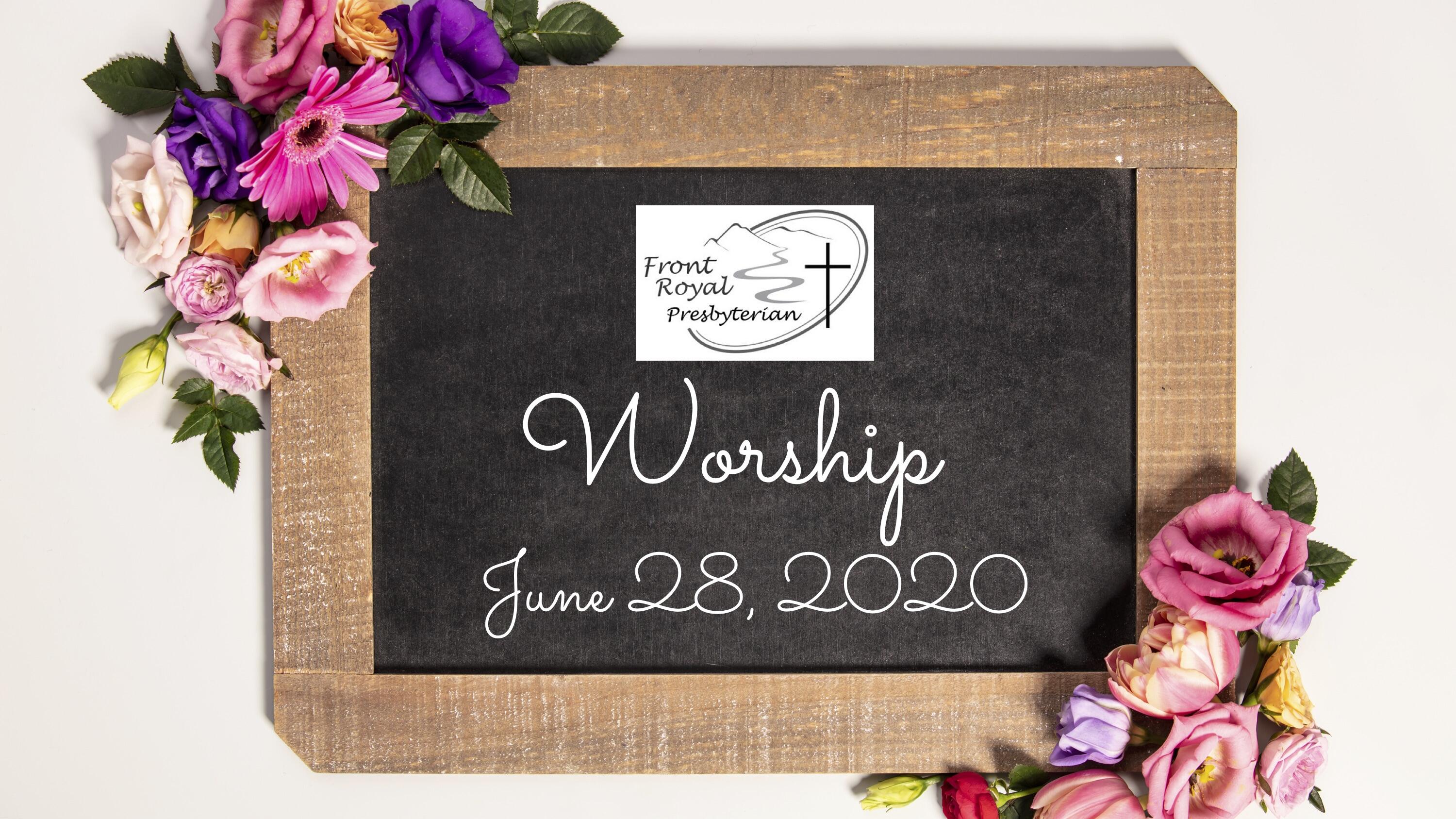 Front Royal Presbyterian Church (VA)
June 28, 2020
Prelude Blessed Assurance Gerald Near 🎼
Come! Live in the Light 🌅🎼
Come! live in the light!
Shine with the joy and the love of the Lord!
We are called to be light for the kingdom,
to live in the freedom of the city of God!
Welcome and Announcements 👋
Call to Worship 🙌
Jesus said,
"Anyone who receives you, receives me,
and anyone who receives me,
receives the Father who sent me."
Sisters and brothers, boys and girls:
We gather together in the presence of the God
who receives us with open arms,
who loves us unconditionally,
and who bids us do the same to one another.
Let's worship God together!
Hymn Lift High the Cross 🎼
Prayer of Confession 🙏
Sometimes we forget people or toss them aside –
The difficult ones,
the needy ones,
the ones that are hard to spend time with,
the ones who challenge us,
the ones who confront us.
Sometimes we choose to not welcome others by simply refusing to
Sometimes, it's not really about others, it's about us.
silence
We are uncomfortable
We feel guilty
We prefer to follow brighter, shinier people
We worry about what will make us look like good Christians
And we fail to recognize our blindness
Forgive us for mistaking the world values over what you value.
Forgive us for choosing comfort over servanthood
Forgive us for our inability to welcome others
And remind us to love with the love of your son Jesus Christ.
Assurance of Pardon Remembering Our Baptism 💦
Gloria Patri 🎼
Glory be to the Father, and to the Son, and to the Holy Ghost.
As it was in the beginning, is now and ever shall be,
World without end, Amen. Amen.
Time with Young Believers 🧒🏼👦🏻
Please visit this link to view this morning's children's message with Pastor Carrie.🙂
Scripture Romans 6:12-23 ✝️
Hymn Blessed Assurance 🎼
Scripture Matthew 10:40-42 ✝️
Prayer and Lord's Prayer 🙏
Message
Evangelism Video
Special Music Faith is Patience in the Night
Mary Nelson Keithahn/John Horman 🎼
Offering
You may give online at tithe.ly.com or mail a check to the office.
Response to Offering 🎼
Praise God from Whom all blessings flow,
Praise Him all creatures here below,
Praise Him above ye heavenly hosts,
Praise Father, Son, and Holy Ghost. Amen.
Prayer of Dedication 🙏
Benediction
The Lord Bless and Keep You 🎼
The Lord bless and keep you,
the Lord make His face to shine on you
and be gracious, gracious.
The Lord bless and keep you,
the Lord lift His countenance on you,
and give peace, give you peace.
Shalom. Shalom.
Postlude Praise to the Lord, the Almighty Benjamin Culli 🎼
Let us get to know you!
Please take a moment to send us your information so that we may stay connected with you. Your information is carefully managed and protected.
How did you hear about us?