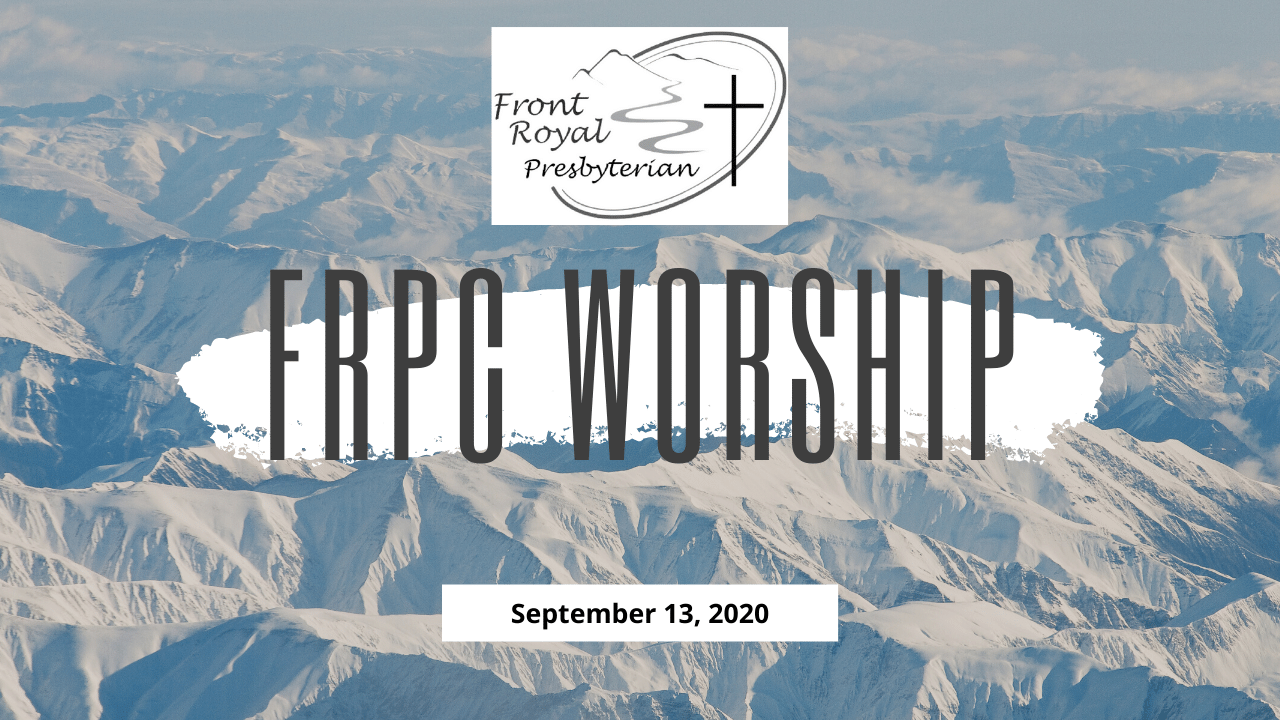 Front Royal Presbyterian Church (VA)
September 13, 2020
Welcome and Announcements 👋
Prelude Reverie for Organ Joe Utterback🎼
Call to Worship 🙌
Today we celebrate the way sin which God works and moves in our world…
For God is not contained in bricks and mortar
But in the miracles of everyday life
When neighbor cares for neighbor
When those that the world forgets are remembered
When the songs of the faithful fill living rooms
We celebrate that even in hard times, our God is constant
In His love for us
In His constant grace
In his redemptive power.
Our God is the God that created all that was, is and will ever be.
Our God is the God that called and claimed us as His children.
Our God is the mighty hand that released the captives from Egypt.
Our God is still working among us today
Creating new and different communities of worship
Calling us into a new identity
And Redeeming us through the love of His Son, our Savior, Jesus Christ.
With voices, song, prayers and hearts, let us worship this Living God.
Prayer of Confession 🙏
Our worlds are so busy that we often forget who we are called to be…
We try to rationalize the world around us and we rely more on the things of this world than on God…
Science
Possessions
We make excuses when we are confronted with the realities of our mistakes
Everyone is doing it
It is just the way it is right now
We are so self-absorbed that we fail to recognize God in our daily lives instead…
We walk our own path
We follow our own Ten Commandments
We justify our hatred of our neighbors
We love only those that look, talk and act like we do.
When bad things happen, we throw blame and anger instead of searching our own hearts and actions.
Forgive us Lord, for forgetting who we are
Forgive us Lord, for neglecting to remember who you are
Speak to us once again of your grace and mercy
And convict us in our hearts so that we might receive forgiveness and freely offer it to others.
Assurance of Pardon Remembering Our Baptism 💦
Gloria Patri 🎼
Glory be to the Father, and to the Son, and to the Holy Ghost.
As it was in the beginning, is now and ever shall be,
World without end, Amen. Amen.
The Plagues of Egypt 🎥
Time with Young Believers 🧒🏼👦🏻
Please visit this link to view this morning's children's message with Pastor Carrie & Rita.🙂
Scripture Matthew 20:17-19 ✝️
Special Music Come, Let Us with Our Lord Arise
Charles Wesley/ Trad. English 🎼
Time of Prayer🙏
Special Video 🎥- The Ten Commandments - Passover for Egyptians
Scripture Exodus 6:1-2, Exodus 12:29-32 ✝️
Message
Offering
We invite you to join us in ministry during these difficult times. You may give online at tithe.ly.com or mail a check to the office.
Response to Offering 🎼
Praise God from Whom all blessings flow,
Praise Him all creatures here below,
Praise Him above ye heavenly hosts,
Praise Father, Son, and Holy Ghost. Amen.
Prayer of Dedication 🙏
Benediction
The Lord Bless and Keep You 🎼
The Lord bless and keep you,
the Lord make His face to shine on you
and be gracious, gracious.
The Lord bless and keep you,
the Lord lift His countenance on you,
and give peace, give you peace.
Shalom. Shalom.
Postlude Come Ye Faithful, Raise the Strain Robert Buckley Farlee 🎼
Hymn We Know That Christ is Raised 🎼
Let us get to know you!
Please take a moment to send us your information so that we may stay connected with you. Your information is carefully managed and protected.
How did you hear about us?