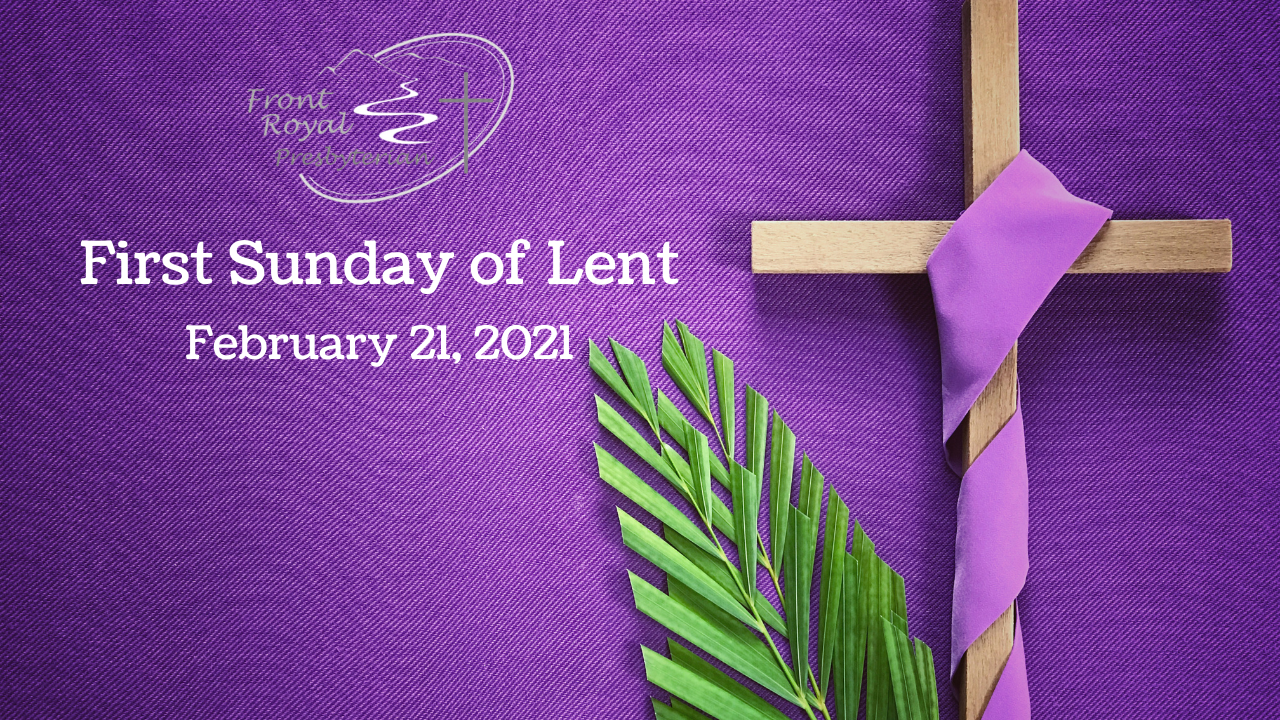 Front Royal Presbyterian Church (VA)
February 21, 2021
Prelude Lamb of God, Pure and Sinless David Cherwien 🎼
Welcome and Announcements 👋
Gathering Lord, Listen to Your Children Praying 🎼
Call to Worship 🙌
Here, at the outer limits of Lent,
we are called to walk:
to the paper-thin edges which cut us
to the soul;
to the workplaces which weary us;
to the people who confuse us;
to the faith which threatens us.
Here, at the corner of Steadfast Love
and Faithfulness, we are called to wait:
when our clenched stomachs awaken us;
in the moments of unbearable sorrow;
with the angels who would carry us.
Here, where time is fulfilled,
where God's Kingdom is as near to us
as our neighbor, we begin Lent:
with the Beloved, whose tears wash away
our fears,
with the God who will not let go
of our hands.
Confession of Sin🙏
Forgive
the silly sins of childhood,
the exuberant sins of adolescence,
the faded sins of aging;
forgive
the sins we shout in the streets,
the sins we whisper to ourselves;
forgive
the sins we didn't give a second thought to,
the sins we plot in the middle of the night;
forgive
the flood of sins which threaten us,
the wilderness of sin which we offer to others,
the sin which seeks to imprison us:
forgive.
Forgive us, Good and Gentle God,
forgive us and have mercy on us,
so we might walk the path of faithfulness
with Jesus, to Jerusalem and beyond,
so we might know your steadfast love in our lives.
Response to Confession Kyrie 🎼
Assurance of Pardon Remembering Our Baptism 💦
Oh, I Know the Lord's Laid His Hands on Me 🎼
Time with Young Believers 🧒🏼👦🏻
Call to Offering
You may give online at tithe.ly.com or mail a check to the office. You may also check the website for a multitude of volunteer opportunities that are safe and little to no contact.
Doxology 🎼
Scripture Acts 8:1-8 ✝️
Anthem Out of Deep, Unordered Water Fred Kaan/C. Hubert Parry 🎼
Pastoral Prayer 🙏
Scripture Acts 9:1-19 ✝️
Message An Introduction to the Apostle Paul
Affirmation of Faith – Apostles' Creed
Hymn Lord, Who Throughout These Forty Days 🎼
Benediction
May You Run and Not Be Weary 🎼
Postlude O God, Be Merciful to Me Johann Nicolaus Hanff🎼
Let us get to know you!
Please take a moment to send us your information so that we may stay connected with you. Your information is carefully managed and protected.
How did you hear about us?