Traces of Grace
September 16, 2021
Thoughts from Pastor Scott
Dear First Methodist,
September is always an interesting month, especially for those with some connection to the education system. New school years are beginning, classes are resuming, and (hopefully) some semblance of rhythm and routine is returning. But in September, we're not quite there yet. The page has turned on the calendar, we've left the beach days and vacations in the summer, and the new schedules have started, but the new doesn't feel familiar yet. It still feels as though we are in transition.
As I think about our life together as a congregation, I have a feeling that it probably feels like we are still in transition there too. The second sermon series has begun, we've had more than a dozen small group gatherings, and the new Sunday schedule has been rolled out. And yet none of it feels familiar yet. You are still getting to know me and I am still getting to know you and we are still discerning where God is leading us in this new season of congregational life.
In the past two weeks there have been three moments that have filled my heart with joy. The first was last Wednesday as I walked out of the church office and sounds of preschoolers drifted up from the gym. The second happened as I left the sanctuary after the 9am service on Sunday. When I opened the door that leads from the sanctuary into the rest of the building I was greeted by voices and laughter and the sounds of the church being the church together. The last one happened after the 10:30am service when I realized that Tommy, the baby I had just baptized, was the great grandson of one of my grandmother's dearest friends.
These are the sounds and signs of life and I am so grateful to see and hear them filling our church building. And, as we continue to look to the future and transition into the next season of life together, I'm thankful for the experiences like Tommy's baptism that remind us that none of us got here on our own; we stand in a long tradition of faithful saints and we stand on their shoulders.
I believe that God has brought my family here to Collingswood for this season and for a purpose. These signs are reminders that God isn't done with us yet, that there are others who need to come to Christ through our faithfulness, and that there are neighbors all around us who are waiting to be invited in. Let's pray together that God would open our eyes to the signs of what He is doing in the midst of this transition and we would answer His invitation to join in that work.
Grace & Peace,
-Pastor Scott
SUNDAY WORSHIP SERVICE
We invite you to join us this Sunday as Pastor Scott continues in the current series, Better Together: The Church as a Community, with the message titled, "Moving Toward One Another as a Connected Community", from Colossians 3:12-17. You won't want to miss it! We encourage you to read this passage of scripture and to pray for Pastor Scott as he prepares for both services.
The link to access the livestream will be available on our website at fumccollingswood.org, where you'll also be able to view a recording of the service throughout the week.
Upcoming Events
Download
Our Traditional Sunday Morning Worship Service begins at 9am in our sanctuary. This service incorporates the great hymns of our faith, creeds, responsive readings, prayers, Scripture readings, and a sermon, among other things. During the 9:00 hour, we also have Sunday school available for children, youth, and adults. Access our Digital Bulletin -  Online Giving - 
Sunday, September 19th  •  9–10 am (EDT)
Download
Our Contemporary Sunday Morning Worship Service begins at 10:30am in our sanctuary. This service incorporates new and old songs, most often led on guitar, as well as Scripture readings, prayers, and other worship elements. Nursery is available during the 10:30 service for children birth-Kindergarten and all children are welcome in the worship service. There is also an adult Sunday school class that meets in the parlor during the 10:30 time slot. Our 10:30 service will also be livestreamed for those who are unable to attend in-person. Anyone can access this livestream, but if you'd like to chat with others throughout the service, you must have a Faithlife account and become of member of our Faithlife Group. If you aren't already a member of our group, and would like to become one, please email the church office at office@fumccollingswood.org and we will reply with an invitation. Here are all the links you'll need for the full Sunday Morning experience... Join our Live Stream Service - Access our Digital Bulletin -  Online Giving -  All of our past morning worship services can be viewed on our website by visiting . You can also view the services on our YouTube Channel. If you attend/view our service, we'd appreciate you filling out our Weekly Connection Card to let us know that you joined us, and to tell us how we might be able to pray for you in the coming week.
Sunday, September 19th  •  10:30–11:30 am (EDT)
Fall Sunday Morning Schedule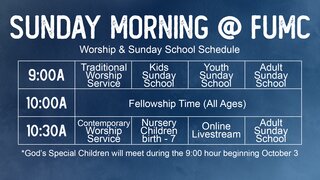 The Together in Christ Adult class led by Carol Doron, Pat Sheaffer, and Ruth Anne Detwiler will be in the Parlor at 9:00am.
An Adult Class led by Meg Rambo will be in the Conference Room at 9:00am.
Students in grades 6-12 will meet in the Youth Room upstairs at 9:00am.
Students in Pre-K - Grade 5 will meet on the 4th floor of the Education Wing at 9:00am.
Coffee, tea, and water will be available in the parlor/lobby area during the Fellowship Time
The Berean Forum Adult Class led by Karry Corbitt will be in the Parlor at 10:30am.
A kids program for children Pre-K - grade 2 will be held upstairs at 10:30am.
A Nursery will be available upstairs at 10:30am.
Current Sermon Series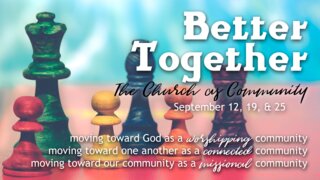 Our current sermon series is "Better Together: The Church as Community." We're going to look at what it means to move toward God in worship, toward one another in connection, and toward our community on mission and how we're called to do all of that together, as a community. We hope you'll join us for this series because we really are "better together."
This 3-week series launched on September 12 along with our new Sunday morning schedule:
Sept. 12 - Moving Toward God as a Worshipping Community - Hebrews 10:19-25
Sept. 19 - Moving Toward One Another as a Connected Community - Colossians 3:12-17
Sept. 26 - Moving Toward our Community as a Missional Community - 1Peter 4:8-11
Church Conference - Save the Date!
Our annual Church Conference will be held in the sanctuary Wednesday, October 13 @ 7pm. Reach out to the office if you have any questions at office@fumccollingswood.org.
Soul Cafe's Semi-Annual Event
The last of Soul Cafe's summer fundraising events is their, Semi-Annual Chicken BBQ, being held this Saturday, Sept. 18th, 11:00 am until sell out! For more information, flyers can be found on the church entrance table.
Tuesday Morning Bible Study to Resume
The "Followers", Tuesday morning Bible Study, is scheduled to resume on Tuesday, Sept. 21st, at 10:00am in the Church Parlor. Looking forward to seeing all of you there!
Prayer Shawl Ministry
We would like to invite anyone who crochets or knits or would like to learn, to join us for Prayer Shawl Ministry each month. Our next get together will be Thursday, Oct. 14th, at 1:00pm, at the home of Shirl Latch. Any questions or additional information please call Shirley Latch at : 856-854-4777.
Operation Christmas Child- Shoe Boxes
It's not too early to start collecting things for the Shoe Boxes, especially with all the Back-to-School sales. Suggested items: pens, crayons, soap, small toys, tablets, combs, rulers, pencil sharpeners, wash cloths, and toothbrushes. **Pencils & toothpaste are not needed.
Thanks for being a part of this important ministry to the children of our world! If you have any questions please contact "Miss Pat" Gunning - (856)962-8010
Mission Partnership -
Seeds of Hope Ministries', CELEBRATION BANQUET, will be held Thursday, October 7, 2021, at Sovereign Grace Church, Marlton NJ beginning at 6:15 pm. Tickets are available online in their weekly e-newsletter and Social Media. They invite us in celebrating God's work in Camden!
Summer Harvest!
If anyone has an abundance in your gardens that you'd like to share with our church family, please know that there is a basket in our church entrance area for you to drop off your harvest! It will be there for all to have access to, before or after church service, and it will be a "first-come, first-serve" basis. Thanking you in advance for your generosity!
Praises!
We praise God and thank Him for all the prayers that have been answered throughout this challenging time and also:
For all God is doing, even in the smallest of details!
For our freedom to worship together in person.
Baptism on 9/12/21 of Thomas Michael Migliaccio III, infant son on Rachel & Thomas, grandson of Douglas & Julia Schmitt.
September's - Verse of the Month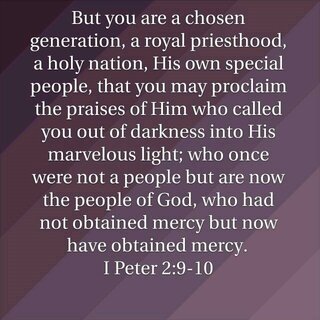 Notes of "Thanks!"
Dear Church Family,
I am truly grateful for all your prayers for my twin sister, Diane, throughout her journey with Acute Myeloid Leukemia. She's now at home with Jesus and I'm thankful that she was so ready to be with Him. I, also want to thank you for all your prayers sent my way. You are a blessing to me. - Dottie Escuti
Dear Church Family,
Thank you so very much for all your prayers, phone calls, and cards during my recent stay in the hospital and my recovery at home. - Barbara Andraws
Prayer Requests
1 Thessalonians 5:16-18:
"Rejoice always, pray without ceasing, give thanks in all circumstances; for this is the will of God in Christ Jesus for you.
Wednesday Night Prayer meeting continues each week, beginning at 7:00 pm in the Church Sanctuary. All are invited to attend!!
"Prayers in the Garden" is a time to gather and pray over the requests of our congregation and happens every Monday through Thursday! Feel free to come and join us beginning at 8:00am. We will be gathering at the end of the Parsonage's driveway.
Please continue to pray for...our homebound members; our church members who are in need of spiritual, emotional and financial care; any families and relationships that have been strained during this time, our Troops, our Missionaries and for those who are struggling from Hurricane Ida - the list is long, but God is BIG!
Please pray for the following:
Pastor Scott & Meg - for the Lord's guidance & direction in all matters.
Dave & Marjie Hammond and Family
Carol Doron - bronchitis
Linda Adam's son-in-law Frank - in need of a kidney transplant.
Lorraine Rudderow - medical issues.
Linda Hamrick -continues to recover .
Carol & Bud Shropshire - health issues; son David's cancer; grandson Brian's cancer.
Karen Kline's son
Nicholas Ferrara(Grandson of Charles & Joan)- presently serving in Saudi Arabia.
Charles Ferrara
Arnie Arnold - continued serious medical issues.
Gus Mondatsos - seeking pain management for his back.
Joel & Kay Shannon- grandson Andrew Sperry, helicopter pilot, has been recently deployed.
Please be in prayer for our new schedule that began last Sunday, Sept. 12th. It includes new times for Sunday Services, Sunday School classes for youth & adults, and Fellowship time in the church hallway for all.
SPRC - upcoming projects.
Our Missionaries
God's hand upon our towns, state and country and our elected leaders.
If you have any other prayer concerns or ways we can serve you please let us know. We desire to journey with you.
Remember, you are loved!
In His Grace,
The FUMC Staff
... to see all people WORSHIP God, CONNECT with His people, and join His MISSION in this world.
Our address is: 201 Dayton Ave, Collingswood, NJ, 08108