Traces of Grace
Oct. 28, 2021
Pray for the Zooks!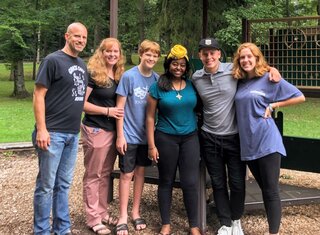 Hello FUMC family -
After 17½ years at FUMC, God is leading our family in a new & exciting direction...as missionaries right here in Camden County!
During our time here in Collingswood, our hearts have been broken for the many people in our community (and across North America and Europe) who simply won't join us in these pews, for many reasons. Yet we've learned that these same people who won't attend a traditional church are still very interested in talking about God! And they will spend time with us or come to our house for that very purpose.
So to facilitate this new calling, we've joined as missionaries with Amoveo Group (Pastor Matt Peace's missions organization), seeking to reach the spiritually hungry people of our unchurched society.
We plan to remain in our roles at FUMC through this school year into summer 2022, and then we will transition into our new ministry, which will include the following:
Make disciples through relationships, train leaders, and develop a network of churches that meet in homes throughout the greater Camden County area
Partner with local pastors and churches, supporting one another, and working together to enhance our common disciple-making mission in this region
Work with Amoveo Group to develop and flesh out their church-planting vision in North America and Europe; network with, encourage, and learn from these other pastors in Ireland, France, Texas, and wherever else God leads us
We will certainly miss our regular, weekly interaction with all of you here at FUMC, but we so greatly look forward to a new season of ministry and partnership with you all! Please pray for us throughout this transition and beyond, and would you also consider joining our support team in the following ways?
To contact us, or join our prayer team:
Shawn - shawnzook641@gmail.com
Nicole - his6kids@gmail.com
To join our financial support team:
(Monthly support & one-time gifts are tax-deductible)
Online: https://amoveogroup.org/donate/Staff
(Choose "Shawn and Nicole Zook" for your designation)
OR
Checks payable to "Amoveo Group;" add "Shawn and Nicole Zook" in the memo line. Mail to: PO Box 464, Media, PA 19063
Thank you for all your prayers and support!!
Thoughts from Pastor Scott
First Methodist family,
This Sunday is "All Hallow's Eve," or as you may be more familiar with it, Halloween. Today, we mostly associate Halloween with costumes and candy. Historically, however, All Hallows' Eve was the first of three days of remembering God's people, along with All Saints' Day (Nov. 1) and All Souls' Day (Nov. 2).
In our Protestant tradition we tend to ignore these Holy Days or, at best, to lump them all into All Saints' Day. I would encourage you this Halloween or All Saints' Day to take time to remember with gratitude the saints, those who have preceded us in death and those still with us in life, who have played a formational role in your spiritual life. In our morning prayer on Sunday, we are going to take time to speak some of those names and thank God for the legacy they have passed on to us and, through us, to those whose lives we are shaping today.
Grace & Peace,
-Pastor Scott
SUNDAY WORSHIP SERVICE
We invite you to join us this Sunday as Pastor Scott continues in the series, Made For More titled, Less Guilt < More Love. We will be studying Paul's letter to the Ephesians, Chapter 3:14-21. You won't want to miss it! Please pray for Pastor Scott as he prepares for our services.
The link to access the livestream will be available on our website at fumccollingswood.org, where you'll also be able to view a recording of the service throughout the week.
Fall Sunday Morning Schedule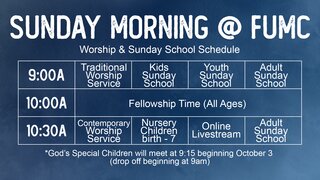 The Together in Christ Adult class led by Carol Doron, Pat Sheaffer, and Ruth Anne Detwiler meets in the Parlor at 9:00am.
An Adult Class led by Meg Rambo meets in the Conference Room at 9:00am.
Students in grades 6-12 meets in the Youth Room upstairs at 9:00am.
Students in Pre-K - Grade 5 meets on the 4th floor of the Education Wing at 9:00am.
God's Special Children meets downstairs (off the gym) at 9:15am.
Coffee, tea, and water will be available in the parlor/lobby area during the Fellowship Time
The Berean Forum Adult Class led by Karry Corbitt meets in the Parlor at 10:30am.
A kids program for children Pre-K - grade 2 is held upstairs at 10:30am.
A Nursery is available upstairs at 10:30am.
Current Sermon Series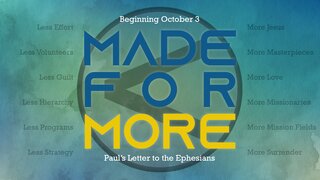 Our current sermon series is "Made for More." We are looking at Paul's letter to the faithful saints in Ephesus and the six shifts we need to make to live into the calling God has for the Church. We hope you'll join us for this series.
Oct. 3 - Less Effort < More Jesus - Ephesians 1: 15-23
Oct. 10 - Less Volunteers < More Masterpieces - Ephesians 2:1-13
Oct. 17 - Made For More - Luke 15
Oct. 24 - Less Guilt < More Love - Ephesians 3:14-21
Oct. 31 - Less Hierarchy < More Missionaries - Ephesians 4:11-16
Nov. 7 - Less Programs < More Mission Fields - Ephesians 5:8-20
Nov. 14 - Less Strategy < More Surrender - Ephesians 6:10-18
The link to access the livestream will be available on our website at fumccollingswood.org, where you'll also be able to view a recording of the service throughout the week.
Ephesians Reading Plan

It's not too late to join! Choose an option and let's lean into Ephesians together!
Option 1: Read the book of Ephesians each day. (It's only 6 chapters)
Option 2: Read one chapter of Ephesians daily, reading the whole book each week (i.e., Mon = Eph 1, Tues = Eph 2, Wed Eph 3, etc.)
Option 3: Read a single chapter of Ephesians each week, reading the whole book over the course of the series (i.e., week 1 = Eph 1, Week 2 = Eph 2, Week 3 = Eph 3, etc.)
Option 4: Read a portion of a chapter each day, five days a week, reading one chapter a week and the whole book over the course of the series (details above)
Upcoming Events
Download
Our Traditional Sunday Morning Worship Service begins at 9am in our sanctuary. This service incorporates the great hymns of our faith, creeds, responsive readings, prayers, Scripture readings, and a sermon, among other things. During the 9:00 hour, we also have Sunday school available for children, youth, and adults. Access our Digital Bulletin -  Online Giving - 
Sunday, October 31st  •  9:15–10:15 am (EDT)
Download
Our Contemporary Sunday Morning Worship Service begins at 10:30am in our sanctuary. This service incorporates new and old songs, most often led on guitar, as well as Scripture readings, prayers, and other worship elements. Nursery is available during the 10:30 service for children birth-Kindergarten and all children are welcome in the worship service. There is also an adult Sunday school class that meets in the parlor during the 10:30 time slot. Our 10:30 service will also be livestreamed for those who are unable to attend in-person. Anyone can access this livestream, but if you'd like to chat with others throughout the service, you must have a Faithlife account and become of member of our Faithlife Group. If you aren't already a member of our group, and would like to become one, please email the church office at office@fumccollingswood.org and we will reply with an invitation. Here are all the links you'll need for the full Sunday Morning experience... Join our Live Stream Service - Access our Digital Bulletin -  Online Giving -  All of our past morning worship services can be viewed on our website by visiting . You can also view the services on our YouTube Channel. If you attend/view our service, we'd appreciate you filling out our Weekly Connection Card to let us know that you joined us, and to tell us how we might be able to pray for you in the coming week.
Sunday, October 31st  •  10:30–11:30 am (EDT)
Thanksgiving Food at Neighborhood Ctr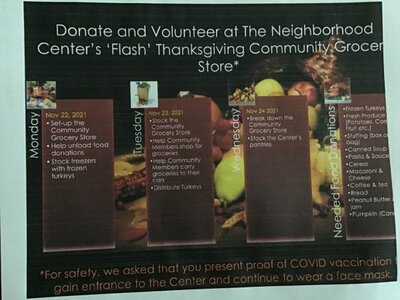 Please donate and Volunteer at the Neighborhood Center's Flash Thanksgiving Community Grocery Store, November 22-24. Donations of food and turkeys will be especially needed this year. For additional information, please contact Sharyn Bailey. Thanks so much for your kind support.
Operation Christmas Child- Shoe Boxes
*Please Note: All children's shoe boxes are due by November 14th.*
Christmas Child Shoe Boxes are available. An Instruction sheet is also available and it is strongly urged that it be read before filling the boxes. Miss Pat explained last Sunday that there is a new "twist" or option for this year's event. This could be of interest to those of you that aren't able to shop for the contents of a shoe box and still wish to participate- Just place $20.00 cash in the "white envelope marked Operation Christmas Child," drop it in the offering plate, and we will do the shopping for you!
Thanks for being a part of this important ministry to the children of our world! If you have any questions please contact "Miss Pat" Gunning - (856)962-8010
Praises!
We praise God and thank Him for all the prayers that have been answered throughout this challenging time and also:
For all God is doing, even in the smallest of details!
For our freedom to worship together in person.
For members of our church family who have recovered from surgeries, treatments and illnesses.
Verse of the Month - October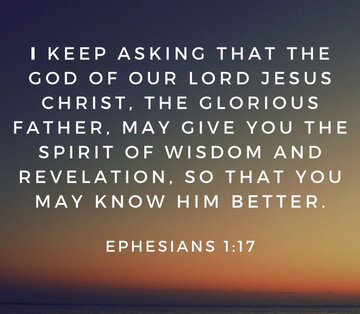 Prayer Requests
-Mark 11:24
"Therefore I tell you, whatever you ask in prayer, believe that you have
received it, and it will be yours."
"Prayers in the Garden" has now been changed to "Prayers in the Parlor" during the colder months. It is a time to gather and pray over the requests of our congregation and happens every Monday through Thursday, beginning at 9:00am. Feel free to come and join us!
Please continue to pray for...our homebound members; our church members who are in need of spiritual, emotional and financial care; any families and relationships that have been strained during this time, our Troops and our Missionaries. The list is long, but God is BIG!
Please pray for the following:
Pastor Scott & Meg - for the Lord's guidance & direction in all matters and decisions.
The Zook Family as they look for a home and prepare for their new ministry.
Dick McCloy - Classic Hodgkins Lymphoma having chemo every other week and leaky heart valves that need repaired
Mary Ann McCloy - double vision and extreme dizziness
Shirley Latch - a pinched nerve giving her a lot of pain.
Sherry Rappe's sister, Jana - doctor's prognosis very positive in her cancer battle.
Lorraine Rudderow -feeling better but needs to gain strength.
Linda Adams' son-in-law - received a kidney transplant and is doing well.
Linda Hamrick -continues to recover .
Carol & Bud Shropshire - health issues; son David's cancer; grandson Brian's cancer.
Karen Kline, her son Craig, & his family - as he continues his cancer treatments.
Nicholas Ferrara(Grandson of Charles & Joan)- presently serving in Saudi Arabia.
Charles Ferrara
Arnie Arnold - continued serious medical issues.
Gus Mondatsos - pain management for his back was unsuccessful; visit with Orthopedic dr. set for end of Oct.
Joel & Kay Shannon- grandson Andrew Sperry, helicopter pilot, has been recently deployed.
SPRC - as they determine our staffing needs for the future.
Our Missionaries
God's hand upon our towns, state and country and our elected leaders.
If you have any other prayer concerns or ways we can serve you please let us know. We desire to journey with you.
Remember, you are loved!
In His Grace,
The FUMC Staff
... to see all people WORSHIP God, CONNECT with His people, and join His MISSION in this world.
Our address is: 201 Dayton Ave, Collingswood, NJ, 08108