Traces of Grace
Nov. 11, 2021
Thoughts from Pastor Scott
Dear First Methodist,
This Sunday we are wrapping up our sermon series in the book of Ephesians. We have spent six weeks looking at how we are Made for More; more Jesus, more being, more doing, more going, more loving, and, this week, more winning. God has called us, as part of His Church, to be the vehicle through which His presence is carried to every nook and cranny of the world.
The question is whether we are going to let God do what He needs to do in us to make us into the kind of people who can bear His image to the world around us. Are we willing to give Him that level of lordship in our lives? He's ready and willing to do it, but God's not going to knock down the door of our heart to get in. He stands, at each door of the home in our hearts, and knocks. God doesn't grab the keys out of our hands, but His hand is the best hand we could ever put those keys in.
I hope you've joined us in one of the reading plans and the sermons in this series. If you missed any along the way you can watch them here. And I hope you will join us this week, online or in person, as we look at Ephesians 6:10-18 and the shift from More Strategy to More Surrender.
Grace and Peace,
Pastor Scott
Advent Series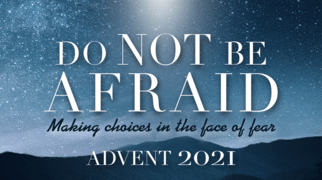 There are a lot of things people are afraid of; spiders, the dark, heights, being alone. You get the picture. You may even have some things you are afraid of. Fear isn't wrong, in and of itself. It's a response to a perceived danger we encounter. The problem comes when we let our fears control us. We can feel powerless in the face of our fears, but the reality is we have a choice of how we're going to respond.
Four times in the Christmas stories recorded in the Gospels, an angel appears to someone and some of the first words they speak are, "Do not be afraid." Which tells me that these people were afraid. We are going to spend the four weeks of Advent (11/28-12/19) looking at the choices those individuals made in the face of their fears and what we can learn about facing our own fears.
Sunday Morning Schedule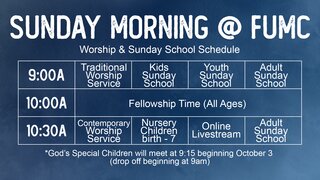 The Together in Christ Adult class led by Carol Doron, Pat Sheaffer, and Ruth Anne Detwiler meets in the Parlor at 9:00am.
An Adult Class led by Meg Rambo meets in the Conference Room at 9:00am.
Students in grades 6-12 meets in the Youth Room upstairs at 9:00am.
Students in Pre-K - Grade 5 meets on the 4th floor of the Education Wing at 9:00am.
God's Special Children meets downstairs (off the gym) at 9:15am.
Coffee, tea, and water will be available in the parlor/lobby area during the Fellowship Time
The Berean Forum Adult Class led by Karry Corbitt meets in the Parlor at 10:30am.
A kids program for children Pre-K - grade 2 is held upstairs at 10:30am.
A Nursery is available upstairs at 10:30am.
Current Sermon Series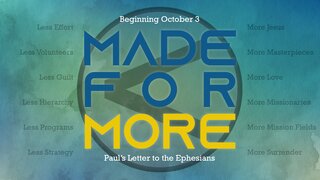 Our current sermon series is "Made for More." We are looking at Paul's letter to the faithful saints in Ephesus and the six shifts we need to make to live into the calling God has for the Church. We hope you'll join us for this series. Please pray for Pastor Scott as he prepares for our services.
Oct. 3 - Less Effort < More Jesus - Ephesians 1: 15-23
Oct. 10 - Less Volunteers < More Masterpieces - Ephesians 2:1-13
Oct. 17 - Made For More - Luke 15
Oct. 24 - Less Guilt < More Love - Ephesians 3:14-21
Oct. 31 - Less Hierarchy < More Missionaries - Ephesians 4:11-16
Nov. 7 - Less Programs < More Mission Fields - Ephesians 5:8-20
Nov. 14 - Less Strategy < More Surrender - Ephesians 6:10-18
The link to access the livestream will be available on our website at fumccollingswood.org, where you'll also be able to view a recording of the service throughout the week.
Upcoming Events
Download
Our Traditional Sunday Morning Worship Service begins at 9am in our sanctuary. This service incorporates the great hymns of our faith, creeds, responsive readings, prayers, Scripture readings, and a sermon, among other things. During the 9:00 hour, we also have Sunday school available for children, youth, and adults. Access our Digital Bulletin -  Online Giving - 
Sunday, November 14th  •  9:15–10:15 am (EDT)
Download
Our Contemporary Sunday Morning Worship Service begins at 10:30am in our sanctuary. This service incorporates new and old songs, most often led on guitar, as well as Scripture readings, prayers, and other worship elements. Nursery is available during the 10:30 service for children birth-Kindergarten and all children are welcome in the worship service. There is also an adult Sunday school class that meets in the parlor during the 10:30 time slot. Our 10:30 service will also be livestreamed for those who are unable to attend in-person. Anyone can access this livestream, but if you'd like to chat with others throughout the service, you must have a Faithlife account and become of member of our Faithlife Group. If you aren't already a member of our group, and would like to become one, please email the church office at office@fumccollingswood.org and we will reply with an invitation. Here are all the links you'll need for the full Sunday Morning experience... Join our Live Stream Service - Access our Digital Bulletin -  Online Giving -  All of our past morning worship services can be viewed on our website by visiting . You can also view the services on our YouTube Channel. If you attend/view our service, we'd appreciate you filling out our Weekly Connection Card to let us know that you joined us, and to tell us how we might be able to pray for you in the coming week.
Sunday, November 14th  •  10:30–11:30 am (EDT)
Young Adult Group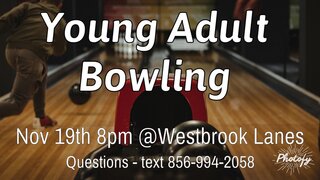 We are kicking off a new young adult ministry with a night of bowling! So, if you'd consider yourself a young adult (out of high school; working, in college, single, married, etc) we would love to have you join us. We're still shaping this into what it will be and your thoughts are welcome. Feel free to invite your friends!
If you have any questions, you can reply to this email or text the number in the graphic above.
Thanksgiving Food at Neighborhood Ctr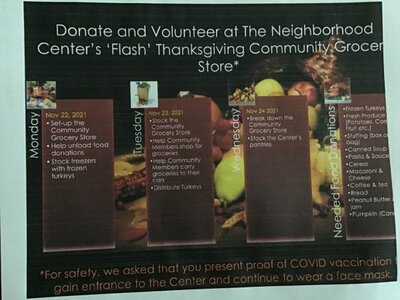 As we prepare to celebrate Thanksgiving, remembering all the many blessings which God has bestowed upon us, we also pause to remember those less fortunate who face food insecurity every day. The Neighborhood Center in Camden, which is the only national mission of the UMC in New Jersey, serves these families in Camden throughout the year. It has long been a tradition to provide an abundance of food, not only for their Thanksgiving meal, but to sustain them for the weeks ahead. Several years ago we changed the procedure from giving pre-boxed food items to allowing families to choose items nicely displayed in the gym. Amounts of food chosen are in proportion to the number of family members. Each family gets a turkey as well. Last year, due to Covid, we made the difficult decision to give Super market gift cards instead of food items. We are thankful to be able to resume The community grocery store, as we have come to call it.
We are expecting a large turnout this year as many families have already begun signing up. We are estimating close to 600 families taking part. All are screened for financial need. Many of these are families whose children take part in our childcare and after school programs as well as our senior citizen Bible study.
We depend on individual churches and organizations to provide this food.
So how can we as a church help in this effort? Non-perishable food items can be placed in the collection boxes in front of the sanctuary or in the Narthex anytime between now and Sunday, November 21. These items include soup, cereal, rice, potatoes, cake and Muffin mixes, flour, sugar, cooking oil etc. We usually have an over abundance of cranberry sauce. Turkeys are also much-needed, any size turkey or turkey breast. Volunteers are also needed Monday and Tuesday of Thanksgiving week. Monday the food is received and put on tables for display. Tuesday the families come by appointment to make their selection. Help is needed to restock and assist families in selecting their items. Strong men are needed to carry turkeys and heavy food items. Monetary donations can be made as well with checks made out to Neighborhood Center. Please contact me, Sharyn Bailey, with any questions or to arrange the pick up of a turkey. Thank you so much for your generosity!
Upcoming needs for Christmas
We are looking for a Christmas tree for the parlor hallway.
Also needed are clear or frosted votive candle holders for our upcoming "Longest Night" Christmas service on December 21st. If you can help, please see Margie Underwood. Thanks so much.
Operation Christmas Child- Shoe Boxes
***PLEASE NOTE: ALL CHILDREN'S SHOE BOXES ARE DUE BY NOVEMBER 14TH***
Christmas Child Shoe Boxes are available. An Instruction sheet is also available and it is strongly urged that it be read before filling the boxes. Miss Pat explained last Sunday that there is a new "twist" or option for this year's event. This could be of interest to those of you that aren't able to shop for the contents of a shoe box and still wish to participate- Just place $20.00 cash in the "white envelope marked Operation Christmas Child," drop it in the offering plate, and we will do the shopping for you!
Thanks for being a part of this important ministry to the children of our world! If you have any questions, please contact "Miss Pat" Gunning - (856)962-8010
Bus Trip - "Sight and Sound"
The show "David" will be at Sight and Sound on Tuesday, May 10, 2022, in Lancaster, PA. Also included is a meal at Shady Maple. The cost of the show and the meal is $122.00. The bus has a limited capacity and seats are being filled. A deposit of $22.00 must be paid to hold your spot. If you have any questions, please contact Pat Gunning.
Praises!
We praise God and thank Him for all the prayers that have been answered throughout this challenging time and also:
For all God is doing, even in the smallest of details!
For our freedom to worship together in person.
For members of our church family who have recovered from surgeries, treatments and illnesses.
Verse of the Month - November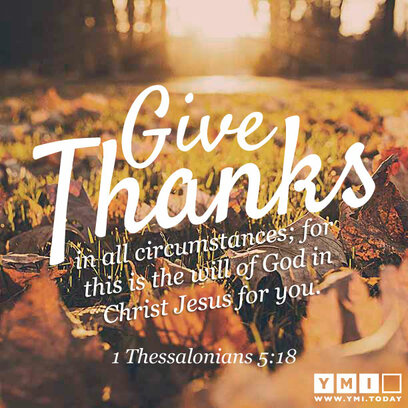 Pray for the Zooks!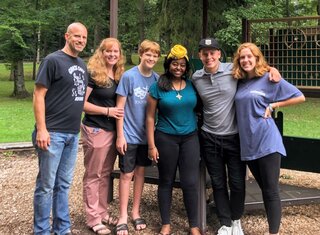 Please pray for us throughout this transition and beyond, and would you also consider joining our support team in the following ways?
To contact us, or join our prayer team:
Shawn - shawnzook641@gmail.com
Nicole - his6kids@gmail.com
To join our financial support team:
(Monthly support & one-time gifts are tax-deductible)
Online: https://amoveogroup.org/donate/Staff
(Choose "Shawn and Nicole Zook" for your designation)
OR
Checks payable to "Amoveo Group;" add "Shawn and Nicole Zook" in the memo line. Mail to: PO Box 464, Media, PA 19063
Thank you for all your prayers and support!!
Prayer Requests
-Mark 11:24
"Therefore I tell you, whatever you ask in prayer, believe that you have
received it, and it will be yours."
"Prayers in the Garden" has now been changed to "Prayers in the Parlor" during the colder months. It is a time to gather and pray over the requests of our congregation and happens every Monday through Thursday, beginning at 9:00am. Feel free to come and join us!
Please continue to pray for...our homebound members; our church members who are in need of spiritual, emotional and financial care; any families and relationships that have been strained during this time, our Troops and our Missionaries. The list is long, but God is BIG!
Please pray for the following:
Pastor Scott & Meg - for the Lord's guidance & direction in all matters and decisions.
The Zook Family as they look for a home and prepare for their new ministry.
Brian and Shauna Coffey
Ryan Chetty - Age 20 - On ventilator with COVID-pneumonia.
Nancy Ollif - former member - suffering stage four cancer.
Carol Harding - fell and suffering sprained ankle.
Mary Emily Cameron - home from hospital - continued healing for leg infection.
Dick McCloy - Classic Hodgkins Lymphoma having chemo every other week and leaky heart valves that need repaired
Mary Ann McCloy - double vision and extreme dizziness
Sherry Rappe's sister, Jana - doctor's prognosis very positive in her cancer battle.
Linda Adams' son-in-law - received a kidney transplant and is doing well.
Linda Hamrick -continues to recover .
Carol & Bud Shropshire - health issues; son David's cancer; grandson Brian's cancer.
Karen Kline, her son Craig, & his family - as he continues his cancer treatments.
Nicholas Ferrara(Grandson of Charles & Joan)- presently serving in Saudi Arabia.
Charles Ferrara
Arnie Arnold - continued serious medical issues.
Gus Mondatsos - pain management for his back was unsuccessful; visit with Orthopedic dr. set for end of Oct.
Joel & Kay Shannon- grandson Andrew Sperry, helicopter pilot, has been recently deployed.
SPRC - as they determine our staffing needs for the future.
Our Missionaries
God's hand upon our towns, state and country and our elected leaders.
If you have any other prayer concerns or ways we can serve you please let us know. We desire to journey with you.
Remember, you are loved!
In His Grace,
The FUMC Staff
... to see all people WORSHIP God, CONNECT with His people, and join His MISSION in this world.
Our address is: 201 Dayton Ave, Collingswood, NJ, 08108