Traces of Grace
Jan. 6, 2022
Thoughts from Pastor Scott
I've found myself thinking this past week or two about goals for our church and for myself for 2022. This is pretty normal in late December/early January as we not only turn the calendar page, but put up a whole new calendar. As I was thinking about the year to come, I found myself thinking back to our sermon series on Ephesians, "Made for More." In that sermon series we looked at 6 shifts in thinking that can help us as a church to bear the presence of Jesus in our community.
As a quick refresher, those shifts are:
-From more effort to more Jesus
-From more volunteers to more masterpieces
-From more guilt to more love
-From more hierarchy to more missionaries
-From more programs to more mission fields
-From more strategy to more surrender
My prayer is that in 2022 we will continue to shift our thinking and our perspectives so that we can live into the reality that we are made for more. This wasn't just a sermon series I preached, I want to see us follow the big Jesus we serve in the mission fields where we have been planted and fulfill the masterpiece mission He has given to each of us as we surrender to His vision and love the people in our community.
There are going to be tweaks and changes that need to happen in order for our church to do that. Some of those changes can be exciting, others can feel scary. It might mean I need to surrender my vision, my preferences, or my desires for that to happen. I hope you'll join me in praying and trusting Jesus as we lean into this new season of life together as a church.
Grace & Peace,
-Pastor Scott
Upcoming Sermon Series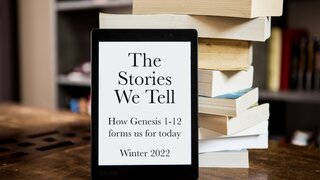 Humans are story-formed people; that is, we are shaped by the stories we tell. It is in those stories that we pass on values, beliefs, and worldviews. As Christians, the stories we tell and that form us as the people of God are the stories of Scripture. We often find the stories of Scripture in conflict with the stories of our culture, the stories of the world. And when we do, we have to choose which stories we will allow to form us.
From this Sunday through the end of February we are going to look at some of the stories that provide the foundation for a Biblical worldview. These stories, even though they were written at a different time and to a different context and may not answer all the questions we bring to them, are full of truth for us today. These are the stories we need to tell to one another again in the midst of a culture that says truth is relative to each one of us.
Jan. 9 - In the Beginning...God - Genesis 1:1-2
Jan. 16 - God's Creative Intention - Genesis 1:3-2:3
Jan. 23 - God Creates Humanity - Genesis 2:4-25
Jan. 30 - God's Way is Best - Genesis 3:1-24
Feb. 6 - Accountable to God - Genesis 4:1-16
Feb. 13 - God is Good Even When We are Not - Genesis 6-9
Feb. 20 - God's Plan or Our Plan? - Genesis 11:1-9
Feb. 27 - God Calls a Man, a Family, a Nation - Genesis 12:1-9
Upcoming Events
Download
Our Traditional Sunday Morning Worship Service begins at 9:15am in our sanctuary. This service incorporates the great hymns of our faith, creeds, responsive readings, prayers, Scripture readings, and a sermon, among other things. During the 9:15 hour, we also have Sunday school available for children, youth, and adults. Access our Digital Bulletin - Online Giving - 
Sunday, January 9th  •  9:15–10:15 am (EST)
Download
Our Contemporary Sunday Morning Worship Service begins at 10:30am in our sanctuary. This service incorporates new and old songs, most often led on guitar, as well as Scripture readings, prayers, and other worship elements. Nursery is available during the 10:30 service for children birth-Kindergarten and all children are welcome in the worship service. There is also an adult Sunday school class that meets in the parlor during the 10:30 time slot. Our 10:30 service will also be livestreamed for those who are unable to attend in-person. Anyone can access this livestream, but if you'd like to chat with others throughout the service, you must have a Faithlife account and become of member of our Faithlife Group. If you aren't already a member of our group, and would like to become one, please email the church office at office@fumccollingswood.org and we will reply with an invitation. Here are all the links you'll need for the full Sunday Morning experience... Join our Live Stream Service - Access our Digital Bulletin -  Online Giving -  All of our past morning worship services can be viewed on our website by visiting . You can also view the services on our YouTube Channel. If you attend/view our service, we'd appreciate you filling out our Weekly Connection Card to let us know that you joined us, and to tell us how we might be able to pray for you in the coming week.
Sunday, January 9th  •  10:30–11:30 am (EDT)
Communion reminder
This week Communion will be served using prepackaged communion elements picked up as you enter the sanctuary.
Service & Sunday School Class reminder
We are temporarily suspending the coffee time between the Sunday morning services and the 9:00am service and Sunday school classes will move to 9:15-10:15am to reduce the downtime between services and classes.
Offering Envelopes
If you give to the church via offering envelopes, your box of offering envelopes for 2022 is in the narthex. Please pick them up at your earliest opportunity. Thank you.
Bus Trip - "Sight and Sound"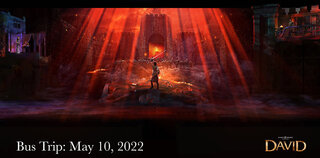 The show "David" will be at Sight and Sound on Tuesday, May 10, 2022, in Lancaster, PA. Also included is a meal at Shady Maple. The cost of the show and the meal is $122.00. The bus has a limited capacity and seats are being filled. A deposit of $22.00 must be paid to hold your spot. If you have any questions, please contact Pat Gunning.
Wee Soccer Cancelled
We have made the difficult decision to not proceed with Wee Soccer at this time because of the difficulties posed by a program like that in regard to masking/distancing in an uncertain covid situation.
It doesn't seem to be the best outreach option at this time, although there is possibility of holding it later (March?) if the current surge drops off in the coming weeks.
Verse of the Month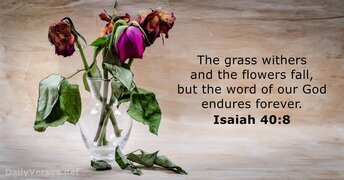 Praises!
We praise God and thank Him for all the prayers that have been answered throughout this challenging time and also:
For all God is doing, even in the smallest of details!
For our freedom to worship together in person.
For members of our church family who have recovered from surgeries, treatments and illnesses.
Prayer Line
Prayer Warriors needed! If you would like to be part of this vital ministry, please call Shirley Latch, (856) 854-4777, or the church office, (856) 858-1186, and join our church prayer line. If there are any questions, please contact Shirley Latch. Thanks so much!
Prayer Requests
-Mark 11:24
"Therefore I tell you, whatever you ask in prayer, believe that you have
received it, and it will be yours."
"Prayers in the Parlor" is a time to gather and pray over the requests of our congregation and happens every Monday through Thursday, beginning at 9:00am. Feel free to come and join us!
Please continue to pray for...our homebound members; our church members who are in need of spiritual, emotional and financial care; any families and relationships that have been strained during this time, our Troops and our Missionaries. The list is long, but God is BIG!
Please pray for the following:
Pastor Scott & Meg - for the Lord's guidance & direction in all matters and decisions.
The Zook Family as they look for a home and prepare for their new ministry.
Jaime Frost, daughter of Harry & Linda Rameriz - serious health issues
The Arnold Family in the passing of Arnie Arnold
Jennie Berryhill - throat issues
Virginia Morrow - in rehab
Dave Hammond - cancer treatment
Joan Steward - son-in-law has COVID
Ella & Angie Patterson -brother Jack's seizures slow down
Brian and Shauna Coffey
Carol Harding - fell and suffering sprained ankle.
Mary Emily Cameron - home from hospital - continued healing for leg infection.
Dick McCloy - permanent remission from 6 months of chemo treatments
Mary Ann McCloy - double vision and extreme dizziness
Linda Adams' son-in-law - received a kidney transplant and is doing well.
Linda Hamrick -continues to recover.
Karen Kline, her son Craig, & his family - as he continues his cancer treatments.
Nicholas Ferrara(Grandson of Charles & Joan)- presently serving in Saudi Arabia.
Charles Ferrara
Gus Mondatsos - recovering from successful hip surgery
Joel & Kay Shannon- grandson Andrew Sperry, helicopter pilot, has been recently deployed.
SPRC - as they determine our staffing needs for the future.
Our Missionaries
If you have any other prayer concerns or ways we can serve you please let us know. We desire to journey with you.
Remember, you are loved!
In His Grace,
The FUMC Staff
... to see all people WORSHIP God, CONNECT with His people, and join His MISSION in this world.
Our address is: 201 Dayton Ave, Collingswood, NJ, 08108