Traces of Grace
April 28, 2022
Thoughts from Pastor Scott
First Methodist,
I was talking with someone in the church office this week and they mentioned how they had read in Traces of Grace last week about our sermon series, "The Domino Effect." They said that the first thing that came to their mind was the idea that "the bigger they are, the harder they fall." And that thought got my mind spinning about the truth of that statement and how it relates to "The Domino Effect."
You see, in the journey of growing in our understanding of our identity as members of the family of God, some of the truths (the dominos) are bigger than others. This is why we start with the smaller truths; not small in significance, but maybe a little easier to wrap our minds around. It's only then that we are able to build up to the bigger realities.
It's a little bit like my four boys, who increase in size like dominos from Elijah, to Josiah, to Ben, up to Tim. If Eli tries to take out Tim, he doesn't stand a chance. There's too big a difference in their size. However, each on can take out the next one and, when you put it all together cumulatively, the smallest one can take out the largest one. And now, if they team up together, they can take our Dad (me)!
It's the same with our understanding; each truth we understand makes way for the next truth we need to grasp. And when those truths get put together, the impact is exponential.
So this week we're going to build on what we heard last Sunday and look more closely at "Jesus Christ, In Me." Not just the possibility of the fullness of God dwelling in us, but the truth that Christ living in me makes it possible for me to live in Christ.
We will also be celebrating communion together and the communion offering for May will go to support the student scholarships given to our young people who are attending Christian colleges & universities.
Grace & Peace,
-Pastor Scott
Current Sermon Series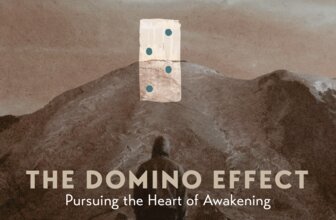 Normally, when people think about dominos, they think about one domino knocking into the next which knocks into the next, etc., etc. But there's another domino effect, similar to the butterfly effect, that exists because one domino can knock over a second domino that is one-and-a-half times larger than the preceding domino. That means a 2-inch domino can knock over a 3-inch domino which can knock over a 4.5-inch domino, etc. At that rate of increase,
Domino #23 is taller than the Eiffel Tower,
#42 is taller than Mt. Everest,
and #63 could reach to the moon!
The book of Colossians is full of spiritual truths that, when taken together cumulatively, are able to topple spiritual strongholds that loom large in the world. From Easter, through Ascension day, until Pentecost we are going to look at what it means for Jesus Christ to be at the core of who we are and all that we do.
While we are leaning into this sermon series, the Seedbed Daily Text* is going to be running a corresponding daily devotional email. In fact, we're going to be joining churches across the country and around the world who are preaching from Colossians around this same outline of 'The Domino Effect.' I encourage you to sign up to receive the Daily Text and read the devotions along with our sermon series. I also have a limited number (20) of printed devotional books available for $10, for those who prefer to hold a book in your hand each day.
Either by email or in print, I hope you'll join us on this journey through Colossians. I believe God has important things to say to us about the centrality of who Jesus is and how He changes our lives.
*Seedbed is a publishing group that was birthed out of Asbury Theological Seminary which has become the premier publisher of orthodox, Wesleyan books and Bible studies. I recommend their materials without reservation. If you're looking for a book to read or a Bible study to lead check out their offerings
Vacation Bible School
Mark your calendar for 9:30-11:30am on the following VBS days:
Thursday, June 30
Wednesday, July 13
Wednesday, July 27
Thursday, August 4
Thursday, August 25
We're back on track this year to do a form of Vacation Bible School. If you are interested in helping, please contact Pat Gunning by email at pagunning@yahoo.com or note your interest on the Connect Card attached to the Sunday bulletin. Thank you.
Get to know Jeremy & Rebecca Andrade
Jeremy Andrade will officially begin his role as our new Assistant Pastor on July 1st, but that doesn't mean we have to wait until then to get to know one another. Please feel free to email him at jeremy@fumccollingswood.org and introduce yourself. You could even include a photo so Jeremy and Rebecca can continue to put names and faces together. This will be a great help to them as they transition into their role as part of the First Methodist family.
2022-2023 Scholarship Applications
Applications to apply for a small FUMC Scholarship are currently available online through the FUMC website or in the church office. All students who are currently attending a college or university and are a part of our church family are welcome to apply. The application deadline is Sunday, June 5th and applications can be sent via email (office@fumccollingswood.org), regular mail (201 Dayton Ave, Collingswood, NJ 08108), or dropped off in the church office.
Baby Bottle Benefit
Baby bottle collection will benefit Options for Women in Cherry Hill. The bottles will be given out on Mother's Day and collected on Father's Day. Since change is short and filled bottles are heavy,
you can place a check in an envelope and return it, or you can make an on line donation at optionsnj.org and go to donation options. Contact is Judy Boswell. Thank you!
Baby Shower for Expectant Mothers - Neighborhood Center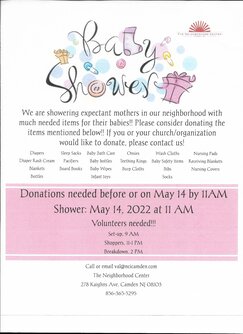 Please consider donating items for expectant mothers in our neighborhood with much needed items such as: diapers, diaper rash cream, blankets, bottles, sleep sacks, pacifiers, board books, baby bath care, baby bottles, baby wipes, infant toys, onesies, teething rings, burp and wash cloths, baby safety items, bibs, socks, nursing pads, receiving blankets and nursing covers. You can call or email val@ncicamden.com at The Neighborhood Center, 278 Kaighns Ave., Camden, NJ 08103 (856) 365-5295. Contact is Sharyn Bailey. Thank you!
"David" - Sight & Sound - May 10th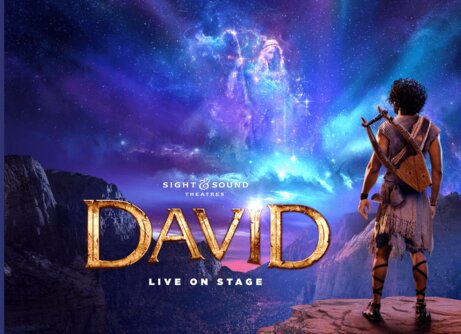 Well it's almost here! The bus trip for "David" at the Sight and Sound Theatre, on May 10th, will leave the church at 8am. Please be prompt. Thanks so much!
Semi Annual Chicken Barbecue - Soul Cafe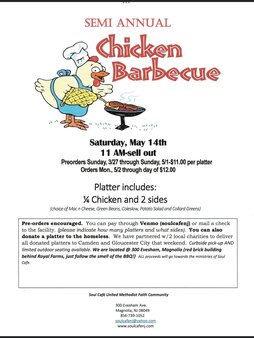 The Semi Annual Chicken Barbecue takes place on May 14th from 11am to sell-out. Preorders are encouraged. Platter includes 1/4 chicken and 2 sides (choice of Mac n Cheese, Green Beans, Coleslaw, Potato Salad and Collard Greens. Payments can be made through Venmo(soulcafenj) or mail a check to the facility (please indicate how many platters and what sides). You can also donate a platter to the homeless. We have partnered with/2 local charities to deliver all donated platters to Camden and Gloucester City that weekend. Curbside pick-up AND limited outdoor seating available. We are located @ 300 Evesham, Magnolia (red brick building behind Royal Farms, just follow the smell of the BBQ! All proceeds go towards the ministries of Soul Cafe.
Desperate need for "women's" sneakers - Seeds of Hope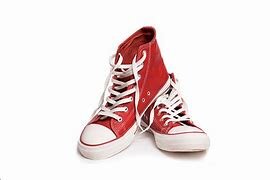 Seeds Of Hope in Camden are in desperate need of women's sneakers for their SHAN ministry. Sneakers do not have to be new but should be in good condition. Please see Sharyn Bailey with any questions. Thanks so much!
Soul Cafe accepting clothing donations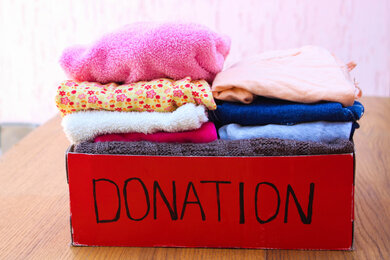 Soul Cafe is accepting donations of any size children's clothing and small, medium and large women's clothing for the free store at our Magnolia location. All clothing must be spring and summer. No winter clothing at this time. Please see Sharyn Bailey for donations.
Thank you!
Collingswood Food Pantry at St. Paul's
The Pantry supplements the food for 325 local families each month. More than 50 percent of its clients are children and 25 percent are senior citizens. The following items are always needed and popular with our customers. Any other items are always welcome.
Cooking Oil, Bottle juice, Liquid dish soap/laundry soap, Coffee - regular, Toothpaste/toothbrushes/deodorant/shampoo/shaving cream, Paper towels/plastic wrap/baggies, Baby diapers any size, Sugar/flour, ketchup/mustard/mayonnaise.
Your donated items can be dropped off in Parlor (Tuesday Bible Study room) in blue container marked "COLLINGSWOOD FOOD PANTRY." Thank you so much for your donations and serving the people in need! Any questions, please see Connie Cline.
Matthew 25:40 "Truly I Tell You, Whatever You Did for One of the Least of These Brothers and Sisters of Mine, You Did for Me."
Upcoming Events
Download
Our Traditional Sunday Morning Worship Service begins at 9am in our sanctuary. This service incorporates the great hymns of our faith, creeds, responsive readings, prayers, Scripture readings, and a sermon, among other things.
During the 9:00 hour, we also have Sunday school available for children, youth, and adults.
Access our Digital Bulletin - Online Giving -
Sunday, May 1st  •  9–10 am (EDT)
Download
Our Contemporary Sunday Morning Worship Service begins at 10:30am in our sanctuary. This service incorporates new and old songs, most often led on guitar, as well as Scripture readings, prayers, and other worship elements. Nursery is available during the 10:30 service for children birth-Kindergarten and all children are welcome in the worship service.
There is also an adult Sunday school class that meets in the parlor during the 10:30 time slot.
Our 10:30 service will also be livestreamed for those who are unable to attend in-person. Anyone can access this livestream, but if you'd like to chat with others throughout the service, you must have a Faithlife account and become of member of our Faithlife Group. If you aren't already a member of our group, and would like to become one, please email the church office at office@fumccollingswood.org and we will reply with an invitation.
Here are all the links you'll need for the full Sunday Morning experience...
Join our Live Stream Service - https://www.faithlife.com/fumccollingswood/livestream
Access our Digital Bulletin - https://fumccollingswood.org/bulletins
Online Giving - https://fumccollingswood.org/giving
All of our past morning worship services can be viewed on our website by visiting https://fumccollingswood.org. You can also view the services on our YouTube Channel.
Sunday, May 1st  •  10:30–11:30 am (EDT)
Verse of the Month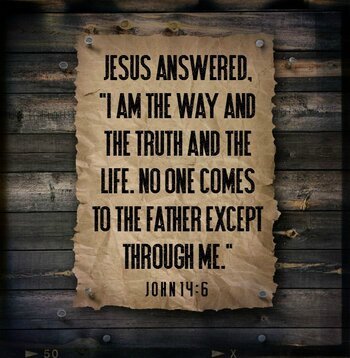 Praises!
We praise God and thank Him for all the prayers that have been answered throughout this challenging time and also:
For all God is doing, even in the smallest of details!
For our freedom to worship together in person.
For members of our church family who have recovered from surgeries, treatments and illnesses.
Prayer Requests
-Mark 11:24
"Therefore I tell you, whatever you ask in prayer, believe that you have received it, and it will be yours."
"Prayers in the Parlor" is a time to gather and pray over the requests of our congregation and happens every Monday through Thursday, beginning at 9:00am. Feel free to come and join us!
Please continue to pray for...our homebound members; our church members who are in need of spiritual, emotional and financial care; any families and relationships that have been strained during this time, our Troops and our Missionaries. The list is long, but God is BIG!
Please pray for the following:
Pastor Scott & Meg - for the Lord's guidance & direction in all matters and decisions.
The Zook Family as they look for a home and prepare for their new ministry.
Carol Harding - hospitalized with pneumonia, low blood pressure and an unknown infection.
Dotti Escuti's friend Peggy Imms & family - family is going through many serious issues
Linda Adam's sister Lois - Medical issues
Connie Cline's longtime friend has cancer/is steps from eternity and needs to get into a relationship with God.
Joan Stecher's friends Denise Young and Danielle Catling
June Walton's husband & family in the passing of June Walton
Karen Kline and family in the passing of her son Craig
The Berryhill's friend Melinda Johnson
The Cluelow's friend Liz
Mike Molloy's mother Lila & caregiver
Dave Cahilly - health issues
Kay Shannon - recovering from foot surgery
Dave Hammond - recovering at home
Ella Patterson's brother - seizures
Dick, Peggy and Janel Esher
Joyce Berry - health issues
Joyce Cluelow - broken arm
Jaime Frost, daughter of Harry & Linda Rameriz - serious health issues
Mary Emily Cameron - recovering from a broken bone in her neck
Dick McCloy - permanent remission from 6 months of chemo treatments
Mary Ann McCloy - double vision and extreme dizziness
Gus Mondatsos - recovering from successful hip surgery
Dave Schmid - Retired Missionary
Our Missionaries
If you have any other prayer concerns or ways we can serve you please let us know. We desire to journey with you.
Remember, you are loved!
In His Grace,
The FUMC Staff
... to see all people WORSHIP God, CONNECT with His people, and join His MISSION in this world.
Our address is: 201 Dayton Ave, Collingswood, NJ, 08108