Traces of Grace
Volume 30 - October 30, 2020
Set Your Clocks Back One Hour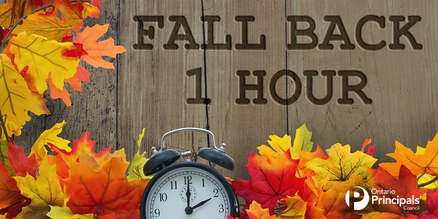 Don't forget! Set your clocks back one hour tomorrow night so you won't arrive one hour early!
Online Worship This Sunday
We are looking forward to the building being open for our Sunday morning worship service this Sunday, November 1st, for anyone who would like to join us in the Sanctuary at 10:00am. (We ask everyone to arrive 15 to 20 minutes early so that we can get you checked in before the service starts at 10am sharp)
Don't miss our live stream worship service Sunday morning at 10:00am. Pastor Matt will be starting a new sermon series "Blessings In Challenging Times" with part two of a two-part message from Matthew 5:1-10 called "You Are Blessed When..." Pastor Sam will conclude with communion. Our Communion offering this month will go towards the Benevolence Fund which, under the pastor's discretion, helps people in financial need. Don't forget to join us after our service on Zoom for a fellowship time. Both links are available on our website at fumccollingswood.org, where you'll also be able to view the service throughout the week.
Attending Our Service In-Person?
We welcome you to join us on Sunday mornings at 10am, using either of the two Park Avenue doors. Lots of things will be different, as we are taking every safety precaution possible, but it's a small price to pay to be able to worship together again. If you are planning on attending, we ask that you please help us to prepare by pre-registering HERE.
If for any reason you feel uncomfortable attending a service in person, that's ok! We will still be live streaming our service as we have been since the beginning of October. You can access the live stream by clicking the following link - faithlife.com/fumccollingswood/livestream.
If you can't make it in person, or to the livestream, you can still watch a video of the service at anytime throughout the week by visiting the SERVICES page of our website - fumccollingswood.org/services.
However you choose to worship with us, feel free to view our digital bulletin, which is also listed in the SERVICES page of our website (link above). It will show you the announcement slides, the songs/hymns that are sung in the service, and the scripture references... just like a regular bulletin, only without the paper!
We're so excited to continue this journey with all of you. As always, if there is anything we can do to help you along the way, please don't hesitate to contact us
Thought For Today
Have you ever thought that you have experienced most things in life and that even though this has been a very unusual year we are ready for most things with God's help. I believed that until I walked into the kitchen on the phone scheduling a date with another pastor when my wife's little dog came out from under the table and had what I thought was a stroke or seizure right in front of me. It caught me by surprise and was dramatic to say the least. Unfortunately, the dog had a few more episodes and she ended up in a veterinary hospital for the night. Thankfully, she is doing better now, but life throws us curves right in the midst of unexpected times.
I believe that's why I am so drawn to this promise in Psalm 91:1-2...
Whoever dwells in the shelter of the Most High will rest in the shadow of the Almighty.I will say of the Lord, "He is my refuge and my fortress,my God, in whom I trust." Psalm 91:1-2
This psalm helps us take a deeper look at life and all sorts of difficult circumstances and possible scenarios—pestilence, plague, arrows, terrors, snares, that could come. But the psalmist rejects all these and instead puts his trust in God, his "refuge and fortress."
We can relate . . . turn on the news, read your newsfeed, and almost everyday we hear news of all sorts of difficult circumstances...like the pandemic, problems, political divisions, financial challenges and the great heart wrenching social issues of our day that discourage so many, not to mention hurricanes, wildfires and the list goes on.
The psalmist reminds us that God is our refuge, protecting us against everything that comes our way. We can trust Him! Jesus echoed the same thought centuries later when He told His disciples, "peace I leave with you; my peace I give you. I do not give to you as the world gives. Do not let your hearts be troubled and do not be afraid." (John 14:27) He is simply saying, I got this…
And so what do we do? We live out the calling of God in our lives and as J. Lee Grady said recently in an article, "we pray and live out Jesus' love like our lives depended upon it!"
We can pray that this Covid-19 pandemic would end … and also pray for everyone who is experiencing it and that God would continue to guide us in showing his love in the midst of it.
We can pray for a peaceful election under God's direction, that each one of us seeks God's help individually to select the best candidate in every race, including Senate, House of Representatives and many local elections. We can pray and VOTE!
We can pray for our first Sunday back into the building that the Lord would continue to guide us and lead us and be honored by all we do!
Let's continue to pray for the spiritual condition of our day which needs to experience the love and forgiving power of Jesus in our lives in a fresh new way. We need our Lord's help through the natural disasters and the social issues of the day like racism and even politics that divide so many. We continue to pray for so many who reach out for prayer within our church family and our greater community (Community prayer box) and missionaries both local and around the world. We continue to thank God for the many blessings... we know God answers prayers. Here are prayer concerns for this week:
our church and the community
the schools and the children and staff
our country and leaders
Continue to pray for Linkin Miller, Joy Evans, Margret Robinson, Mary Mondatsos
If you have any prayer concerns or ways we can serve you, please let us know. We desire to journey with you even through these days of social distancing. Remember, you are loved!
In His Grace,
Pastor Sam and the Staff
... to see all people WORSHIP God, CONNECT with His people, and join His MISSION in this world.
Our address is: 201 Dayton Ave, Collingswood, NJ, 08108