Traces of Grace
Volume 32 - November 13, 2020
Online Worship This Sunday
We are again looking forward to the building being open for our Sunday morning worship service this Sunday, November 15th, for anyone who would like to join us in the Sanctuary at 10:00am. (We ask everyone to arrive 15 to 20 minutes early so that we can get you checked in before the service starts at 10am sharp)
Don't miss our live stream worship service Sunday morning at 10:00am, and Zoom fellowship directly following. Pastor Sam will be continuing the sermon series "Blessings In Challenging Times" with a message from Matthew 5:25-33 called "It Makes All the Difference". And you won't want to miss the Kids Corner with Phil Boswell. Both links are available on our website at fumccollingswood.org, where you'll also be able to view the service throughout the week.
Important Sunday Morning Worship Information
We welcome you to join us on Sunday mornings at 10am, using either of the two Park Avenue doors. Please use the door that corresponds with the side of the sanctuary in which you'd like to sit. Lots of things will be different, as we are taking every safety precaution possible, but it's a small price to pay to be able to worship together in-person. If you are planning on attending, we ask that you please help us to prepare by pre-registering HERE.
If for any reason you feel uncomfortable attending a service in person, that's ok! We will still be live streaming our service as we have been since the beginning of October. You can access the live stream by clicking the following link - faithlife.com/fumccollingswood/livestream.
If you can't make it in person, or to the livestream, you can still watch a video of the service at anytime throughout the week by visiting the SERVICES page of our website - fumccollingswood.org/services.
However you choose to worship with us, feel free to view our digital bulletin, which is also listed in the SERVICES page of our website (link above). It will show you the announcement slides, the songs/hymns that are sung in the service, and the scripture references... just like a regular bulletin, only without the paper!
We're so excited to continue this journey with all of you. As always, if there is anything we can do to help you along the way, please don't hesitate to contact us
Opportunities For Showing God's Love
Food Donations
Thanksgiving is fast approaching and Neighborhood Center and Soul Cafe are both collecting turkeys to be given to families in need. Due to Covid, Neighborhood Center regretfully will not be able to do their family grocery store where people select food items according to family size. The safest way to help is to give qualified families a turkey and a $25 gift card to ShopRite or Acme. Gift cards may be given to Sharyn Bailey at worship on Sundays, life groups or Bible studies. The cards may also be deposited in the office with an indication on the envelope for Neighborhood Center or Soul Cafe. Turkeys may also be brought on Sundays; contact Sharyn (sharyn8888@gmail.com) to make arrangements or for more information.
Operation Christmas Child
Completed Christmas Shoeboxes need to be brought to the church by this Sunday, November 15. If you plan to drop your boxes off at the church during the week, please contact Pat Gunning (home, 856/962-8010 or cell, 609/792-4441).
Thanksgiving Baskets
We recognize this year has been difficult for many families. If you have a need or know another family that could use a basket, please contact one of the staff, call (856-858-1186) or email (office@fumccollingswood.org) the church office so we might serve you or anyone in need!
Let's remember to pray for and honor our Veterans!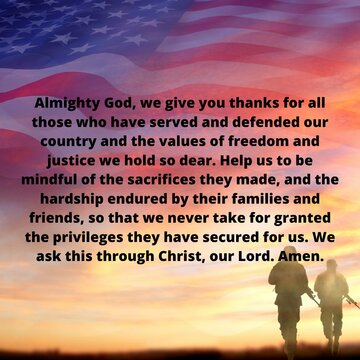 Thought For Today
"Give thanks in all circumstances"
1 Thessalonians 5:18
This week this verse came to mind as I was praying for others and in a few situations of my own. I must be honest, sometimes it's the "all" in that verse that can challenge most of us. Many people can be thankful for lots of things, but in "all" circumstances? That is where the difficulty arises.
This week, right in the middle of some conference calls and some other important phone calls, my phone just started dropping calls. I tried to fix the phone myself, but ended up spending two nights with the customer service department of Verizon Wireless. The fun part was as soon as I got to the point of speaking with someone, after waiting forever, the call would drop. Finally a tech, after trying everything said go to the store and replace the sim card. So I did; the phone still did not work; at which point the tech said I needed a new phone. I went to another Verizon store, hoping they would have a phone to switch out what I need. When I got there they sent me on to another store. I must admit by this time I wasn't sure how thankful I was for this goose chase for my phone. I decided to go back to one of the stores that was more helpful than the others; the one tech saw I was really on my last leg. He opened up my phone and said that the first store did not ever put in the replacement sim card but just plastic. They put the right part in and I was truly thankful!
What about when you find yourself suffering illness, or defeat, or you're walking through huge loss...what about when a loved one leaves this world too soon and you still can't see past your tears… or now, with Covid-19, lots of things are upside down. I hear lots of families discussing how difficult it is to plan for the holidays this year.
I was reading a devotional by Debbie McDaniel that inspired my thoughts today...
Yes, these are the "all" things that can be hard to find gratitude in, whether it's huge losses or just life irritations. But God's word never changes to fit our circumstances. His Truth rises above our circumstance, so that we can too. He doesn't say give thanks "for it", but "in it all," for He knows He's building more deeply into our lives and character than He could ever build without the hard times. We're gaining strength. We're gaining perseverance. We're being reminded that true joy is never based on how we feel or our outside situations. We're understanding that God's ways are bigger, His thoughts are higher, and we can be assured that He holds us in His hands.
The good news is we never fight the battles alone. Stay strong. Choose joy. Choose to be grateful in it "all." He hears our prayers, He sees all, and knows all. He has purpose for our pain, and brings hope for our tomorrows...
May each of us discover that no matter what our day holds, God is with us. Now that is something I'm grateful for!
Let's continue to pray for the spiritual condition of our world which needs to experience the love and forgiving power of Jesus in our lives in a fresh new way. We continue to pray for so many who reach out for prayer within our church family and our greater community (Community prayer box) and missionaries both local and around the world. We continue to thank God for the many blessings, and we know God answers prayers. Here are this week's prayer concerns:
Our country and the effects of Covid-19
our church and the community
unity and reconciliation throughout our country at this time
the schools in our community, including the children and the staff
our country and leaders
Linkin Miller, Joy Evans, Margret Robinson, Mary Mondatsos
John and Betty Parsons with Covid-19
Melanie and George Plotts with Covid-19
If you have any prayer concerns or ways we can serve you, please let us know. We desire to journey with you even through these days of social distancing. Remember, you are loved!
In His Grace,
Pastor Sam and the Staff
... to see all people WORSHIP God, CONNECT with His people, and join His MISSION in this world.
Our address is: 201 Dayton Ave, Collingswood, NJ, 08108