Traces of Grace
Volume 33 - November 20, 2020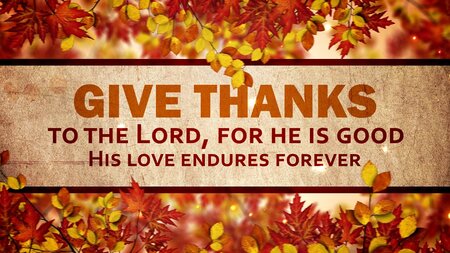 Online Worship This Sunday
We are again looking forward to the building being open for our Sunday morning worship service this Sunday, November 22nd, for anyone who would like to join us in the Sanctuary at 10:00am. (We ask everyone to arrive 15 to 20 minutes early so that we can get you checked in before the service starts at 10am sharp)
Don't miss our live stream worship service Sunday morning at 10:00am, and Zoom fellowship directly following. Pastor Sam will be continuing the sermon series "Blessings In Challenging Times" with a message from Psalm 103:1-5 called "The Life That Blesses". And you won't want to miss the Kids Corner with Linda Sabin & Dennis! Both links are available on our website at fumccollingswood.org, where you'll also be able to view the service throughout the week.
Important Sunday Morning Worship Information
We welcome you to join us on Sunday mornings at 10am, using either of the two Park Avenue doors. Please use the door that corresponds with the side of the sanctuary in which you'd like to sit. Lots of things will be different, as we are taking every safety precaution possible, but it's a small price to pay to be able to worship together in-person. If you are planning on attending, we ask that you please help us to prepare by pre-registering HERE.
If for any reason you feel uncomfortable attending a service in person, that's ok! We will still be live streaming our service as we have been since the beginning of October. You can access the live stream by clicking the following link - faithlife.com/fumccollingswood/livestream.
If you can't make it in person, or to the livestream, you can still watch a video of the service at anytime throughout the week by visiting the SERVICES page of our website - fumccollingswood.org/services.
However you choose to worship with us, feel free to view our digital bulletin, which is also listed in the SERVICES page of our website (link above). It will show you the announcement slides, the songs/hymns that are sung in the service, and the scripture references... just like a regular bulletin, only without the paper!
We're so excited to continue this journey with all of you. As always, if there is anything we can do to help you along the way, please don't hesitate to contact us
Opportunities For Showing God's Love
Food Donations
Thanksgiving is fast approaching and Neighborhood Center and Soul Cafe are both collecting turkeys to be given to families in need. Due to Covid, Neighborhood Center regretfully will not be able to do their family grocery store where people select food items according to family size. The safest way to help is to give qualified families a turkey and a $25 gift card to ShopRite or Acme. All gift cards and turkeys need to be given to Sharyn Bailey by this Sunday morning; contact Sharyn (sharyn8888@gmail.com) to make arrangements or for more information.
Thanksgiving Baskets
We recognize this year has been difficult for many families. If you have a need or know another family that could use a basket, please contact one of the staff, call (856-858-1186) or email (office@fumccollingswood.org) the church office so we might serve you or anyone in need!
Thought For Today
Earlier this week, I was listening to a nurse talk about the mission of the hospital, especially in times like now with the challenges facing our medical community. I was curious, so I googled a few local hospital mission statements. Here are a few encouraging phrases I found...
Our focus is… Always Caring
Always Here for you because Your Life Matters
Care you can believe in
Every life, every moment, every day
Hope at Every Turn
Hope Lives Here
These are powerful statements, encouraging people in need to see what hospitals hope to do for them. I thought how we as the church, with God's leading, could adopt every one of those phrases as we love our world through its current challenges.
This reminded me of an older, but popular, Matthew McConaughey's movie, Interstellar. The film places the future of civilization in the hands of a few astronauts and scientists. At no point in the movie does anyone even consider whether God is relevant to their life's challenges. By contrast, the psalmist testifies...
"I lift up my eyes to the hills. From where does my help come? My help comes from the Lord, who made heaven and earth" - Psalm 121:1-2.
How does he know that his help can come from the Lord? Because God "made heaven and earth." Clearly he can meet your needs and mine as we lift our eyes to him. In Psalm 136:1, David then writes "Give thanks to the Lord, for he is good. His love endures forever." The only response to the goodness of God as David understood was a heart of thankfulness. I am thankful for life, family, friends and a church family that is growing in our love for God and one another, even in the midst of this difficult year. I am so grateful for watching how God is using people under difficult circumstances to love and care for each other.
However, what I am most thankful for is what God has done in giving us Jesus; his life, death, and resurrection, and his love for all of us that brings a hope and a future. For that I am truly thankful. In fact, the Apostle Paul gives us a standard for thanks-giving when he states, "In everything give thanks, for this is the will of God." (1 Thessalonians 5:18). To give thanks in everything can seem really hard at times. Maybe as you're looking at your current situation, you're saying "yeah I can agree with that statement." The good news is that no matter what season we are in, the Lord promises to be with us, and to be our refuge and our strength.
When I remember how God loves me in every season, it allows me to reflect on one of my favorite songs that contains a key phrase, Great is Thy faithfulness... his love, care, and compassion never change. They are alway there... even in the midst of 2020. I am truly thankful!
Here are some prayer concerns for this week:
Our country and the effects of Covid-19. Also, please remember all the families and care teams whose lives are deeply affected by this pandemic.
Pray for the many families who are planning to share in this week of thanksgiving activities, and be with those who cannot take part in the ways that they wish.
Our church and the community
Unity and reconciliation throughout our country at this time
The schools and the children and staff
Our country and its leaders
Linkin Miller, Joy Evans, Margaret Robinson, Mary Mondatsos, Myrtle Aurig
John and Betty Parsons with Covid-19
Melanie and George Plotts recovering from Covid-19
Bill and Brenda Antinore recovering from Covid-19 as well as other people on their staff and ministry at "Seeds of Hope."
If you have any prayer concerns or ways we can serve you, please let us know. We desire to journey with you even through these days of social distancing. Remember, you are loved!
In His Grace,
Pastor Sam and the Staff
... to see all people WORSHIP God, CONNECT with His people, and join His MISSION in this world.
Our address is: 201 Dayton Ave, Collingswood, NJ, 08108