Traces of Grace
Volume 34 - November 27, 2020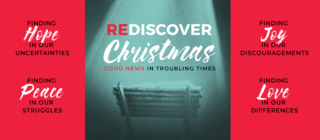 ReDiscover Christmas... Good News In Troubling Times
This is a season of hope. Advent is all about hope. The word Advent means "coming" or "arrival," and the season is traditionally a time of expectation, waiting, anticipation, and longing. Far too often our Christmases have become frenzied and overwhelmingly busy. We pack our schedules with so many seasonal happenings. Our season of peace is quickly overloaded and replaced by a season of stress. Advent is an opportunity to set all that aside. Advent is a time to prepare our hearts and help us place our focus on a far greater story than our own... the story of God's redeeming love for our world.
So wherever you are on your level of 2020 anxiety and uncertainty, wherever you are on your own spiritual journey, we invite you into this season of Advent. We'd like to even suggest that in the craziness and uncertainty of this year, we've been given a gift. We've been given the opportunity to rediscover Christmas. For the next four weeks, we're going to be exploring the attributes of Christ encapsulated in His birth and the Christmas season: hope, peace, joy, and love. And on Christmas Eve we will celebrate the arrival of Jesus, the Christ. This week we begin with rediscovering the hope of Christmas, even when we are surrounded by uncertainty.
Sunday Morning Worship
In-Person Worship Postponed
Starting this Sunday, due to the increasing spread of COVID-19 in our immediate area, we will not be allowing people into our building for worship until further notice. This also applies to any small groups or ministries... they will not be able to meet at our building until further notice. Caution has been shared from both conference leadership, as well as Camden/Burlington counties which are now in the high red zones of transmission rates for COVID-19. We desire to care for, love, and keep everyone safe at this time. This is a decision based on love.
Live Stream Worship Service
Don't miss our live stream worship service Sunday morning at 10:00am, and Zoom fellowship directly following. Pastor Matt will be starting our new Advent series "ReDiscover Christmas... Good News In Troubling Times" with a message from Luke 2:22-38 & Hebrews 15:13 called "Finding Hope In Our Uncertainties". Both links are available on our website at fumccollingswood.org, where you'll also be able to view the service throughout the week.
Opportunities For Showing God's Love
Christmas Baskets
We recognize this year has been difficult for many families. If you have a need or know another family that could use a basket, please contact one of the staff, call (856-858-1186) or email (office@fumccollingswood.org) the church office so we might serve you or anyone in need!
Thought For Today
Finding Hope In Our Uncertainties
"And in the same region there were shepherds out in the field, keeping watch over their flock by night. And an angel of the Lord appeared to them, and the glory of the Lord shone around them, and they were filled with fear. And the angel said to them, 'Fear not, for behold, I bring you good news of a great joy that will be for all the people. For unto you is born this day in the city of David a Savior, who is Christ the Lord. And this will be a sign for you: you will find a baby wrapped in swaddling clothes and lying in a manger.' And suddenly there was with the angel a multitude of the heavenly host praising God and saying, 'Glory to God in the highest, and on earth peace among those with whom he is pleased!'" - Luke 2:8-14 ESV
Today, I want you to think about how, 2000 years ago, the shepherds overcame their fears and discovered fresh hope when they experienced Jesus' birth. We can experience that same hope as we focus on Jesus' birth today, even in the midst of all the distractions and challenges life is bringing our way these days.
Can we see God's plan in the midst of our fear?
Frederick Buechner tells the story about a Christmas pageant a friend of his took part in as the janitor of a church. Buechner writes...
"The manger was down in front where it always is. Mary was there in a blue robe and Joseph in a cotton beard. The wise men were there with a handful of shepherds, and of course in the midst of them all, the Christ child was there, lying in the straw. The nativity story was read aloud by my friend with carols sung at the appropriate places, and all went like clockwork until it came time for the arrival of the angels of the heavenly host, as represented by the children of the congregation, who were robed in white and scattered throughout the pews with their parents. (You know this was pre-COVID!) At the right moment they were supposed to come forward and gather around the manger. That is just what they did except there were so many of them that there was a fair amount of crowding and jockeying for position, with the result that one particular angel, a [little] girl...who was smaller than most of them, ended up so far out on the fringes of things that not even by craning her neck and standing on tiptoe could she see what was going on. 'Glory to God in the highest and on earth peace, good will among men,' they all sang on cue, and then in the momentary pause that followed, the small girl electrified the entire church by crying out in a voice shrill with irritation and frustration and enormous sadness at having her view blocked, 'Let Jesus show!'
At Christmas time, we too want to let Jesus show -- in our church, in our community, in our lives. Christ is born! Joy to the world! The Lord is come. And we are grateful."
In Frederick Buechner's story, after the little girl cried out, "Let Jesus show," he writes...
"There was a lot of the service still to go, but my friend the janitor said that one of the best things he ever did in his life was to end everything precisely there. 'Let Jesus show!' the child cried out, and while the congregation was still sitting in stunned silence, he pronounced the benediction, and everybody filed out of the church with those unforgettable words ringing in their ears."
"Let Jesus show!" That is exactly what the shepherds experienced! Fear to Hope…what the child cried out…"Let Jesus show!" I hope that is what we do this year. Take a moment and ask yourself this simple question…
How can I let Jesus show... at home... in the spaces and places I go... and how I love my family and community?
May we let Jesus show especially this year; maybe there are a few people the Lord would have you especially love this year… Let's go do it!
Prayer: "Jesus, please help me to make a fresh memory this Christmas for you". Amen
Here are some prayer concerns for this week:
Our country and the effects of Covid-19. Also, please remember all the families and care teams whose lives are deeply affected by this pandemic.
Our church and the community
Unity and reconciliation throughout our country at this time
The schools and the children and staff
Our country and its leaders
Linkin Miller, Joy Evans, Margaret Robinson, Mary Mondatsos, Myrtle Aurig, Joel Shannon
John and Betty Parsons with Covid-19
Melanie and George Plotts recovering from Covid-19
Bill and Brenda Antinore recovering from Covid-19 as well as other people on their staff and ministry at "Seeds of Hope."
If you have any prayer concerns or ways we can serve you, please let us know. We desire to journey with you even through these days of social distancing. Remember, you are loved!
In His Grace,
Pastor Sam and the Staff
... to see all people WORSHIP God, CONNECT with His people, and join His MISSION in this world.
Our address is: 201 Dayton Ave, Collingswood, NJ, 08108