Traces of Grace
Volume 35 - December 4, 2020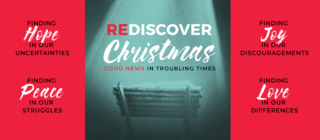 ReDiscover Christmas... Good News In Troubling Times
This is a season of hope. Advent is all about hope. The word Advent means "coming" or "arrival," and the season is traditionally a time of expectation, waiting, anticipation, and longing. Far too often our Christmases have become frenzied and overwhelmingly busy. We pack our schedules with so many seasonal happenings. Our season of peace is quickly overloaded and replaced by a season of stress. Advent is an opportunity to set all that aside. Advent is a time to prepare our hearts and help us place our focus on a far greater story than our own... the story of God's redeeming love for our world.
So wherever you are on your level of 2020 anxiety and uncertainty, wherever you are on your own spiritual journey, we invite you into this season of Advent. We'd like to even suggest that in the craziness and uncertainty of this year, we've been given a gift. We've been given the opportunity to rediscover Christmas. For the next four weeks, we're going to be exploring the attributes of Christ encapsulated in His birth and the Christmas season: hope, peace, joy, and love. And on Christmas Eve we will celebrate the arrival of Jesus, the Christ. This week we continue by rediscovering the PEACE of Christmas, even in the midst of our struggles.
Sunday Morning Worship
In-Person Worship Postponed
Due to the increasing spread of COVID-19 in our immediate area, our building will continue to be closed to the public for worship until further notice. This also applies to any small groups or ministries... they will not be able to meet at our building until further notice. Caution has been shared from both conference leadership, as well as Camden/Burlington counties which are now in the high red zones of transmission rates for COVID-19. We desire to care for, love, and keep everyone safe at this time. This is a decision based on love.
Live Stream Worship Service
Don't miss our live stream worship service Sunday morning at 10:00am, and Zoom fellowship directly following. Pastor Sam will continue our Advent series "ReDiscover Christmas... Good News In Troubling Times" with a message from Luke 2:8-20 called "Finding Peace In Our Struggles". We will also be celebrating communion together in the service, so please have communion elements ready to partake. Both links are available on our website at fumccollingswood.org, where you'll also be able to view the service throughout the week.
With Great Appreciation... We Look to the Future
At the close of this year our office secretary for over 21 years, Maria, will be retiring. We all have come to love and appreciate her cheerfulness and love for the FUMC church family throughout the years. We will be recognizing her years of service in the New Year.
We are now looking to fill the following position in order to care for the needs of our office staff and church ministries...
Office Manager - Twenty hours/week | Tuesday- Friday | 9am-2pm
If you or anyone you know might be interested in this position, please contact Carol Doran at bcdoran@aol.com for more information.
A "Thank You" from Sharon Bailey
"A huge thank you to everyone who donated turkeys and gift cards to those needing food support this Thanksgiving! At Neighborhood Center, 342 families received a turkey and a $25 supermarket gift card. At Soul Café, 40 families received turkeys as well as a variety of food to last well beyond Thanksgiving day. In speaking to the families the Sunday after Thanksgiving, I was humbled by how thankful they were, eager to speak of their Thanksgiving day and how delicious their turkey was. Without your generous donations, this would not have been possible!"
Christmas Baskets
We recognize this year has been difficult for many families. If you have a need or know another family that could use a basket, please contact one of the staff, call (856-858-1186) or email (office@fumccollingswood.org) the church office so we might serve you or anyone in need!
Thought For Today
A Sunday School teacher asked her class "What is Christmas a time for?" She got the usual answers—Jesus' birthday, a time of joy, a time to worship God… but then one child raised their hand and answered: "a time for sportsmanship, because you don't always get everything you want." As we've been experiencing this pandemic this year we all can understand this little boy's comment; this has certainly been a year of things not going the way we expected.
However, whenever I think of God's gift to us "Jesus... it is more than I could ever want or hope for. Long before Jesus' birth the prophet Isaiah foretold about Jesus in these words...
"For to us a child is born, to us a son is given, and the government will be on his shoulders. And he will be called Wonderful Counselor, Mighty God, Everlasting Father, Prince of Peace. Of the greatness of his government and peace there will be no end. He will reign on David's throne and over his kingdom, establishing and upholding it with justice and righteousness from that time on and forever. The zeal of the LORD Almighty will accomplish this." - Isaiah 9:6-7
This is a very unique kind of a gift. God is saying that He's going to give us a child, a son. And this son will have a government placed upon His shoulders. And this son will be so filled with wisdom and power and righteousness that when people speak of Him… they don't just say His name, they speak of Him, describing Him in words filled with awe: ~ Wonderful Counselor ~ Mighty God ~ Everlasting Father ~ Prince of Peace … and this son will come to establish a Kingdom that will last forever. This message has been shared for thousands of years bringing hope of the amazing gift God has given to us wrapped in amazing love.
Here are some prayer concerns for this week:
Our country and the effects of Covid-19. Also, please remember all the families and care teams whose lives are deeply affected by this pandemic.
Our church and the community
Unity and reconciliation throughout our country at this time
The schools and the children and staff
Our country and its leaders
Linkin Miller, Joy Evans, Margaret Robinson, Mary Mondatsos, Myrtle Aurig, Joel Shannon
John and Betty Parsons with COVID-19
A continually growing list of loved ones and friends who are dealing with COVID-19
If you have any prayer concerns or ways we can serve you, please let us know. We desire to journey with you even through these days of social distancing. Remember, you are loved!
In His Grace,
Pastor Sam and the Staff
... to see all people WORSHIP God, CONNECT with His people, and join His MISSION in this world.
Our address is: 201 Dayton Ave, Collingswood, NJ, 08108