Traces of Grace
Volume 53 - April 22, 2021
Sunday Morning Worship
In-Person Worship Service
Welcome back to our Sunday morning Worship Service! If you'd like to join us in person for worship on Sunday morning at 10am, please visit our website to register. If you can't make it in person, we will still be livestreaming the service, which you can view from the link on our website.
Join us for our Sunday service as Pastor Sam continues in our new series... "Real Living" with a message called, "What Are You Living For", from Philippians 1:12-26. You won't want to miss it!
The link to access the livestream will be available on our website at fumccollingswood.org, where you'll also be able to view a recording of the service throughout the week.
In-Person Gatherings Have Returned
As of March 14th, we have returned to the Phase 1 guidelines of our church re-opening plan. We look forward to seeing you again in person at Sunday morning services! We will continue to live-stream the service as well, so if you are not yet comfortable in a public setting, we understand and invite you to join us virtually through the website. The building will also be available - on a scheduled basis - for use by various small groups.
For more information regarding the policies/procedures surrounding our re-opening, and to pre-register for a service, please visit the Re-Opening page of our website at fumccollingswood.org/reopening.
Upcoming Events
Download
Our Sunday Morning Worship Service begins at 10am and will be approximately 45 minutes to 1 hour in length. If you'd like to attend in-person, please pre-register on our website at fumccollingswood.org/reopening The service will also be livestreamed for those who aren't comfortable attending in-person. Anyone at all can access this livestream, but if you'd like to chat with others throughout the service, you must have a Faithlife account and become of member of our Faithlife Group. If you aren't already a member of our group, and would like to become one, please email the church office at office@fumccollingswood.org and we will reply with an invitation. Here are all the links you'll need for the full Sunday Morning experience... Join our Live Stream Service - faithlife.com/fumccollingswood/livestream Access our Digital Bulletin - fumccollingswood.org/bulletins Online Giving - fumccollingswood.org/giving All of our past morning worship services can be viewed on our website by visiting fumccollingswood.org/services. You can also view the services on our YouTube Channel. If you attend/view our service, we'd appreciate you filling out our Weekly Connection Card to let us know that you joined us, and to tell us how we might be able to pray for you in the coming week.
Sunday, April 25th, 10 am (EDT)
Download
Join us every Tuesday morning in the sanctuary for this Bible Study. Please be sure to enter through either door on Park Avenue. Also, please note that wearing a mask is mandatory to attend.
Tuesday, April 27th, 10 am (EDT)
"Keep the Promise" - A Virtual Event
This evening, April 22, from 7:00-7:45 pm there will be a virtual event featuring UrbanPromise and the Philadelphia Orchestra in concert. Please use the link below to join the webinar event:
https://zoom.us/j/98791563360?
pwd=SG9HODU1WEdiMkdlZjFQcy95eDRhZz09
Soul Cafe's Semi-Annual BBQ
On Saturday, May 1st, beginning at 11:00am till sellout, Soul Cafe is holding their Semi-Annual BBQ! Many have attended this event in the past and know its significance so... come one, come all to
300 E. Evesham Rd., Magnolia and help support the ministries of
Soul Cafe. More information can be found on our FB page or you can call Sharon Bailey.
Sermon Series - Real Living
Please join us for a new sermon series called, Real Living. During these next two months we are going to learn some powerful truths about how living like Christ makes all the difference. What a great way to reflect on Christ together after Easter, in a time of transition. Join us as we journey through the book of Philippians and learn how to really live!


April 25 - What Are You Living For? - Philippians 1:12-26
*******
May 2 - Living with Real Humility - Philippians 1:27-2:4
May 9 - Mother's Day
May 16 - Living with the Attitude of Christ - Philippians
2:5-18
May 23 - Living with Real Mercy - Philippians 2:19-30
May 30 - Praise and Worship...Living with Real Hope -
Philippians 3:1-16
*******
June 6 - Living with Real Peace - Philippians 4:4-9
June 13 - Living with Real Contentment -
Philippians 4:10-23


Announcement for "Together In Christ" Sunday School class
The "Together In Christ" Sunday School class will be meeting as a small group this Sunday morning. If you have attended these classes before, you are welcome to return! The group will meet in the Parlor at 9am on Sunday mornings throughout April, at which time another location will be announced.
Job Opportunity
We're still actively seeking an Office Manager (aka Church Secretary). If you know of anyone who has moderate computer skills, good organizational skills, and a heart for Jesus, who might be interested in this paid position, please ask them to contact Carol Doron at the email listed below...
Office Manager for FUMC Collingswood
20 hours/week
Tuesday - Friday
9am - 2pm
If interested, please contact Carol Doron at bcdoron@aol.com
Verse of the Month - April 2021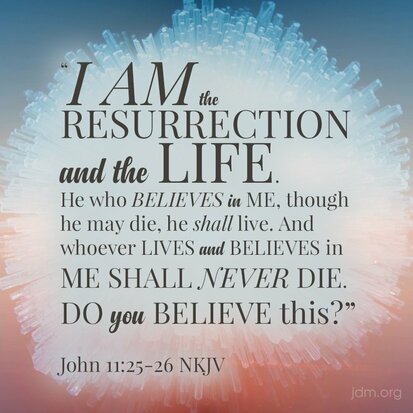 During this Easter Resurrection month, one of my favorite scriptures to choose as a scripture for the month is recorded in John 11:25-26. This scripture is one that brings hope and purpose as we place our trust in Jesus.
I was reminded in my reading this week that Jesus was able to refocus Martha's faith from a faithful God who will one day fulfill His future promises...to an incarnate God, who is always present in the everyday circumstances of our lives. He is not only the God of tomorrow's promises, but also the One who is with us through all the changing challenges of our lives!
Let us never forget that however small our faith may be, God is working in us every day to strengthen our trust in Him so that we may grow in grace and learn to depend on Him...no matter what circumstances we may have to face. His Word stands true today - and His Word stands to guide us and keep us forever!
Praises!
We are privileged to announce the appointment of Scott Rambo, as our new Senior Pastor!
Scott is husband to Meg and dad to four boys; Tim, Ben, Josiah and Eli. He grew up in South Jersey, graduated from Asbury College with a B.A. in Media Communications and earned an M.Div. from Wesley Biblical Seminary. Scott has served at Trinity UMC, in Mullica Hill, since 2017, as an associate Pastor. Prior to joining the staff at Trinity, Scott and Meg served in Uganda with World Gospel Mission. He loves to see people engage their faith and be empowered to respond to God's work in their lives. Scott is a reader, runner, guitarist, Philly sports fan, coffee lover and rides a motorcycle.
We thank God for His provision and we welcome the Rambo Family,
as they begin their ministry here at First UMC on July 1st.
```````````````````````````````````````````````````
Spring Fling - a children's event took place last Saturday and was a "success"! The event was well received, with 18 children and a handful of adult helpers in attendance! Be on the look-out for future events!
~~~~~~~~~~~~~~~~~~~~~~~~~~~~~~~~~~~~~~~~~~~~~~~~~~~~~~~
Prayer Requests
Ephesians 6:18 tell us, "And pray in the Spirit on all occasions with all kinds of prayers and requests. With this is mind, be alert and always keep on praying for all the Lord's people".
Our "Prayers on the Porch" are still happening every Monday through Thursday at noon at 638 Park Ave. Feel free to come out and join us if you can!
Please continue to pray for those affected by the pandemic in so many ways... essential workers, those who are sick, those needing spiritual, emotional and financial care, as well as any families and relationships that have been strained during this time... the list is long, but God is BIG!
Please pray for the following:
Our future pastor , Rev. Scott Rambo, his wife Meg andfamily
Tom Thompson - recovering from surgery
Ginny Morrow - in hospital with infection
Linda Nauha - continued recovery
Mike Malloy - medical challenges
Michelle Conover - medical issues
Joy Evans
Arnie Arnold - challenges
Elaine Emery's sister Joyce - recovering from surgery
Mary Mondatsos - heart and cancer concerns
Gus Mondatsos - back issues
Joel & Kay Shannon
Andrew Cahilly - recovering
Sharon Bailey - upcoming back surgery
Ahiz & Joyce Toure - their baby girl, Nyameye, heart & lung issues
The Delicana Family - for the recent passing of Josh's aunt. (712 Atlantic Ave., Collingswood, NJ 08108)
The Trueland Family - for the recent passing of their son, Jeff- (Bob & Barbara, 227 Haviland Ave., Audubon,NJ08106)
Pastor Sam & Lisa
God's provision for a new Office Manager
SPR -as we continue to transition to a new Pastor & staffing
"National Day of Prayer" - upcoming on May 6th.
God's hand upon our country and for all of our leaders
If you have any other prayer concerns or ways we can serve you please let us know. We desire to journey with you.
Remember, you are loved!
In His Grace,
Pastor Sam and the Staff
... to see all people WORSHIP God, CONNECT with His people, and join His MISSION in this world.
Our address is: 201 Dayton Ave, Collingswood, NJ, 08108