It's Time to Give God the Pen
The young, beautiful girl sat thinking about the man her cousin Mordecai would choose for her to marry. Maybe he would be a scribe or a tradesman. Either way, she knew he would be a man of God. Hadassah smiled thinking of the bright future and beautiful story to unfold.
That's not how her story went. Things took a turn for the worse when she was forcefully taken from her home to be a concubine for the King since he likely would never choose her as his Queen. No matter how many nice things she had, she couldn't be herself. The palace was dangerous for a Jew. Many hated her God and her people. As she adapted to her new life, the unthinkable happened. She became Queen of an Empire.
She married a man she didn't know, a powerful man whose life was in constant danger, a man enamored by her beauty but a stranger nonetheless. Surrounded by luxury, she still didn't live a life of ease because Haman, the King's second in command, wanted Mordecai and all Jews killed. Only Esther could save her people but doing so could cost her life. Appearing before the King without permission meant death.
"It wasn't supposed to be like this. That's not how my story is supposed to go," she must have thought. Then her cousin Mordecai sent a message, "maybe you became Queen for such a time as this." Here Esther said the famous words "if I perish. I perish." She boldly went before the King wondering how God would work, wondering if she would die. The King honored her. When the King learned of Haman's evil intent, he had Haman killed, and the Jews were saved. Esther's story is not what she expected but a legacy of faith and courage because she trusted God through it all.
Maybe you're going through a trial- a job loss, breakup, health issue, or perhaps the loss of a loved one. "It wasn't supposed to be like this. That's not how my story is supposed to go." Of course not! You weren't supposed to lose that job. That relationship was supposed to last forever. You're supposed to be healed. Your loved one was supposed to be here longer. That's not how this was supposed to go, but like Esther you can trust God with your story.
Jeremiah 29:11-13 says, "for I know the plans I have for you," declares the Lord, "plans to prosper you and not to harm you, plans to give you a hope and a future. Then you will call on me and come and pray to me, and I will listen to you. You will seek me and find me if you seek with all your heart." What an incredible promise from God that even in the toughest times of life, He is for you. You can choose to be bitter or surrender your story to God. I encourage you to put down the pen, and let God write your story. Trust Him to provide for your needs. Trust His timing for your next relationship. Give Him the pain. Let Him comfort your grieving heart. Like Esther, if you trust God with your story, you will leave a legacy of faith and courage!! Time to give God the pen.
Written by Carolyn Parrish, member, Grace Baptist Church
The New "Normal"
Five months ago, if you would have told me the world was going to come to a screeching halt, I would have thought you were crazy! Today, well, I'd have to apologize for calling your crazy back in January.
The fact is, life, as we know it, has changed drastically. Let me give you a for instance. About two years ago I suggested that we take our Sunday service outside one morning. We would set up chairs in the parking lot and use our portable sound system to get the message, not only to our people, but to our neighborhood. I was very lovingly told that, while my plan was not without its merits, it just wouldn't be a good idea. Our city has a strict noise ordinance and someone could complain and we'd be sued. Shot down.
On April 19th, 2020, we had our first drive-in service out of necessity of strict "social distancing" mandates. Everyone stayed in their car, but still we utilized the sound system and people in neighborhood were able to hear the gospel preached! No one complained, and thankfully, the police did not show up. My point? The church is adapting!
See we have the wrong idea about what chruch "is". The church is not something you do, it's something you are! It's not the building, it's the people! We are living in a time when we must "rethink" what the church is. Church is God's people worshiping and praising their Lord and Savior, no matter if they're in a building, in their car, or on their couch watching the livefeed on Facebook or YouTube.
Rather than complaining about being on lockdown or mourning over what we can't do, we need to rejoice and be glad for what we can do! We can worship God sitting in our cars or on our couch as well as we can in a pew! We have friends on social media who would never visit our church, but now we have the opportunity to share the message with them, getting it right in their own living room! We are living in a different time and we must get adjusted to the "new normal"
As I close out my thoughts I want to encourage you to pray that God will soon bring the COVID19 crisis to a close, but also that you will support your local church through your faithfulness. Attend the drive-in service, watch the message live, share the gospel with others who you would normally not be able to share it with. Above all else, do not waste your time regretting what you cannot do, but be thankful to God above for what you can do! May God bless you.
Todd Nance, Pastor, Grace Baptist Church
When Pentecost was Fully Come
"Pentecost", the very meaning of the word means "fiftieth (Strong's #4005). The day/fest of Pentecost recurred every year in the Jewish calendar exactly 50 days after the feast of the First Fruits. Interesting also is the fact that the day of Pentecost always occurred on the first day of the week, Sunday. At the time of the events recorded in Acts 2, the day of Pentecost had come and gone some 1500 times, but it wasn't until after the death, burial, resurrection, and ascension of Jesus Christ the day of Pentecost was 'fully come'.
John Phillips summarizes what took place at the annual feast of Pentecost nicely:
On the day of Pentecost, in Old Testament times, the Jews took individual grains of corn, ground them into flour, added oil and leaven, and made two loaves of bread. The loaves were then offered to the Lord along with the sacrifice of seven lambs without blemish, one young bullock, and two rams for a burnt offering—ten sacrifices in all, to symbolize the perfection and completeness of Calvary. (John Phillips Commentary Series, The - The John Phillips Commentary Series – Exploring Acts: An Expository Commentary).
The feast of Pentecost, like the Passover and the First fruits, served as a type of the completed work of Christ. In fact, if you cannot get a complete picture of the cross-work of Christ apart from all three feasts. The Passover represents His death for the sins of mankind…but a dead Savior is no Savior at all. The feast of First Fruit represents His resurrection from the dead – how grateful every child of God is for this! But Pentecost! Pentecost represents for us the coming of the Holy Spirit and the birth of the church!
Consider the symbolism of the offerings associated with Pentecost. Leviticus 23:15-22 records the details for us but in summary we see: two loaves – representing the fact that Jesus died for all men, both Jew and Gentile alike! What a beautiful picture of God's church today! Salvation is not limited to natural birth or national claim but is open and available to all who will put their faith in Jesus Christ!
The oil involved in the offering of course represents the Holy Spirit. Notice oil is used in both loaves, indicating that there is not distinction in the church between Jew and Gentile. All are the same in the eyes of a holy God both in need of forgiveness and in reception into His family. Notice also a very real difference in the offered loaves: leaven. Leaven in Scripture represents sin, and in every other offering of bread, it is excluded. Why? The other offerings of bread represent Christ, such as the feast of "unleavened bread". Christ is sinless and thus qualifies to be the supreme sacrifice for sin.
Why the inclusion of leaven on the day of Pentecost? Because the church today is still plagued by sin. No one is perfect, not even Christians. Still, God accepted the offering on the day of Pentecost! Not because anyone was perfect, but because He is, and Pentecost represented the completion of His plan of redemption! Only a holy, righteous God, can forgive sin, and that only by the offering of "His only begotten Son" for the sins of humanity.
The men and women who had followed Jesus faithfully in life, mourned His death rejoiced at His resurrection, and were convinced after His ascension were the first members of the New Testament Church! They were there when the "day of Pentecost had fully come"! When it came, it came after Passover (the death of Jesus, the Lamb of God for the sins of the world.) It came after the Feast of the First fruits (the resurrection of Jesus from the tomb). Pentecost could not "fully come" until payment for sin was fully paid. After Jesus paid our debt and returned to the Father's right hand, Pentecost "fully" came. Today, you and I have this same Spirit dwelling within us. Today we are holding to the same promise of the angels to the disciples in Acts 1:11 "Which also said, Ye men of Galilee, why stand ye gazing up into heaven? this same Jesus, which is taken up from you into heaven, shall so come in like manner as ye have seen him go into heaven." (emphasis added).
Jesus is coming soon to claim His church, you better be ready. If you're not sure of your salvation, please reach out to us so that we may help you know that you are "in Christ".
By Todd Nance
Grace Baptist, you're home here.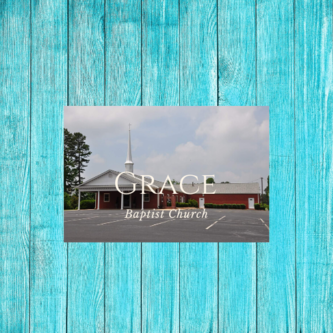 Our address is: 2008 Fairfax Rd, Greensboro, NC, 27407