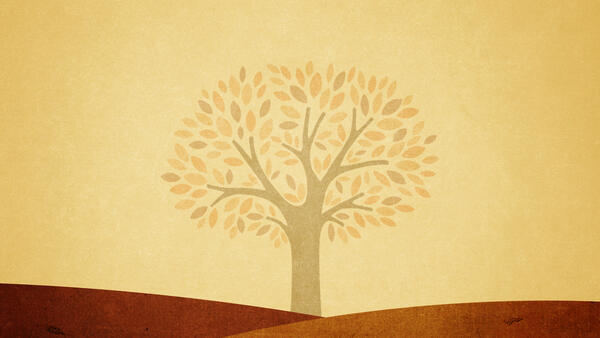 Grace Gazette
September Edition
God's Chosen People, Lesson 4 - Bro. John Marshall
A note from the pastor: Before you begin reading this next installment of brother John's study on the People and nation of Israel, I want to express my gratitude to Mr. Marshall for his hard work and dedication to writing such a wonderful study of God's Chosen People. I hope this Bible study is a blessing to everyone who reads it! Starting...now!
If God keeps His promises, and He does, then there will always be at least a remnant of the Jewish People in this world. His covenants with Abraham, Isaac, Jacob, and David are secure, eternal — unshakable, unchangeable, irrevocable. Jeremiah 31: 35-37 says it very well, "Thus saith the Lord, which giveth the sun for a light by day, and the ordinances of the moon and the stars for a light by night, which directeth the sea when the waves thereof roar; the Lord of hosts his name: If those ordinances depart from before me, saith the Lord, then the seed of Israel also shall cease from being a nation before me forever. Thus saith the Lord; if heaven above can be measured, and the foundations of the earth searched out beneath, I will also cast off all the seed of Israel for all that they have done, saith the Lord. "
Let us begin!
Our journey commences with the origin of the earth and humanity, as recorded in the first chapter of Genesis:
In the beginning God created the heaven and the earth. (Genesis l: l)
And God said, Let there be light. (v 3) the first day.
And God called the firmament Heaven. (v 8) the second day.
And God called the dry land Earth ... and the waters He called Seas... And God said, Let the earth bring forth grass, the herb-yielding seed, and the fruit tree... (V 10-11) the third day..
The sun, moon, and stars. (vv. 14-19) the fourth day.
Birds and fish. (vv. 20-23) the fifth day.
And God said, Let the earth bring forth the living creature after his kind, cattle, and creeping thing, and beast of the earth after his kind And God said, Let us make man in our image, after our likeness . (vv. 24-31) the sixth day.
And God blessed them, and God said unto them, Be fruitful, and multiply, and replenish the earth. (Genesis 1:28).
Note that man was created on the sixth day, the last day of creation, the last object of creation, after everything else was ready.
Now, let us fast forward approximately 1948 years, past Noah, and the great flood, to a location in Mesopotamia, called Ur of the Chaldea, where we are introduced to a man called Abram.
Beginning in Genesis 11:10, we find listed the generation following Noah's son, Shem, culminating with the first mention of Abram, in verse 26.
Now the Lord had said unto Abram, Get thee out of thy country, and from thy kindred, and from thy father 's house, unto a land that I shall shew thee: and I will make of thee a great nation, and I will bless thee, and make thy name great; and thou shalt he a blessing: and I will bless them that bless thee, and curse him that curseth thee: and in thee shall all families of the earth be blessed (Genesis 12: l3)
When Abram was 99 years old, an age when he and his wife, Sarai, were well past the child-bearing age, the Lord appeared unto him and promised that he would be the father of a nation that would be as the sand of the seashore, and as the starry host of heaven. Abram believed God and it was counted unto him as righteousness. The Lord made a covenant with Abram that he would be the father of many nations, and God also promised to give to Abram and his seed after him all the land of Canaan for an everlasting possession (Genesis 17). Abram's son, Isaac, was the forefather of the Israelites, the Hebrews, the Jews, the seed that would be the object of the covenant. Abram's son, Ishmael, was the forefather of what today we call the Arabs.
Nowhere does the Bible tell us why God chose Abram: the implication is that God chooses whom He wishes, and He owes no accounting to anyone for His choices. He chose the Israelites, the Hebrews, the Jews, to be a "special" people unto Him; a "unique' people. Israel was to be an example to other peoples, a light to the nations, an example for all other nations and peoples to imitate. Israel was to be the fulfillment of Genesis 3:15: I will put enmity between thee and the woman, and between thy seed and her seed; it shall bruise thy head, and thou shalt bruise his heel. This was the first prophecy of a coming Messiah, who was to come through the Jews. Abram, whose name was later changed by God to Abraham, was a Jew, the first Jew, although the term "Jew" did not come about until the tribe of Judah, one of the twelve sons of Jacob (Israel). The logical conclusion, then, considering Genesis 12:3, is: Bless the Jews, you will be blessed; curse the Jews, you will be cursed! And through the ages, this has proven to be true: the nations and peoples that have oppressed the Jewish People have come to grief, and the nations and peoples that have aided and supported the Jewish People have been blessed!
The promises God made to Abraham were quite specific and unambiguous: sealed by an unconditional and everlasting covenant. This covenant has not been abrogated or superseded by the New Covenant (the New Testament). Romans 9 - 11 teaches that even though Israel is in temporary unbelief, that unbelief will come to an end one day, and God will fulfill all those blessings to Israel and then through Israel will bless the entire world. This will result in the fulfillment of the Abrahamic promises. The implementation of the next phase of His plan will deal Israel's temporary unbelief, which will lead to their national conversion.
Due to COVID-19, we have decided to postpone our VBS to a later date. Sorry for any inconvenience. Please keep checking in for new updates.
A Word for Our Day - Todd Nance, Pastor Grace Baptist Church
I read a joke recently that said "It's September? It feels like March was only sixteen years ago!" I think we can all relate to this! Still it is hard to imagine that we are nearing the end of summer and the beginning of fall. What does this tell us? Time never stops, it just keeps on heading forward at its ever steady pace.
I remember back in March, being told by our governor that it "was not safe" to be "out and about" and that everyone was under a "stay at home order". I remember my wife and I talking in our bedroom after our kids were asleep and discussing when, if ever, everything would "get back to normal"? I learned something in those months: not only does time never stop, but God never changes!
Lately I've had the need to remind myself of the promise in Romans 8:28, "And we know that all things work together for good to them that love God, to them who are the called according to his purpose."
Are things great right now? No, but that's OK! Because, God doesn't say all things will be great, but rather that they will "work together for our good." God doesn't say "Nothing bad will ever happen", rather He says that "All things" - good and bad, will work together for our good!
I have decided that I am not going to be discouraged and lament all the changes which are taking place around us, instead I choose to be encouraged and to be thankful for what I am able to do. Let me leave this devotion with a list of blessings:
We get to have church service! It may only be one a week, but at least we can worship together in the same place.
We get to stay connected through social media - I'm thankful for Facebook's live option to continue evening and mid-week services.
We have a great opportunity to share the gospel in these uncertain times which we may not have had in different circumstances!
My word of encouragement to you today is that you will not be upset over what you can't do, but that you will rejoice in what you can do! Feel free to add your blessings to my list! May God bless!
Our address is: 2008 Fairfax Rd, Greensboro, NC, 27407