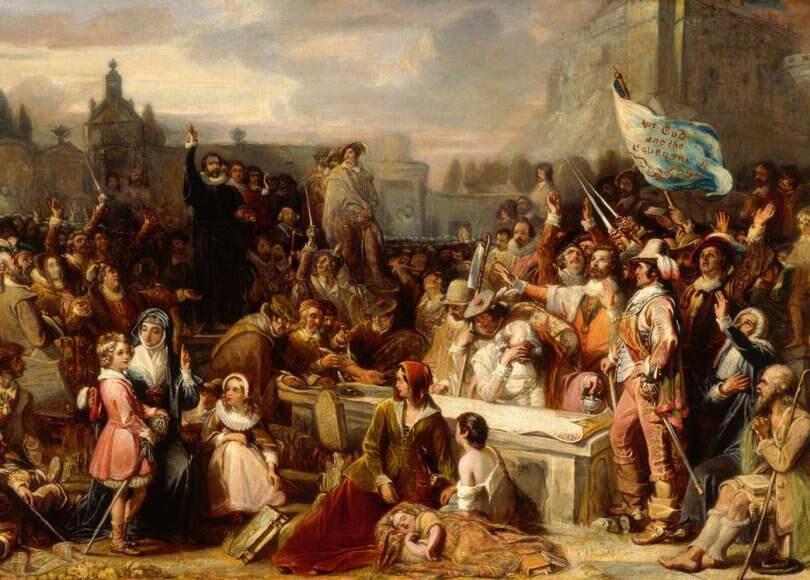 Great Basin Reformed Presbyterian Church
Larger Catechism 100-101
Catechism Study Outline
Larger Catechism 100-101: The Introduction and Preface of the Law
Introduction/Review
Q100: What special things are we to consider in the ten commandments?
A100: We are to consider, in the ten commandments, the preface, the substance of the commandments themselves, and several reasons annexed to some of them, the more to enforce them.
Q101: What is the preface to the ten commandments?
A101: The preface to the ten commandments is contained in these words, I am the Lord thy God, which have brought thee out of the land of Egypt, out of the house of bondage.[1] Wherein God manifesteth his sovereignty, as being JEHOVAH, the eternal, immutable, and almighty God;[2] having his being in and of himself,[3] and giving being to all his words [4] and works:[5] and that he is a God in covenant, as with Israel of old, so with all his people;[6] who, as he brought them out of their bondage in Egypt, so he delivers us from our spiritual thraldom;[7] and that therefore we are bound to take him for our God alone, and to keep all his commandments.[8]
1. Exod. 20:2
2. Isa. 44:6
3. Exod. 3:14
4. Exod. 6:3
5. Acts 17:24, 28
7. Luke 1:74-75
8. I Peter 1:15-18; Lev. 18:30, 19:37
The Parts of the Commandments
The Preface
The Substance of the Commandments
The Reasons Attached to the Commandments
The Warnings
The Issue of "Positive Law"
"Let us learn to make conscience of little things in the worship of God and not to think, "Oh, how nice such are, and how precise and nice in such small things!" You do not understand the nature of divine worship if so be that you are not nice about it. God is nice and still stands upon little things in the matter of His worship." - Jeremiah Burroughs
The Preface
Divine Simplicity and the Being of God (Exod. 20:2; Isa. 44:6; Exod. 3:14; Exod. 6:3; Acts 17:24, 28)
The Reality of Redemption (Gen. 17:7; Rom. 3:29; Luke 1:74-75)
""The tendency today is to regard morality as grounded in human considerations, such as the welfare of the human race, the safety of society, and similar utilitarian concepts. People whose religious thinking is of this type will consider the preface to the Ten Commandments more or less irrelevant; they will think that we can retain the "values" of the Ten Commandments even if they are detached from the foundation of divine sovereignty and redemption." - Joe Morecraft
The Law and the Covenant of Grace (I Peter 1:15-18; Lev. 18:30, 19:37)
The Covenant of Works vs the Covenant of Grace
"Law demands righteousness. Grace give righteousness in Christ. Law demands and directs. Grace gives strength and love to obey those commands and to follow those directions." - Joe Morecraft
"First, if the law is a perfect rule of life for us, then learn to understand the law in its comprehensive and spiritual nature. Let it be your prayer: "Open Thou mine eyes, that I may behold wondrous things out of Thy Law (Ps. 119:18). Read it over and over again, and search out in the Word of God all that is comprehended under the law. Meditate and reflect continually upon the law until it be clear to you and you acquire a habitual inclination toward the law. May you thus continually focus on it in your entire conduct and permit yourself to be continually illuminated by that light.
Secondly, continually hold this law before you as being the will of God; approve of it, love it, obediently subject yourself to it, and in your entire conduct behave yourself according to this rule, and keep it in view as a carpenter does his blueprint.
"Thirdly, examine yourself daily by means of this law, and ascertain which commandment you have transgressed and which commandment you have observed; this will humble you. You will thereby become more careful in the future, it will cause you to pray for the guidance of the Spirit, and Jesus will become all the more precious to you." - Wilhelmus A'Brakel
Let us get to know you!
Please take a moment to send us your information so that we may stay connected with you. Your information is carefully managed and protected.
How did you hear about us?