May GoOD News
GCC News & Updates for May 2020

Good morning church family!
It's Saturday morning as I put my finishing touches on Sunday's sermon. Although I am working on the current week's sermon, I am also thinking about the future; one that seems a bit unknown. The one thing on my mind is how and when do we open the church building back up, and how do we do it safely. The worship team
and I have prayed about this decision constantly during our prayer times each week. I am asking you to do the same. My greatest desire is to be faithful to our obligation of meeting together, but also doing so in a responsible manner that does not put others at risk. I would imagine opening back up in stages, much like the state and local communities will. What temporary changes will need to be made and what if any permanent changes should be made. These are the questions I am asking myself, and I appreciate your prayers for wisdom as we consider them.
Having time away from my secular job, has also afforded me some time to contemplate and think about the future of the church. In that regard, I ask myself what things we are doing well (our strengths), and in what ways are we falling short. One of the many things I have learned in leadership is that we need to discover what our strengths are and spend most of our time in those areas.
Equally important is discovering our weakness, but rather than spend all of our time fixing them, simply learn to manage them. If we spend too much time trying to fix our weaknesses, we are not spending enough time serving out of our strengths.
In 8 years as the pastor of Gregory Community Church, I have observed a few things that we constantly do well in. I won't go into detail about them here. These strengths have defined who we have become. The next logical question for me as the leader of this church that I have to ask is this. Does our mission/vision statement align with what I've observed about who we are. It's critical that we live out of our mission and vision, and we can't do that if the two are out of alignment. In this season of contemplating these questions, I have come under some conviction that our mission/vision statement need to be re-worked a bit to be a greater reflection of who we are.
The three things we must identify; What is our mission? What is our vision? What are our core values? I fear that if 10 people in our congregation were asked those questions, they might give ten different answers, and that's not a good thing. I think the definition of core values is pretty obvious to most, and I think by and large our current core values reflect well of who we are. Although I will be
revisiting them. By the way, you can find them, on our website.
So, what is the difference between mission and vision? You may have heard these two terms used interchangeably. They are not the same. Our mission statement in its simplest from, should answer the question, what is our final goal or why do we exist? The vision statement should say what we do to accomplish our mission. The
mission piece is easy to discover. Jesus gave his church what our mission should be. In his last words to his disciples, Jesus said, "Go therefore and make disciples, baptizing them in the name of the Father, Son and Holy Spirit." I firmly believe that our mission should very closely resemble those words. The vision statement takes a little more consideration. As stated, we consider our strengths, consider what we have done well over the years, and then pray for a spirit of discernment. I have spent a lot of time doing those things. In doing so, I have gained some clarity on what a new mission/vision/core value statement should look like. It's a
little premature to share them now, but I am excited for what God has revealed, and I look forward to sharing with you when the time is right. I am hopeful it will be sooner than later, and I'm hoping to gain your buy in.
Re-visiting an earlier comment, I want each one of you to have clear
understanding of what our mission and vision is. If someone asks you what the mission and vision of Gregory Community Church is, I want each of you be able to confidently and excitably give the same answer. God is always doing a new thing, and He is once again doing a new thing at Gregory Community Church. I look forward to sharing these with you all soon in greater detail.
I equally look forward to a time we can gather again in a non-virtual way. Until that day, be safe, stay strong, and keep the faith.
Peace and Blessings!
Pastor Dan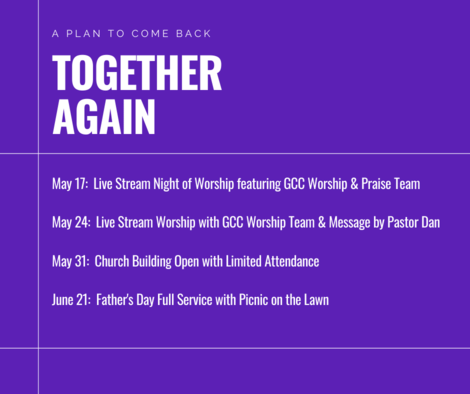 GCC is excited to announce a plan to come back together!
The Worship Team invites you to join them via Live Stream for a night of praise, prayer, and worship on Sunday, May 17 at 6:00 p.m.
May 24, the Worship Team will be together with Pastor Dan for the Live Stream worship service at 11:00 a.m.
May 31, we open the church building again with limited attendance, following social distancing guidelines - the building will be marked accordingly.
June 21 we are happy to fully come back together for a Father's Day service followed by a picnic on the lawn!
For those who prefer or need to say at home, our Live Stream is here to stay! Tune in via Facebook or YouTube.

The COVID-19 pandemic has affected every facet of life, including tithes & offerings and ministry support. To make it easier, Gregory Community Church now supports online giving - and it's easy to use! From $2 to $200, or more, each transaction is secured and you can give via credit card, debit card, or check (just add your routing and account number).
GCC Also Offers Other Ways to Give
Mobile
Text "Give" to
(734) 243 1377
By Mail:
Gregory Community Church
PO Box 238
Gregory, MI 48137

The GCC Prayer Ministry team meets on Tuesdays and Fridays and would love to pray for you. Please submit your prayer requests by clicking the link above.
United in Christian Love & Empowered by Prayer
Our address is: 126 Church Street, Gregory, MI, 48137